We have Our Sunday Visitor to thank for this awesome giveaway. These are brand-new books, one of which (Saints and Social Justice) isn't even available yet--you'll be among the first to get a copy!
We have FIVE of these 3-packs available for you, and plenty of ways to enter...
This week's giveaway: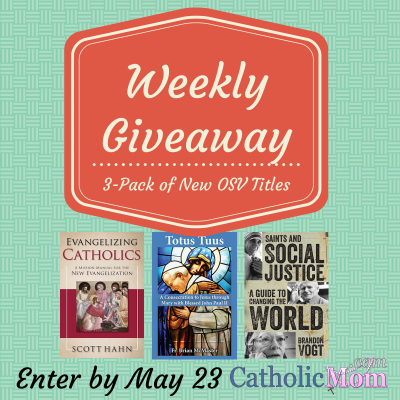 By Father Brian McMaster
About the book:
Amidst the Nazi occupation of Poland and long days in forced labor at a quarry and chemical plant, young Karol Wojtyla - the man who would become Pope John Paul II - made a discovery that would change his life. He read the 18th century spiritual writings of St. Louis-Marie Grignion de Montfort and prayed St. Louis' thirty-three days of preparation for total consecration to Jesus through Mary. He understood anew that the purpose of a true devotion to Mary is to be directed into a deeper relationship with Jesus and the Holy Trinity. The consecration so marked his life that he would adopt St. Louis' phrase Totus Tuus (Latin for "Totally Yours") as his motto as bishop and later as pope.

Blessed John Paul II's adoption of this radical commitment to Jesus through Mary ignited a new flame in the hearts of countless Catholics all over the world.

This fresh look at Marian consecration takes the themes and structures of St. Louis de Montfort's preparation for total consecration and incorporates the teachings and insight of Blessed John Paul II, including prayer, contemplation, and resolutions that will open your heart to the life of the Holy Trinity. Through these thirty-three days of spiritual exercises you will discover how you can grow closer to Jesus through the heart of Mary, while becoming the very best version of yourself in a life of consecration.

By Scott Hahn
About the book:
You can't keep the faith unless you give it away.

That's a fact. To be a Christian is to be an evangelizer. When the Catholic Church calls us to a "New Evangelization," that's simply a reminder to us of what has always been true. The good news is: you can do it - you can evangelize - and Scott Hahn shows you how.

In this this very practical "mission manual" Dr. Hahn equips you with:

A guide to understanding what the New Evangelization is, and who it's really for
A roadmap that leads you to where it all happens (hint: it's closer than you think)
A simple, beautiful message to share - in words and actions

You don't need esoteric knowledge. You don't need to master a new set of skills. Evangelization, for Catholics, is simply friendship raised up to the highest level. Enter a deeper friendship with Christ, and you'll want to share his companionship more and more with a wider circle of friends.

By Brandon Vogt
About the book:
The value of human life. The call to family and community. Serving the poor. The rights of workers. Care for creation.

The church has always taught certain undeniable truths that can and should affect our society. But over the years, these teachings have been distorted, misunderstood, and forgotten.

With the help of fourteen saints, it's time we reclaim Catholic social teaching and rediscover it through the lives of those who best lived it out. Follow in the saints' footsteps, learn from their example, and become the spark of authentic social justice that sets the world on fire.

Learn from heroes like:

Bl. Teresa of Calcutta
St. Peter Claver
St. Frances of Rome
St. Roque Gonzalez
Bl. Pier Giorgio Frassati
St. Damien of Molokai
St. John Paul II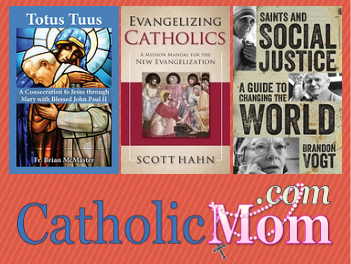 About the Author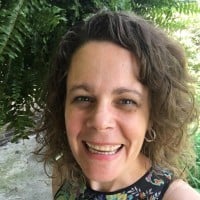 When she's not chasing kids, chugging coffee, or juggling work, Sarah Reinhard's usually trying to stay up read just one…more…chapter. She writes and works in the midst of rural farm life with little ones underfoot. She is part of the team for the award-winning Catholic Mom's Prayer Companion, as well as the author of a number of books. You can join her for a weekday take on Catholic life by subscribing to Three Shots and follow her writing at Snoring Scholar.