Thanks to Mark "the Awesome" Hart for sponsoring this week's giveaway. We have 5 prize packs, each with these three books and two CDs by Mark Hart, to give away!
This week's giveaway: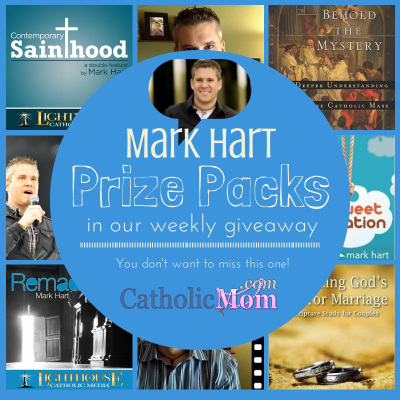 By Mark Hart (Word Among Us Press, 2014)
About the book:
As Catholics, the Mass should be a mountaintop experience for us. Often, though, we go through the motions at Mass without an appreciation for what has really happened. Popular speaker and author Mark Hart helps Catholics move beyond the repetition and ritual to see the Mass for what it really is: a heavenly banquet, a wedding feast, in which heaven and earth meet. In his engaging style, Hart guides readers toward a deeper understanding of the Mass—its roots in the Jewish Sabbath, its sacrificial character, and its signs and symbols. As we are told to "go in peace," he inspires us to see the Mass as a place to be nourished so that we can further Christ's mission in the world.
In the last part of the book, Hart provides pithy answers to frequently asked questions, such as "Why can't I leave right after Communion?" or "Why did the words change?" Finally, Hart offers ten things we can do to get more out of Mass.

By Mark Hart (Servant Books, 2013)
About the book:
There are lots of ways to spread joy to others, and social media is a creative way to do it. Tweet Inspiration is a compact treasury of inspiration, with a good dose of humor, gathered from Mark Hart's extensive collection of tweets on faith and life in general. Scattered throughout the book are call-out boxes with Mark's expanded thoughts and insights on various topics.

How can you be inspired and encouraged in this short format? Here are some examples:

The command to "love your enemies" (Lk 6:27) sure would be easier if we weren't just starting football season. ;)
You can usually tell by the look on someone's face if they woke up counting their problems or their blessings. (James 1:17)
Sssshhh. God is speaking. #Listen

Whether you have an active faith that needs to be strengthened, or are seeking to establish contact with God for the first time, you will find something here to help you find the God who is already seeking you.

Get ready to be surprised, inspired, and challenged—in 140 characters or less! #Youwillbeblessed.

By Mark and Melanie Hart (Word Among Us Press, 2012)
About the book:
Marriage is one of God's most beautiful gifts and is intended to bless us, fulfill us, and give us a path to sanctity. Understanding what true love entails and how grace works to overcome our wounded human nature is the key to a holy, happy, and passionate marriage. In this six-session Bible studies, popular author and speaker Mark Hart and his wife, Melanie, help couples understand key Scripture passages that illuminate the truths about married love and the "two becoming one flesh" (see Genesis 2:24). By undertaking this study, couples will grow in their understanding of sacramental marriage so they can reflect God's plan and glory and become a witness for Christ's sacrificial love for each of us.

By Mark Hart (Lighthouse Catholic Media)
About the audio CD:
In this incredible double feature, Mark Hart illuminates what it means seek sanctity in the 21st century. In the first presentation, Mark discusses unleashing the power of the Holy Spirit and becoming who we are meant to be: saints. In the second presentation, Mark talks about the dangers of putting human expectations on our supreme God. These two talks will be sure to jump start your spiritual life and shed some light on what it means to be a contemporary saint.

By Mark Hart (Lighthouse Catholic Media)
About the audio CD:
"Therefore, if any one is in Christ, he is a new creation; the old has passed away, behold, the new has come." 2 Cor 5:17 (RSV-CE). When people decide to follow Christ, they often experience conversion. In fact many of the saints refer to continuous conversion throughout their lives. In this talk, Mark Hart tells the story of his conversion and encourages us to be made new in Christ. This talk was given at a Steubenville Youth Conference.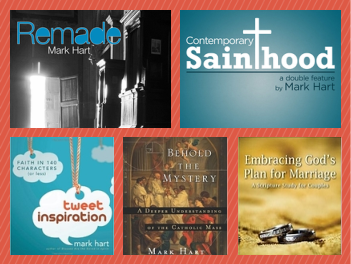 About the Author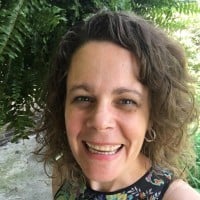 When she's not chasing kids, chugging coffee, or juggling work, Sarah Reinhard's usually trying to stay up read just one…more…chapter. She writes and works in the midst of rural farm life with little ones underfoot. She is part of the team for the award-winning Catholic Mom's Prayer Companion, as well as the author of a number of books. You can join her for a weekday take on Catholic life by subscribing to Three Shots and follow her writing at Snoring Scholar.