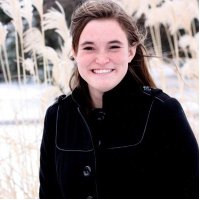 "I was bullied by my classmates [and] I was more oppressed by my teachers [in high school] and those kind of figures than my peers," said Danielle Liebl, 21, of Richmond, Minn.
Danielle was diagnosed with Cerebral Palsy at five months old. She was raised in the Catholic faith, and continues to practice today. She is the proud daughter of Sherri and Michael Liebl, and sister to Casey Liebl, 24. Danielle admits that she has had a normal childhood.
"In my life I really got told you're dumb," Danielle said, "I got told I was dumb by teachers [and] that they shouldn't waste my time teaching me because I would never get it."
Before Danielle had got involved in the Special Olympics organization, she was "very shy and I didn't have as many friends."
As Danielle entered the fifth grade, she started participating in Special Olympics as an athlete and competed in five sports including: bowling, track and field, aquatics, bocce and golf.
"I had maybe two or three [friends] through Special Olympics," Danielle said.
Since Danielle has had a challenging time in school, she says that she has had to move around to various school districts in the Richmond, Minn. area.
Although, once she moved, her peers had changed their attitudes and "became more accepting," Danielle said, "the teachers not so much."
There are many Special Educators who encourage their students with disabilities to attend a transition program for on-the-job training.
"You should guide students to depend on their needs," said Chicago Special Education teacher, Sisie Puntil-Wilcek, 59, of Elmhurst, Ill.
Danielle had said that she was done with high school and said that "through the process it was a little bit frustrating," she said.
Since Danielle was in her senior year of high school and excited about completing her secondary education, she and her parents made the decision to not fight with the teachers.
"Ever since I was little I always imagined I would go to a four-year university and my parents were totally in support of that. They knew I would go to one like it wasn't even a question," she said.
Danielle and her parents had nodded in agreement.
"My Special Education teacher and my case manager [were] saying, 'you need to go to a two-year community school, see where you get and then maybe go to a four-year [university]," she said.
Through the Athlete Leadership Program at Special Olympics Minnesota, Danielle was able to find her voice.
"I have something to say. I'm going to say it," Danielle said.
Although she doesn't actively compete anymore, Danielle considers herself to be an advocate and speaker for other people with the 'disability' label.
In her involvement in the Athlete Leadership Program for Special Olympics Minnesota, Danielle is a member of the Special Olympics National Youth Activation Committee and is on the Special Olympics Minnesota Board of Directors.
Danielle had applied to all four-year universities despite what her Special Educators were saying.
According to the National Center for Education Statistics, from 2007-2008, there were 10.8% of undergraduate students in postsecondary education who have a disability. In this same year, between the ages of 15 to 23, there were 54.0% of students with a disability who were in college.
Danielle, a junior at the College of Saint Benedict in St. Joseph, Minn., is double majoring in Peace Studies and Theology.
"Theology can be a tough major for anyone," says Danielle, "I've noticed a lot [of] other classmates [have] struggled."
However, she admitted that her majors are not as challenging as her documented disability. The campus life is more difficult for her since it's not handicap accessible.
"And, it's not very handicap accessible–there [are] stairs, lots and lots of stairs," Danielle said.
Danielle is currently in the midst of her theology courses, which are offered at the boy's campus that is located at St. John's University in St. Joseph, Minn.
When she is not in class or studying, Danielle continues to make time to advocate for others who have similar challenges to overcome.
At the College of Saint Benedict/St. John's University, Danielle continues her athlete leadership as the President and Founder of Students for the Advancement of People with 'DIFFERbilities.'
In being bullied and oppressed, as well as being shy and having only a few friends as a child, Danielle has overcome a lot in her early young adult life.
Throughout her college experience, Danielle has been able to make "some outstanding friends in college that I have no doubt in my mind will be best friends for a very long time," said Danielle.
The friendship that Danielle has received in college as helped her to defeat the challenging past that she has had to endure.
She finds that "really balancing those challenges of my friends and kind of using them as my team to get through some of my obstacles," Danielle said.
Danielle has been able to show the world just how to advocate for a peaceful society.
"Never listen to those you say you can't," says Danielle, "they're just afraid because you have already made an impact on their life and they are net ready yet for you to impact the world."
Copyright 2014, Daniel Smrokowski
About the Author