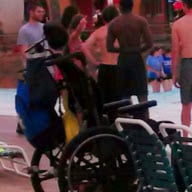 As I was sitting in my chair at the water park I noticed him. A man about 35 years old, tattoos on his arms, and if I am being completely honest, he looked a little rough.
He was lifting an older man, very slight in form from his wheel chair; his arms were obviously paralyzed as was the rest of his body. He lifted him gently with his arms beneath the mans and carried him into the wave pool.
As they both made contact with the cool water a smile spread across the older man's face, he looked as though he would laugh if it were possible for him. The man took him into the waves with the rest of the small crowd. As the waves subsided he held the man as he floated with a smile upon his face.
Unsure if this man was his father, uncle or just a friend, it was obvious that there was a respect and an honor he felt for him. He allowed him to be a part of the joy of summer. He gave him the opportunity to feel the water, the waves, the laughter and the happiness with others.
I witnessed a selfless act of love in the water park that day. Not by a parent but by a man which our society would deem as rough around the edges. But then again didn't many people consider Jesus Christ as rough around the edges as well?
We can find love in the oddest place if only we open our eyes and look around us.
Copyright 2014, Lori Hadorn-Disselkamp
About the Author

Lori Hadorn-Disselkamp - mom of 4 teens/wife for 20+ years. Lori has been writing at her own website Faith Filled Mom. She writes about the journey of faith we live daily and the ability to recognize God. She is a retreat director at Sacred Heart Academy HS. She just earned her MA in Pastoral Ministry as well as a certification in spiritual direction.