I am a convert. A convert named after a character in the movie Gone With the Wind. My mother loved the good, kind, sweet Melanie as much as she loved the name.
When I looked up my name as a teenager, I was not too impressed with the root meaning though.
Melanie \m(e)-la-nie\ as a girl's name is pronounced MEL-a-nee. It is of Greek origin, and the meaning of Melanie is "black, dark". From the French form of the Latin name Melania, derived from Greek "melaina."
When I became a Catholic, my mother wailed, "I named you Melanie because I wanted you to be good, but not THIS good!"
I am thrilled to discover that there is actually a real live, bona fide saint with my name. Introducing St. Melania (Melanie). Actually there are two, St. Melania (Melanie) the Younger and St Melanie the Elder, with icons, feast days, history, and tradition in the Eastern Orthodox Church. My heart leapt when I saw that modern Ukrainian Orthodox iconographer have painted her. This is not some forgotten minor saint!!
BUT what is fascinating is that my father's mother died tragically in her late twenties while her husband, my grandfather fought in WWII . She was a Ukrainian Orthodox, and had only been in Canada for 15 or 16 years. After her death my grandfather left the church and remarried a Presbyterian, who raised the three boys outside of the Ukrainian Catholic Church.
It is only in the last couple of years that I have reconnected with these roots. Imagine my surprise at discovering that although I was named after a character in a movie, I am really named after an Orthodox saint! Coincidence?..I think NOT.
For everything works out for the good for those who trust in God.
Romans 8:28 Or that all things work together for good to those who love God, who; or that in all things God works together with those who love him to bring about what is good—with those who who have been called according to his purpose.
St. Melania (Melanie) the Younger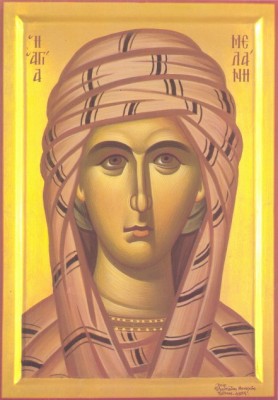 St. Melania the Younger (Feast Day – December 31) By St. Dimitri of Rostov
One girl whose name was Melanie visited Jerusalem am and St. Melania's convent. She was surprised
My family and I went to Jerusalem this summer with Archbishop Laurus. During our pilgrimage we had time to visit Saint Melania's Monastery. The door to the monastery is very small. It is about five feet tall. When we were let into the monastery we were first led into Saint Melania's stone cell. It was a narrow cave, At one end of it were her relics and along the walls were her chains that she wore under her cassock. Then we were taken to the church. It was small but every inch of the walls was covered with icons.
I never saw so many icons of Saint Melania in one place. There were many icons of the Mother of God, too. If you go to Jerusalem, try to find this little monastery.
This is a postcard size print of an icon of St. Melania by the hand of iconographer Matthew Garrett. The troparion for St. Melania is printed on the back.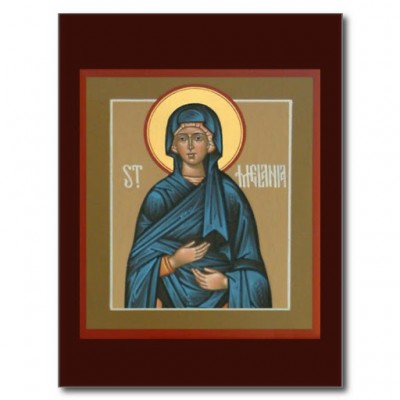 Our venerable Mother Melania the Younger (or Melanie the Roman - feast day: December 31) lived during the reign of king Honorios, son of Theodosios the Great, in 400. She came from a rich and glorious family. Her grandmother is also commemorated as a saint: Melania the Righteous (June 8). Because she loved the Lord with her whole heart, she chose to stay a virgin. But her parents forced her to get married even unwillingly with a man and she became the mother of two children. Then her parents and children died. That is why this blessed woman left the city of Rome and was living at her farm with every ascetic practice and virtue. She used to take care of the sick, received the foreigners who came to her, and visited the imprisoned and the exiled. Then she sold all her estates and possessions, which were many, and collected 120,000 gold coins, which she distributed to churches and monasteries.
St. Melania the Elder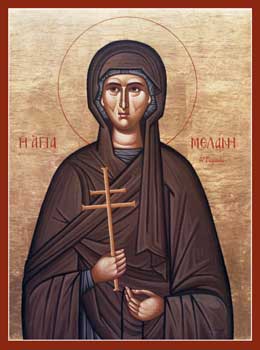 St Melanie the Elder, grandmother to St. Melania the younger
St. Melania the Elder Feastday: June 8
325 – 410 Foundress, a patrician woman of the Roman Valerii family. She was one of the first Roman matrons to make a pilgrimage to the Holy Land, where she founded a monastery on the Mount of Olives in Jerusalem.
Saint Melania the Elder or Maior (325–410) was a Desert Mother who was an influential figure in the Christian ascetic movement (the Desert Fathers and Mothers) that sprang up in the generation after the Emperor Constantine made Christianity the official religion of the Roman Empire. She was a contemporary of, and well-known to, Abba Macariusand other Desert Fathers in Egypt, Saint Jerome, Saint Augustine of Hippo, Saint Paulinus of Nola (her cousin or cousin-in-law; he gives a colorful description of her visit to Nola in his Letters), and Evagrius of Pontus, and she founded a religious community on the Mount of Olives in Jerusalem
Copyright 2014, Melanie Jean Juneau
About the Author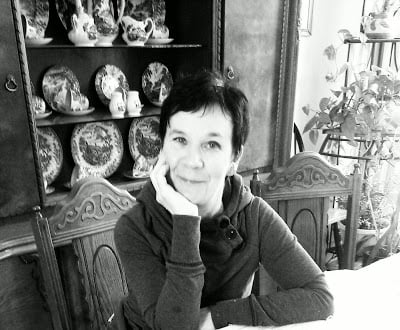 Melanie Jean Juneau is a mother of nine children who blogs at joy of nine9. Her writing is humorous and heart-warming; thoughtful and thought-provoking. Part of her call and her witness is to write the truth about children, family, marriage and the sacredness of life. Melanie is the administrator of ACWB, the Editor in Chief at CatholicLane, CatholicStand, Catholic365 , CAPC & author of Echoes of the Divine.