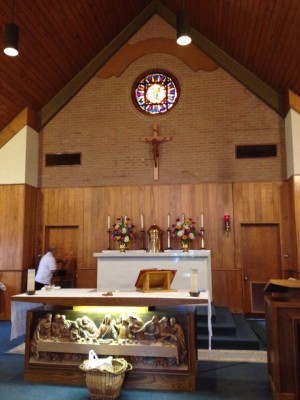 I brushed sand off the back of my husband's pants as we walked up the steps to enter the little beach-community church for Mass last week. I realized I ought to do the same. We were staying at a house right on the sand, and it was impossible to get to the car without dredging through sand, no matter how hard we tried.
The truth is, we really weren't trying very hard. We were already dressed a little more relaxed than usual; after all, we were on vacation. At the beach!
Don't worry, we were quite appropriate. But we were also comfortable, and I'm not talking about the light summer clothes we were wearing.
My family has been vacationing in this area for almost fifteen years. Most of those years we've attended Mass at this same parish. Other times, we've gone to the mission out on the cape when it's been open, but it seems that we've just gravitated back to the main church in town.
It feels like home to us, a spiritual home away from home. The parishioners must be used to a constant flow of different faces, so we aren't treated differently or special, just welcome. Shouldn't it be like that?
While I could talk all day about the beauty of our faith, the liturgy, the sacraments, the big "T" traditions and the small "t" traditions, there's one thing that we've always celebrated as a family -- the universality of the Mass. It doesn't matter where we are or where we go, if there's a Mass in the area, we know we belong there.
Something special happens on those occasions. Even though I love the comforting sameness of the Mass, the fact that the church is different makes me a little more tuned in to the Mass. Maybe it's because I'm looking for subtle differences -- an unfamiliar rhythm during communal prayers or maybe a different way of moving during Communion. These things help me focus more intently on the Mass.
Because we usually arrive at the beach on Saturday, we spend most of Saturday afternoon unpacking and settling in. Our first real day of vacation begins with that Sunday morning Mass. I can't help but think there's a special blessing in that for us.
Do you have a special tradition of vacationing in the same area? How do you keep up with churches and Mass times when you're on vacation?
Copyright 2014, Maria Morera Johnson
photo: St. Joseph's Catholic Church, Port St. Joe, Florida
About the Author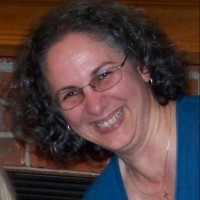 Maria Morera Johnson, author of My Badass Book of Saints, Super Girls and Halo, and Our Lady of Charity: How a Cuban Devotion to Mary Helped Me Grow in Faith and Love writes about all the things that she loves. A cradle Catholic, she struggles with living in the world but not being of it, and blogs about those successes and failures, too.