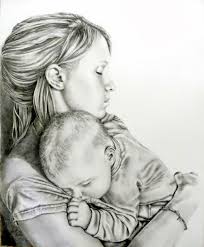 "Being a mother enables one to influence the future" - Jane Sellman
This is my second year of teaching at a school in the role of theology teacher. This is my 16th year in the role of mother. Everyone talks about how teachers have so much influence on their students and I agree. Especially in my position as a teacher who truly leads students to discover their faith, my methods and compassion should definitely influence their futures. However, the most influence I will ever have on the future is through my children.
I have had my children since conception, they felt my heartbeat, and I fed them from within. They each came from my flesh and were born into this world. They heard my voice as a newborn and turned to find me. I loved them like no one has ever loved another human being before me. I raised them, staying home, from birth until they were all at least in 3rd grade. Day in and day out 24 hours a day with my children. Eating together, playing together, cleaning together, reading together, learning together, visiting family together. I listened to them, guided them, taught them how to pray and still pray with them daily. I encourage them, build them up and give them wings to fly on their own. I love like love has never been given before my children existed.
I can see a little bit of me in their personality, in their determination, in their outgoing and happy nature, in their faith and close relationships to God. There is no one who has more influence on my children's life than me, their mom. I have messed up and yelled at the wrong time, spanked a time or two when I should have walked away, lost my patience or just got mad. I will continue to mess up and say and do the wrong things in the future. But there will never come a time when I will love my children any less than the moment I prayed for them to be conceived, I bore them through the labor, I saw them for the first time, I prayed with them together, I hugged them like I would never let them go.
They have felt my love from the beginning and it will never end. In fact I think it grows stronger daily. I will continue to guide them, encourage them, discipline them and teach them until they no longer need me (I pray they always want me even when they don't need me). By the grace of God my influence will help them to know God and be a good, kind, loving soul and better the world one day at a time through the love they give to others. Mother's have more influence than anyone on this earth, one person at a time.
Copyright 2014 Lori Hadorn-Disselkamp
About the Author

Lori Hadorn-Disselkamp - mom of 4 teens/wife for 20+ years. Lori has been writing at her own website Faith Filled Mom. She writes about the journey of faith we live daily and the ability to recognize God. She is a retreat director at Sacred Heart Academy HS. She just earned her MA in Pastoral Ministry as well as a certification in spiritual direction.