Welcome to our virtual book club! We're reading Fr. James Martin's bestseller, Jesus: A Pilgrimage. Each week we will tackle a chapter and look forward to a lively discussion together.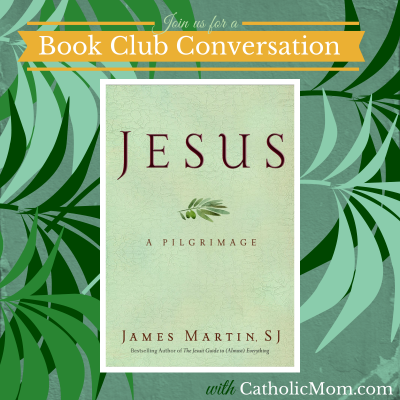 Chapter 16: Bethesda
So much of this book has made me really consider that yes, maybe I do actually have a desire deep inside to go to the Holy Land. This chapter on Bethesda is the perfect example.
The Pool of Bethesda and the healings that happen there are very remote to me. Oh, I've known sick people, people who need healing. But...somehow this idea of sitting by a pool and just waiting has never resonated.
But when Father Martin wrote this, I couldn't help but highlight it and my wheels started turning:
The man's departure is a reminder that not all were called to follow Jesus in the same way. This man has met Jesus and continues on with his life, made whole, transformed to be sure, perhaps returned to hope from despair, perhaps returning to a family who had given up on his ever being healed. Perhaps his healing was the sign that enabled his family to believe. There are many ways to follow Jesus.
Here, in a chapter about a remote place I may never see, about a Gospel passage I've always found rather befuddling, is this two-by-four to my head.
Picture this guy. He sat by the pool, helpless. He couldn't do anything else. His family had pretty much abandoned him. He'd been paralyzed for 38 years--that's more than my entire life (by a matter of months, but still).
Enter Jesus, who changes the man's life in more ways than one. There's the obvious, the physical. Then there's the less obvious, the internal change that must have taken place.
Because the two are intertwined. We are body and spirit.
Jesus healing on a Sabbath was a topic of scandal to some in the Jews. But that doesn't stop him from doing it, from bending over and giving this gift.
Fr. Martin continues, later:
Jesus is asking the man, "Have you given up hope?" Jesus is asking the man if he still has faith.

God asks the same question to those of us who enjoy perfect physical health, but who may have given up in other areas. A broken marriage, a miserable work environment, and overwhelming financial difficulties can lead us to despair. We can experience a spiritual paralysis that needs to be healed. But buried deep down under the despair is hope.

Hope is like the Pool of Bethesda. For years that place was thought to be lost, then just a myth. For years it was covered by dirt and gravel and trash. Perhaps it existed once, people thought, but no more. But it was always there, waiting to be uncovered, waiting to be restored, waiting to be seen again. It took work, but it was found.

This is how God comes to us--asking if we still want healing, if we still believe, if we still have faith.

Even while we dwell in despair, God excavates our hope and asks us, "Do you want to be made whole?"
Talk about bringing it home to me! I'll never read or hear this gospel story the same way again. I think it's just become a favorite, actually, thanks to Fr. Martin!
To Ponder, Reflect, and Discuss:
In what ways do you live as though you have hope? How can you share this hope with others today, through some small action for them?
Do you accept God's offer to heal you? What are some ways you can open yourself to his healing touch?
Chapter 17: Jericho
Whenever I hear the word "Jericho," some sort of muscle memory kicks in and I start dancing around (even if only in my own head) to a Sunday school song.
But wait, it's a real place? Well, it always seemed like the stuff of fairy tales until I dug into this chapter. And Fr. Martin's reflections on Jericho don't necessarily lead where I was expecting them to go (with crashing walls).
In one of the passages I highlighted, I read this:
Paula Fitzgerald, a campus minister at John Carroll University in Ohio and a friend from graduate theology studies, once told me how moving she finds the words "Jesus stood still." The Christian life is often so busy, said Paula, with its emphasis on doing and acting, that it's important to see Jesus being still. Jesus is not so busy that he cannot notice, or be attentive to, Bartimaeus, who has something important to say. Paula likened it to two friends walking side by side when one of them suddenly says something important. The listener may stop so that she can be more attentive. It's important to be active, but sometimes it's essential to be still.
This goes along with my growing appreciation for silence. As someone whose mind goes 1000 miles a minute and who always has something to say, I found Eucharistic Adoration quite a challenge when our parish started it a decade or so ago. Of course I signed up (I'm a signer upper! I support things!), but then I showed up and...it was quiet, a quiet unlike anything I had really experienced before.
Oh, I love the silence of nature. But this was silence with God in a whole new way.
I've come to cherish that silence, and to learn to harness it in other ways, to tap into it.
And often, silence and stillness seem to go together in my world. When there's activity, there's noise. It's part of my season in life as a mom with young kids. It's also just part of how I am.
But stillness: sitting on the porch and looking out over the fields, drinking coffee on the back porch as the sun comes up, just sitting and being--these are beautiful...and a bit contrary to my nature.
Let's take it farther, though (because Fr. Martin does):
Bartimaeus's encounter with Jesus also highlights the importance of being honest in our relationship with God. It would be difficult for the blind man not to ask Jesus to heal him from something that had troubled him all his life, especially if he knew Jesus's reputation as a healer. In a similar way, when we stand before God in prayer, we should feel comfortable expressing our longings. If you say only what you think you "should" say in prayer, while denying your deep desires--if you obey the crowd's order to "be quiet"--your relationship with God might grow cold. God invites us to be honest about what we desire, even though this can be a challenge when those desires are not fulfilled. But even in those difficult times God invites us to remain in the conversation. And this includes the transparent sharing of our deep desires. God craves our honesty.
Sometimes, it's easier to be honest in the silence and stillness. I can talk to God without being interrupted by the noise.
To Ponder, Reflect, and Discuss:
How often are you still? Spend some time, this week, in stillness. If you can, commit to doing this at least once a week for the next month. Consider, at the end of the time, how it has impacted your relationship with God.
Write a letter to God, baring your heart and expressing your deepest longings. When's the last time you've shared that with him?
Feel free to comment on your own thoughts from this week's reading, your impressions and reflections, and/or your answers to these questions.
Next week, we'll cover Chapter 18: Bethany and Chapter 19: Jerusalem. For the complete reading schedule and information about our Book Club, visit the Jesus Book Club page.
Copyright 2014 Sarah Reinhard
About the Author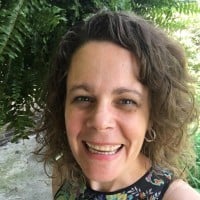 When she's not chasing kids, chugging coffee, or juggling work, Sarah Reinhard's usually trying to stay up read just one…more…chapter. She writes and works in the midst of rural farm life with little ones underfoot. She is part of the team for the award-winning Catholic Mom's Prayer Companion, as well as the author of a number of books. You can join her for a weekday take on Catholic life by subscribing to Three Shots and follow her writing at Snoring Scholar.