…with all humility and gentleness, with patience, bearing with one another in love… Ephesians 4:2
Recently Dave and I slipped away for two days and headed up north. We didn't really have a plan or an absolute destination mapped out, we just took off and knew we'd find a place to stay for the night and we'd figure it out along the way.
We drove the least traveled two-lane highways and took our time. After a couple of hours, we had discussed the kids, school, work, finances, and all things farm. Then we reached this wonderful stage where words weren't really needed at all; we were content to just be!
As we drove along I couldn't help but think back on the nearly 23 years we've been married. I remember on our honeymoon we decided we'd take a big trip every 5 to 10 years and we made a list of all the places we wanted to see. I giggled out loud at one point when we started talking about that and came to the realization that we hadn't gone any of those places. I think it's fair to say marriage isn't really what we thought it would be at all! It's better!
Contentment is a great gift in a marriage. I'm content to sit on the front porch on Sunday morning and enjoy a cup of coffee together. I'm content to enjoy a steak dinner raised and perfectly grilled by my groom. I'm content to buy tickets to a volleyball or baseball game and share a bag of popcorn for dinner. I'm content to sit next to my husband at Mass on Sunday.
Twenty-three years ago I thought I wanted to have coffee on a beach and dress up and eat at a fancy restaurant. A couple decades ago I thought I wanted tickets to Hawaii and seats together on a plane headed someplace amazing. Today I realize those aren't the things that make a marriage and a family strong at all. God had other ideas for us and I need to remember to thank him for that every day!
Romance is a funny notion that has changed over the years. In the 90's I would have defined it as flowers, cards, dates, and candlelight. Twenty-three years and three kids later I see things differently. Flowers die, candles melt, chocolate makes my butt bigger, and cards are ridiculously overpriced! It's the little thoughtful things that are romantic; like help with the dishes, a surprise car wash or running to the clothesline to grab the wash when it starts to sprinkle. Some of the most romantic dinners I can remember have been burgers or sloppy Joes in a tractor or on a hay wagon.
Marriage isn't all fireworks and googely eyes but when I see my husband play catch or work alongside his kids and beam with pride at the success of one of his children my heart melts. It's amazing to me how truly loved I can feel just by watching my husband love his children.
Lots of things have changed. I caught our reflection in a storefront window when we went for a walk and we don't look the same as we did on our honeymoon trip, but in some respects the reflection looking back at us last week was so much lovelier.
Twenty-three years ago we were two people in love. Today we are two people bound by a loving Father who has guided and blessed us every day of our marriage. He's given us the strength to forgive when we needed to. He's given us the wisdom to try to raise our kids the best we could. He's given us courage to face the things we didn't see coming and were totally unequipped to handle. He's given us just enough struggles to grow in trust and enough blessings to grow in gratitude and joy. The best gift of all though has been the ability to see our marriage the way he intended it to be, not the way we thought it should look 23 years ago.
A Seed To Plant: What are some things you imagined one way and God organizeddifferently? Have a prayerful conversation with him about that today.
Blessings on your day!
Copyright 2014, Sheri Wohlfert
About the Author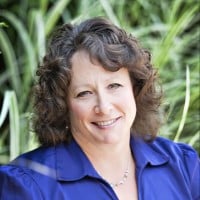 Sheri is a Catholic wife, mom, speaker and teacher. She uses her great sense of humor and her deep faith to help others discover the joy of being a child of God. Her roots are in Kansas but her home is in Michigan. The mission of her ministry is to encourage others to look at the simple ways we can all find God doing amazing things smack dab in the middle of the laundry, ball games, farm chores and the hundred other things we manage to cram into a day. Sheri also writes at JoyfulWords.org.