We're back from a long break, and we have quite a pile of giveaways this week...enjoy! Thanks to Dolphin Tale 2, Give Him 5, Jen Norton Art Studio, and all the publishers who keep my giveaway shelf stocked for sponsoring this week's giveaway!
This week's giveaway: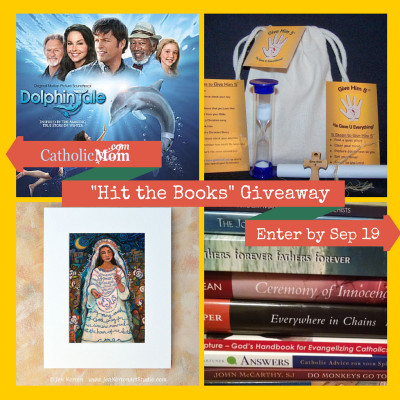 Dolphin Tale 2 Prize Pack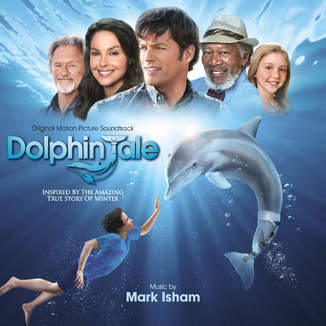 This prize pack includes:
2 Movie Money Dolphin Tale 2 Tickets
2 Dolphin Tale 2 Dog Tags
2 Dolphin Tale 2 Ombre T Shirts
4 Purple Dolphin Tale 2 Rubber Bracelets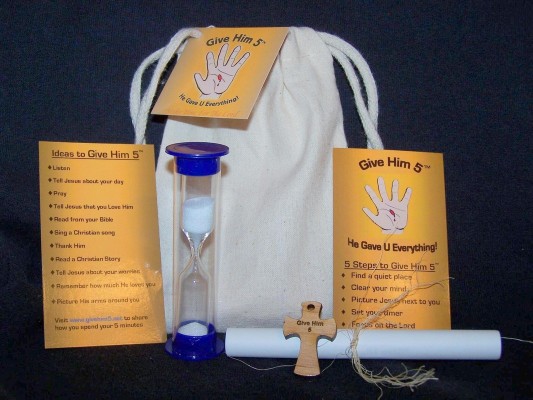 Kit includes:
5-minute Sand Timer
Give Him 5 Pocket Cross
Give Him 5 Scroll (Explanation of Give Him 5)
Two Give Him 5 Cards (one to save and one to give away)
4 x 6 inch Muslin Carry Bag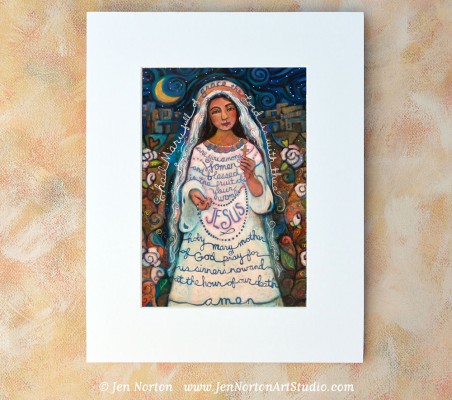 My Hail Mary painting features the traditional Catholic Hail Mary prayer, inspired by the passages in the Gospel of Luke. It is painted in a colorful Southwestern folk style and features the text of the prayer around and within the form of Mary. My art prints are created in my studio using an Epson Stylus Photo R3000 with pigmented inks on Canson Infinity Edition Etching Rag. The matted version includes an archival white matting and backing to easily fit an 11 x 14" frame size. Prints are open editions. All images are © Jen Norton and may not be reproduced without a written agreement. Watermarks will not appear on final art.
A Big Ol' Pile of Books
We have one copy of each of these books to give away...and it's quite a selection!

Classroom Management for Catechists, by Jennifer Fitz
For catechists, sometimes learning to manage the class can be as critical as the lessons themselves. Classroom Management for Catechists provides detailed, step-by-step methods for catechists on how to manage classroom behavior with love and grace. Catechists learn the time-tested methods for classroom discipline used by professional educators, but applied specifically to the particular challenges of the parish religious education setting.

Educators often agree that learning to manage a classroom full of young people is no small task. This book is unique in that it teaches catechists how to think through their approach to classroom management, how to assess new situations, and how to choose the right tools to solve problems as they arise. By developing skills rather than memorizing tips, catechists can be confident of their ability to respond to the changing needs of their students.

Mothers Forever, Fathers Forever, by Linda Kracht
All parents want to do what's right by their children. That's the one common link between parents regardless of different religion, ethnicity or worldview. For too long, parents have been told that it takes a village to raise a child; but it doesn't. This saying rubs up against the long held catholic principle of subsidiarity for families; many parents do not even know what the latter involves or means.

Mothers Forever, Fathers Forever offers a fresh perspective on parenthood and its unique responsibilities and obligations. The book is guaranteed to surprise, challenge, reassure and fortify the reader. Mothers Forever, Fathers Forever asks parents to be revolutionaries; to swim against the tide.

Ceremony of Innocence: A Novel, by Dorothy Cummings McLean
Riots. Terrorist attacks. Neo-Nazi violence.

In modern-day Germany, journalist Catriona McClelland has seen it all while covering the contemporary European scene for a Catholic news organization. Keeping herself above the political fray in her professional life, she has also managed to keep herself from personal entanglements-still hurt from the wounds of a broken relationship. Things come to a head when her boyfriend Dennis, frustrated with a lack of commitment, leaves her for Suzy Davis, an idealistic young Canadian who is involved with a left-wing protest movement. But when Suzy is murdered... who is complicit and who is innocent?

Ripped from the headlines, Ceremony of Innocence is a very contemporary novel of Europe on the edge of social breakdown. Train stations are bombed and migrants targeted for violence as journalists and other tastemakers watch from their positions of privilege.

Dorothy Cummings McLean's realistic narrative does not describe the feats of heroes. Rather, it unnervingly lays bare the way religious faith and moral reasoning can be easily manipulated and compromised.

Everywhere in Chains: A Novel, by James Casper
This highly thought-provoking, sometimes amusing and always life-affirming novel illustrates one family's experiences with America's criminal justice system. As Penelope searches for the truth about her father, she rattles the skeletons in her family's closet and shakes up the complacency of her community, which has tried to sweep the past under the rug. With both perception and compassion, the author creates a colorful cast of characters while challenging the wisdom of imprisoning the mentally ill.

On the cusp of adulthood, Penelope begins to understand that she has grown-up in a web of silence. The denial in her family and small Minnesota hometown is so thick that she does not know how to cut through it, that is, until she begins a seemingly innocuous pen-pal correspondence with someone in another town. Little by little, Penelope unravels the secrets meant to protect her from the truth. She proves herself to be stronger and wiser than anyone could have predicted and leads the way to healing.

In the lives and interactions of the major characters in this story explores the sprawling psychological geography of America's criminal justice system and its profound effect on everyone it touches, even its most ardent proponents. While dealing with a serious, challenging subject, this book is also filled with warmth and likeable characters. The odyssey of Penelope concludes on a faith-affirming note with a parade of surprising revelations.

Scripture - God's Handbook for Evangelizing Catholics, by Stephen Binz
If you believe in the transformative power of Scripture in your life, imagine what it can do for others around you!

Scripture scholar Stephen Binz has spent the past 30 years working to help Catholics with the "frequent reading" of Scripture through the ancient movements of lectio divina -- listening, meditating, praying, contemplating the Word and witnessing to it. That means reading the Bible fully expecting the Holy Spirit to illuminate the passage we read.

Now in Scripture-God's Handbook for Evangelizing Catholics he brings to light the power of scripture to not only renew our lives, but make us living witnesses of the Gospel. Inspired and influenced by Pope John Paul II, Pope Benedict XVI, and Pope Francis, Binz shows us the indissoluble connection between their call to New Evangelization and its necessary connection to the Word of God.

Every chapter brings you closer to Christ and closer to His Word as you:

Grasp the importance of recovering the evangelical dimension of Catholicism
Discover the "hero evangelizers" in Scripture and history
Learn to read the Bible as an evangelizing Catholic
Understand the key link between lectio divina and the New Evangelizatiion
Identify the obstacles to hearing and witnessing to God's Word today
Understand the role of Mary, the Star of the New Evangelization

Through Stephen's approachable but thorough coverage of the topic, you'll be prepared to share with the world your joy in the Lord!

Answers: Catholic Advice for Your Spiritual Questions, by Fr. Bartunek
Those who sincerely seek to know God (and themselves) better often struggle to find answers to thoughtful and sometimes troubling questions about the spiritual life, including:

Who is God?
How can I know God's will in my life?
Does God really hear me when I pray?
Why is there so much suffering in the world today?
What makes Catholicism different than other religions?

Father John Bartunek has spent much of his priesthood helping others understand what it means to have an authentic, personal relationship with God. A master communicator, he is able to make difficult truths understandable, while at the same time issuing a call to action. For those seeking real answers about prayer, spiritual growth, living in the world today, overcoming sin, and the distinctiveness of the Catholic faith, Fr. John's advice will speak to their souls and touch their heart.

Do Monkeys Go to Heaven? by John McCarthy, S.J.
Thoroughly perceptive and delightfully amusing, Do Monkeys Go to Heaven? invites us to consider the many natural wonders expressive of Gods abiding presence in creation. Removing the so-often-made distinction between secular and sacred, McCarthy takes us on a journey and ponders natures revelation of God and Gods boundless love of us, showing us the need for us to be both scientific and spiritual. You will be sure to grow in awe and wonder of Gods presence in creation and delve more deeply into your faith.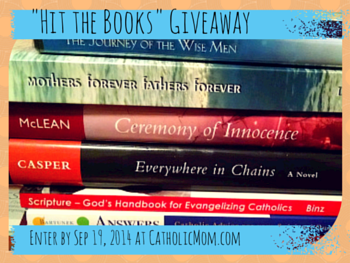 About the Author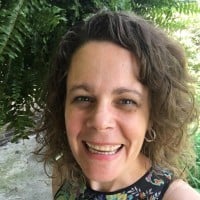 When she's not chasing kids, chugging coffee, or juggling work, Sarah Reinhard's usually trying to stay up read just one…more…chapter. She writes and works in the midst of rural farm life with little ones underfoot. She is part of the team for the award-winning Catholic Mom's Prayer Companion, as well as the author of a number of books. You can join her for a weekday take on Catholic life by subscribing to Three Shots and follow her writing at Snoring Scholar.