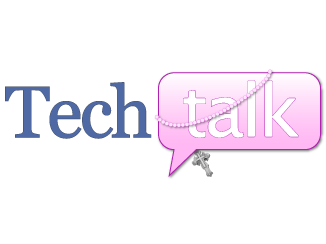 Hi Everyone,
Yes it has been a while since I have posted anything, and I do apologize for that fact. Life has a way of piling up on you during the summer. Everyone seems to have a party or an event to attend to and things are in constant motion. Of course, none of this has anything to do with the topic at hand.
Every month for the past couple of years I have been in charge of putting together our family's monthly budget. Keep in mind the wording here, I put it together/set it up, Tanya is usually the one who keeps it up to date. However, earlier this month, when I went to create/duplicate a tab in our Excel spreadsheet I made a mistake. Instead of copying last month's budget as a new tab, which is how I always start the next month, I accidentally overwrote the budget with the base numbers for September. In short, I royally messed up and Tanya and I had to take a new look at the budget and our finances.
I decided that I could no longer just do this in an Excel sheet. On top of the fact that mistakes such as this one can happen, I also LOATHED doing it every month. Trust me, I know how important a budget is to a stable family life and to ensure that we are being good stewards of what God is blessing us with. However, I couldn't help but cringe every single time I had to open that Excel sheet once a month.
I've tried Mint.com for financial monitoring and management in the past but, it seemed so overwhelming. Sure, it is great to have one's 401k, bank statement, mortgage, and the interest on the $5 borrowed from a friend in elementary school all listed there for an individual to see. However, when it came to budgeting it was simply too complicated. I just wanted something that focused on the take-home portion of the money coming into the bank account, not all of the stuff that I honestly don't need to keep track of every day.
I did some searching and found BudgetSimple.com. It is a great free tool that allows users to set up a basic, simple, and easy to follow budget. It offers some basic graphics and charts to let users know how they are doing and also allows for multiple "savings" buckets so that items being saved for like bi-yearly insurance payments, an emergency fund, or other things being saved for can be clearly and easily tracked. There is also a feature by which one can automatically carry over amounts from previous months, which makes life that much easier. Did I mention that the basic version is FREE?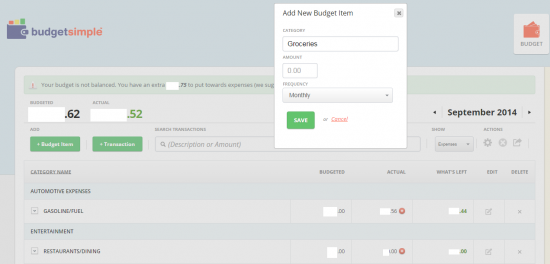 Creating a budget category is easy. One simply has to click on the +Budget Item button, select a category, sub-category, or create a category to allocate funds, and then enter how often the budgeted amount is usually for. Once a budget item is created, one can then add their actual expenses against it by clicking the red plus sign in the budget category. There is a date, amount, and description field whenever a transaction/expense is added, something an Excel spreadsheet simply won't do.
However, BudgetSimple doesn't over-clutter things either. Yes, there is a transaction view where one can look at all the different transactions which were logged. The default view is simply the budgeted items, their actual spent amount, and the amount remaining. There are simple alerts when a budget isn't balanced and users even get suggestions on how to save money. Tanya and I may have found a new phone carrier partially because of such a suggestion.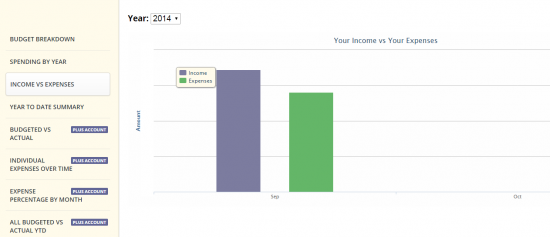 BudgetSimple also has some basic reporting as to what the breakdown of the budget is, Where is all the money going? How is the income vs. expense balancing out? There are graphs and charts which answer these questions, and some more advanced ones for premium/plus account members.
Speaking of the plus account, which I don't have, it grants users even more suggestions on how to save money each month, even guaranteeing that essentially the user will save the amount of the subscription for each month through the site's suggestions. Plus accounts also give access to more reports and will allow users to connect their bank accounts to automatically import items and categorize them. Personally, I just go into the advance settings and import a file that I download from my bank's website, copy and paste from my bank's online ledger, or simply manually enter the expenses. Plus accounts are $4.99 per month, if one is interested.
I have only been using BudgetSimple for a week and it has been a huge improvement over what I used to do. Are there other budgeting websites, apps, and software out there? Absolutely! Are some of them more robust and more "full-featured"? Sure, if one goes for that kind of thing. However, for me this is probably the best basic budgeting tool there is out there. Granted, I have become more involved in entering our family's expenses as we go through the month but, who is to say that is a bad thing?
Simply put, if one wants a simple and effective tool to manage a budget and getting out of Excel, this is it! However, if someone is looking for something a little more in-depth or with all sorts of custom graphs, charts, and other such things, they might want to try Mint.com or You Need A Budget (YNAB). There are tons of great tools out there and it is all down to personal preference as to which one is best. This is the right one for me.
BudgetSimple is a great free (or paid) website allowing for individuals, couples, and families to get a better grip on their finances. It has everything one needs and none of the added fluff. With tools like this out there, what excuse can anyone give to ignore their finances?
Image Credit: Savings and Budget by 401(k) 2012
Read more of our Tech Talk columns.
Copyright 2014 Chris Weitzel
About the Author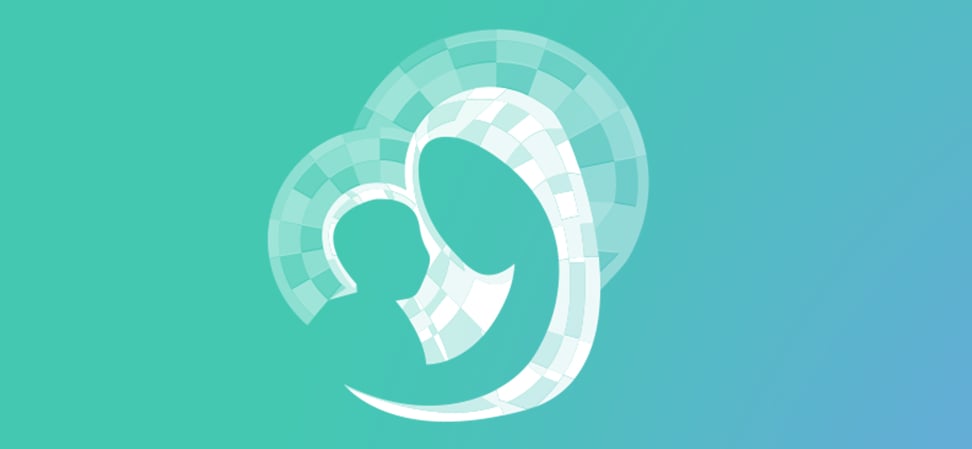 We welcome guest contributors who graciously volunteer their writing for our readers. Please support our guest writers by visiting their sites, purchasing their work, and leaving comments to thank them for sharing their gifts here on CatholicMom.com. To inquire about serving as a guest contributor, contact editor@CatholicMom.com.