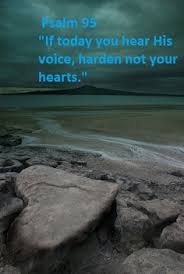 "Oh, that today, you would hear his voice: Do not harden your hearts"
- Psalm 95:7-8
Daily we hear the voice of God but we do not recognize it in our lives. We feel for those who are in pain, we want to comfort others, we desire to love those who surround us; these reactions are sometimes initial reactions to others. However, in our culture we have been conditioned to mind our own business, to not talk to strangers and to keep to ourselves. God speaks to our hearts and pushes us beyond our comfort zone. Yet, we push back by suppressing those initial feelings and we just walk on ignoring the suffering of others for the sake of our own self-preservation.
In the homily I heard this Sunday the priest posed the question, "Why was Jesus without sin?" The obvious answer is that He was the Son of God. The not-so-obvious answer was that of the priest, "Sin is of self. Jesus never put himself first."
In our culture we look out for number one. We rarely put others before our own wants and needs. The voice of God is calling us to put others first and we are ignoring it; hardening our hearts against God. Of course it will not be comfortable to put others first because who will take care of us, right? Let me tell you who will take care of you if you are busy taking care of others. GOD will take care of you. Trust that fact.
Today, listen for the voice of God and open your heart to his will. We are vulnerable when we open our hearts but what God will place within us will fill more than our hearts it will fill our world.
Copyright 2014 Lori Hadorn-Disselkamp
About the Author

Lori Hadorn-Disselkamp - mom of 4 teens/wife for 20+ years. Lori has been writing at her own website Faith Filled Mom. She writes about the journey of faith we live daily and the ability to recognize God. She is a retreat director at Sacred Heart Academy HS. She just earned her MA in Pastoral Ministry as well as a certification in spiritual direction.