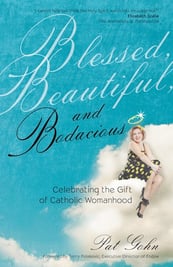 Pat Gohn, cancer survivor, celebrates womanhood by exploring a woman's dignity, gifts and mission with exciting, personal stories. Discovering the gift of her womanhood brought her into a deeper relationship with God, her husband, family, and, to her surprise, the Blessed Virgin Mary.
Her formation in life and the faith revolved around music. Garage band guitar music. When she gave her heart to Jesus Christ at a retreat, she realized God was inviting her to use her guitar playing and writing gifts for his purposes. In three words: Blessed, Beautiful and Bodacious, she helps us discover who we are and what gifts we have that reflect our innate and eternal beauty.
Blessed is a sublime dignity we did not earn. "God configures us to be like Christ, the beloved Son. We are beloved daughters not only like Jesus in identity, but also in action. We are called to behave like him, too. Like spiritual DNA, grace enables us to forgive, to reconcile, to heal, and ultimately love like Jesus. We. Were. Made. For. This."
Beautiful means women are uniquely endowed with gifts of receptivity, generosity, sensitivity and maternity. When we trust these gifts, we become beautiful from the inside out. As we exercise our gifts, beauty always emerges.
Receptivity means our bodies and souls are designed to receive God and others. God cultivated a spirit of receptivity in Pat through her marriage, motherhood and her struggle to understand and emulate Mary as the handmaid of the Lord. "When I trusted God wholeheartedly, I found joy in my role. It's almost as if I could pray alongside Mary that, 'He who is mighty has done great things for me.' Indeed, he had."
Generosity empowers our receptivity. My favorite chapter was "Making a Gift of Yourself," where Pat writes, "If receptivity is one of our greatest feminine gifts found in the nature of our womanhood, then generosity is the gift that empowers it. Generosity's actions and dispositions are the way we demonstrate the largesse and lavishness of God's love in ours."
Sensitivity is seeing with our hearts, and not just our eyes, the hidden dignity of others with compassion, affection, care and mercy. "Like those superhero superpowers, some women have become very highly attuned, with a kind of x-ray vision of the hearts around them."
Maternity involves both physical and spiritual motherhood. Mary and the nurturing women in her life spiritually mothered Pat through her pregnancies and years of motherhood. She would later learn that this spiritual motherhood is the deepest and most challenging calling of every woman. Spiritual motherhood "is about becoming a woman of holy influence, being a life-giver to others."
"Bodaciousness is maternity magnified. Bodacious women are those whose lives have the most purpose and meaning when they give their love away and when their love takes shape in others." They embody physical and spiritual motherhood, characterized by bodacious fullness, an all-in willingness to lay one's life down for the sake of another in small and large ways. They do this in sync with the Church.
Pat writes that, with the sexual revolution, contraception and access to abortion desensitizes many women, closing our receptivity, limiting our generosity, blunting our sensitivity and sterilizing our maternity. God's grace can restore our maternal gift spiritually, if not physically. She concludes. "Our bodacious calling —our maternal mission—is our role in the new evangelization that the Church must take on. The time is now for women to shine their light and love as guardians of life."
(Review © 2014 Nancy H C Ward)
About the Author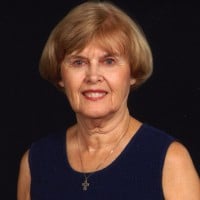 Nancy Ward authored Sharing Your Catholic Faith Story: Tools, Tips, and Testimonies (and the DVD) and contributed to The Catholic Mom's Prayer Companion. She loves to share her conversion story and give evangelization workshops and retreats equipping others to share their faith. She facilitates the DFW Catholic Writers, Catholic Writers Guild Nonfiction Critique Group, serves on their Board, and speaks at writers' conferences. Learn more at JoyAlive.net and NancyHCWard.com.