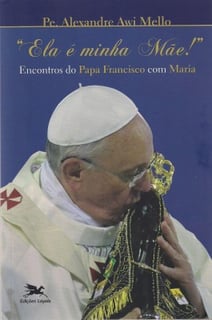 Comecei a ler este livro numa sexta-feira a tarde e em menos de quatro dias já tinha terminado. E olha que o livro tem mais de 250 páginas! A leitura é simplesmente cativante, não conseguia parar de ler e me encantar com as experiências do nosso querido Papa Francisco com Nossa Senhora.
Em entrevista concedida ao autor, o Papa descreve seus encontros com Nossa Senhora, desde sua infância até sua missão atual como Bispo de Roma. Fala de suas orações e devoções marianas preferidas e destaca a importância de Maria na vida da Igreja e dos cristãos, o valor dos santuários marianos e da piedade popular, o lugar da mulher na Igreja e muitos outros temas da atualidade. Indo além da entrevista, o autor consegue desbravar os caminhos que conduzem à mente e ao coração mariana do Papa Francisco e convida o leitor a fazer o mesmo percurso, recorrendo sempre ao cuidado maternal de Maria.
E foi exatamente isso que aconteceu comigo.A riqueza de detalhes da narrativa permite que a gente se transporte para o centro das experiências contadas, vendo e sentindo como o Papa viu e sentiu cada um de seus encontros com Maria. E os comentários complementares do autor são fundamentais para conseguirmos compreender e nos aprofundar em cada uma destas experiências.
Pude constatar também como o Papa é um homem realmente humilde, simples, de muita fé, mas extremamente inteligente, perspicaz e franco em seus pontos de vista sobre os mais diferentes assuntos, como o ecumenismo, os desafios da nova evangelização e o papel da Igreja e dos sacramentos na vida do fiel.
Por tudo que eu já havia visto e lido sobre o Papa Francisco, sabia que ele é devoto de Maria. Porém, ao ler este livro, vi que esta devoção veio de berço, da sua família, e comprovei como é importante desenvolver esta devoção dentro da minha própria família, com meu marido e meus filhos.
Para mim também foi especial conhecer as orações marianas favoritas do Papa e assim que terminei de ler o livro, escolhi a que mais me tocou, imprimi e estou rezando com minha família todas as noites. Outra inspiração que tive ao terminar a leitura foi imprimir uma foto do Papa, colocar em um porta retrato e deixá-lo em meu Santuário-lar, que é o local em nossa casa onde nos reunimos para rezar todos os dias. Desde que foi eleito como Bispo de Roma, já em seu primeiro pronunciamento, ele pediu que rezássemos por ele, assim, vendo sua foto diariamente, é mais fácil de lembrar de atender a esse seu pedido.
Recomendo a leitura deste livro àqueles que já amam a Nossa Senhora, àqueles que ainda são um pouco reservados nesta devoção, aos que querem conhecer mais esta personalidade brilhante que é o Papa Francisco, aos que querem saber mais sobre as diretrizes do Papa para a Igreja, enfim, a todos que desejarem ter uma experiência profunda de Maria e de seu filho Jorge Mario Bergoglio, o Papa Francisco.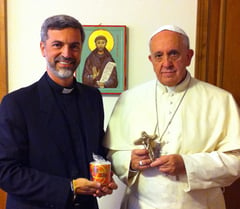 Sobre o Autor:
Pe. Alexandre Awi Mello, é membro do Instituto dos Padres de Schoenstatt e é o diretor nacional do Movimento de Schoenstatt no Brasil. Mestre em Teologia pela Philosophisch-Theologische Hochschule Vallendar, na Alemanha e doutorando em Mariologia no International Marian Research Institute, da University of Dayton, em Ohio, nos Estados Unidos. Secretariou o Papa Francisco na V Conferencia do Conselho Episcopal Latino Americano e do Caribe (CELAM) em Aparecida (2007) e na Jornada Mundial da Juventude, no Rio de Janeiro (2013).
Você pode adquirir este livro através do site das Edições Loyola: http://www.loyola.com.br/produtos_descricao.asp?lang=&codigo_produto=30914
Book Review: "She is My Mother! - Pope Francis' Encounters with Mary"
I started reading this book on a Friday afternoon and in less than four days I had already finished it. And the book has over 250 pages! The reading is just captivating, and I couldn't stop reading. I was enchanted with the experiences of our dear Pope Francis with the Blessed Mother.
In an interview given to the author, the Pope describes his encounters with Our Lady, since his childhood until his current mission as Bishop of Rome. He speaks about his favorite prayers and Marian devotions and highlights the importance of Mary in the life of the Church and the Christians, the value of the Marian's shrines and popular piety, the place of the woman in the Church, and many other themes of our present time. Going beyond the interview, the author manages to grab the ways that lead to the Marian mind and heart of Pope Francis and invites the reader to walk the same way, appealing always to the maternal care of Mary.
And that was exactly what happened to me. The richness of the details allows us to reach the center of the experiences told, seeing and feeling as the Pope saw and felt each one of his encounters with Mary. And the comments of the author are fundamental for us to be able to understand and go deep in each one of those experiences.
I also found out that the Pope is a man truly humble, simple, and with a profound faith, but extremely intelligent, perspicacious, and frank in his points of view about the most different subjects like ecumenism, the challenges of the new evangelization, and the role of the Church and the sacraments in the life of the faithful.
From all I've already seen and read about Pope Francis, I knew he was devoted to Mary. Through the reading of this book, I saw that that devotion came from the cradle, from his family, and I confirmed how important is to develop this devotion inside my own family, with my husband and children.
It was special for me to know the Pope's favorite Marian prayers and as soon as I finished reading the book, I chose the one that touched me more deeply, printed it, and am praying it every night with my family. Another inspiration that I had by finishing the book was to print one picture from the Pope, put it in a frame and leave it in my Home Shrine, which is the place in our home that we gather to pray every day. Since he was elected as the Bishop of Rome, already in his first pronouncement, he asked that we prayed for him, so by seeing his picture daily, it´s easier to remember to satisfy this request.
I recommend reading this book for those who already loves the Blessed Mother, for those who are still a bit reserved about this devotion, for the ones who want to know more about this brilliant personality that is the Pope, and for the others who want to know more about the Pope's guidelines for the Church, ultimately to everyone that wishes to have a profound experience of Mary and her son Jorge Mario Bergoglio, Pope Francis.
About the Author:
Fr. Alexandre Awi Mello, is a member of the Institute of Schoenstatt´s Fathers and is the nacional director of Schoenstatt´s Movement in Brazil. He is a Theology Master from Philosophisch-Theologische Hochschule Vallendar, in Germany and is a PhD student in Mariology in the International Marian Research Institute, da University of Dayton, in Ohio, USA. He was Pope Francis secretary in the V Conference of the Latin American and Caribbean Episcopal Council (CELAM) in Aparecida, Brazil (2007) and for the International Youth Journey, in Rio de Janeiro, Brazil (2013).
You can buy this book from Edições Loyola's site.
If you wish to see this book translated into English, please let me know by commenting on this post.
Copyright 2014 Flávia Nunes Costa Ghelardi
About the Author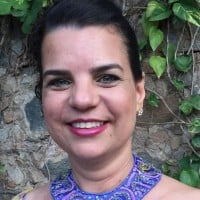 Flávia Ghelardi is the mom of four, a former lawyer already "promoted" to full time mom. Flávia published her first book FORTALECENDO SUA FAMÍLIA and is a member of Schoenstatt´s Apostolic Movement. Flávia loves to speak about motherhood and the important role of women, as desired by God, for our society. She blogs at www.fortalecendosuafamilia.blogspot.com.