Welcome to the Momnipotent Book Club! We're reading Danielle Bean's new book, Momnipotent: The Not-So-Perfect Woman's Guide to Catholic Motherhood.
I admit it. I was kind of afraid to take the quiz in chapter 4 of Momnipotent. Because, well, I knew how that was going to turn out. I am a messy perfectionist, with plenty of high ideals but without all the follow-through. I am a wannabe perfectionist, looking longingly at those I think are perfect, with the right clothes, the fashionable haircut, the neat-as-a-pin home, the car that doesn't come with half-empty water bottles that roll under the driver's foot while we're on the interstate.
While the quiz confirmed what I already suspected about my perfectionistic tendencies, I did not find myself discouraged. Instead, Danielle's advice motivated me. Woven around the beginning of the Magnificat, the chapter urges readers to worry less about our points of pride, whether those involve homemade cookies or dust-free crown molding--and focus more on noticing the ways in which God loves us, so that we can reflect that love in our daily lives. The advice found after that incriminating quiz is a great comfort.
Chapter 5 deals in concrete ways with the ways our perfectionism can trip us up as we raise our children. There's a photo of my two older kids, ages 6 and 2 at the time, all geared up for roller-skating. They were wearing their clunky plastic Fisher-Price skates, knee pads, elbow pads, and bike helmets. My daughter's helmet was so huge on her that we could barely see her little face. No wonder they didn't learn to skate that summer--they could barely move! 16 years later, that same daughter plays on a college rugby team, so it's good to know that my bubble-wrapping of my young kids did not destroy their adventurous natures. (That said, I'm not sure I'll be able to bear watching her play!)
It's a constant balancing act to let your children learn to take risks without following them around with a safety net 24/7. But they can't learn to do things on their own if we're always there to rescue them. And I've been trying very hard, for more than 22 years now, to let my children learn to take those necessary steps toward independence. The kids will tell you I'm still too protective, but they don't even know about the impulses to protect, shelter and smother that I do manage to squash!
This past year, my tendency to protect my children went into overdrive when my youngest was diagnosed with type 1 diabetes, a disease which requires constant monitoring. That's the last thing a middle-schooler wants to deal with, and I'd love to be able to just let him run out the door without checking his blood sugar first. We're learning, together, how to help him care for himself so he can have the independence a twelve-year-old needs. The prayer that concludes chapter 5 truly expresses what is in my heart as I navigate parenting all three of my children in their new worlds: one working and living on his own, one in college, and one with a newly-diagnosed chronic illness.
What ties both of these chapters together? Trust. Giving up our perfectionism is an exercise in trusting that God, our families, and our friends will love us as we are. Stepping back from overprotecting our children requires us to trust them to make good decisions and to trust that we have given them a good foundation for independence.
As I read (and reread) Danielle Bean's book, the most encouraging thing I'm learning is that I'm not the only one--even if there are many times that I sure do feel that way.
To Ponder, Reflect, and Discuss:
Take the challenge in chapter 4 of praying the Morning Offering each day. Do you find it difficult to offer God your sufferings and imperfections?
Do you find yourself preventing your children from doing age-appropriate things because you're afraid of what might happen? This week, look for one way to allow them a little more independence.
What episode in the life of the Blessed Mother speaks most to you at this point in your mothering journey? How can Mary's example inspire you?
Feel free to comment on your own thoughts from this week's reading, your impressions and reflections, and/or your answers to these questions.
Next week, we'll cover Chapter 6: Giving Till It Hurts...Everyone. For the complete reading schedule and information about our Book Club, visit the Momnipotent Book Club page.
Copyright 2014 Barb Szyskiewicz
About the Author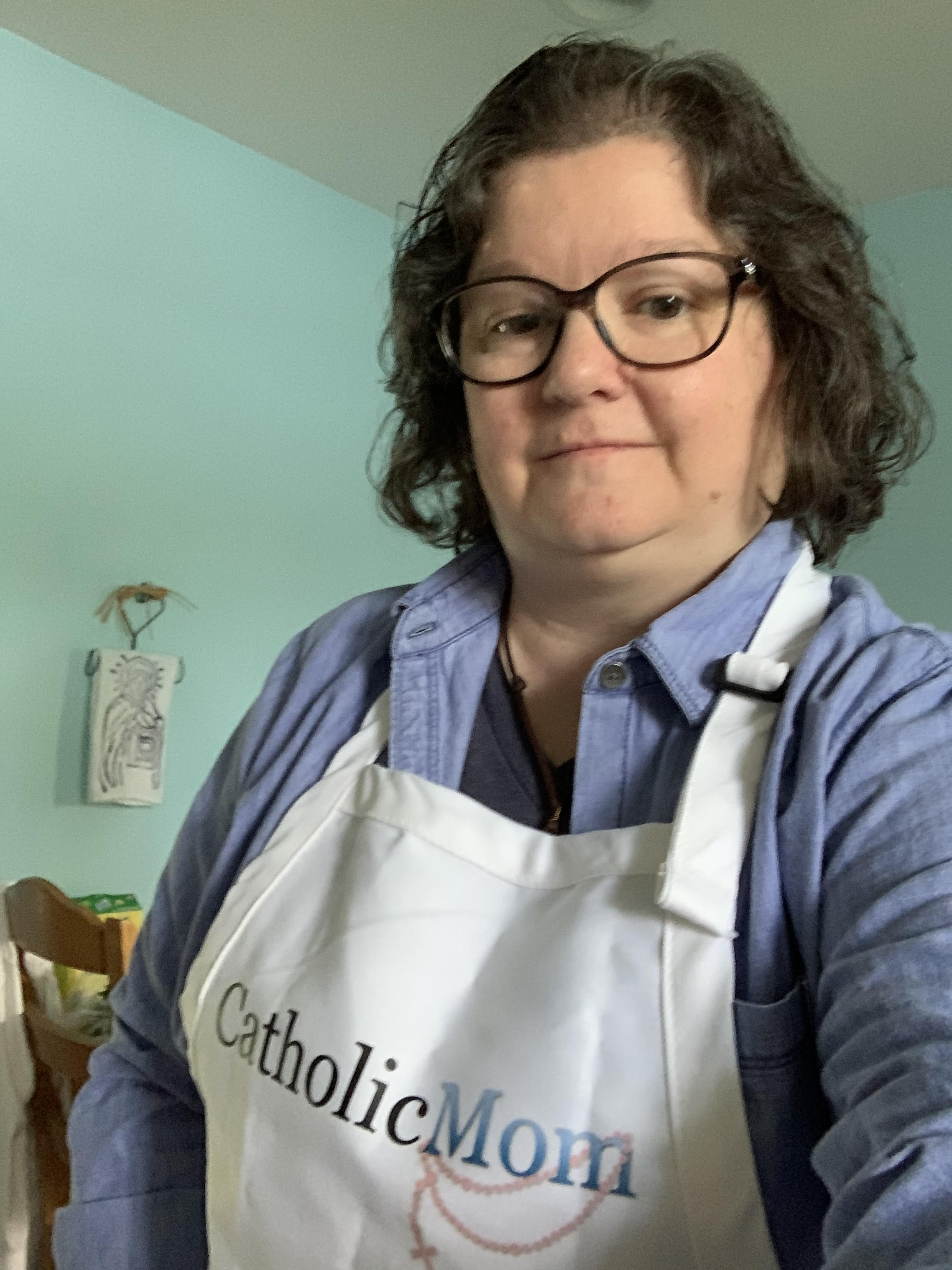 Barb Szyszkiewicz is a wife, mom of 3 young adults, and a Secular Franciscan. She is editor at CatholicMom.com. Barb enjoys writing, cooking, and reading, and is a music minister at her parish and an avid Notre Dame football and basketball fan. Find her blog at FranciscanMom and her family's favorite recipes with nutrition information for diabetics at Cook and Count.