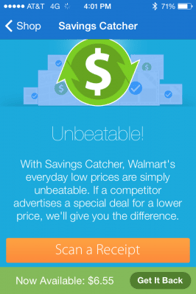 I do a lot of shopping at WalMart. I live 3.4 miles from the store. It's on the way to church, and I go by it (or pretty close to it) to get to the highway that brings me across town. When our family went through some very difficult financial times, the money I saved on clothes and food and the like while shopping at WalMart helped to keep us afloat.
I joke that I go there about a dozen times a week. They don't do anything for me that they don't do for everyone else, though. They're just convenient and inexpensive, and they carry all kinds of things people need.
Because they're not always the best price in town, WalMart has a price-matching policy: if you bring in the ads from a local store that shows a lower price than what they're carrying, you'll get the lower price. I've done that on turkeys for Thanksgiving and Christmas (it saved me 70¢ per pound!), but for the most part, I don't do it. For one, I don't get the paper — and besides that, it's just a pain in the neck.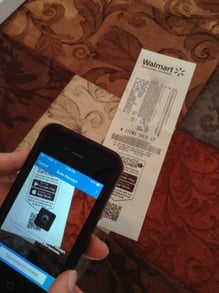 You'd think WalMart would be happy to not have to give me the lower price because I'm so lazy. After all, WalMart is a business. Their job as a business is to make money.
But you'd be wrong to think that!
WalMart has introduced their Savings Catcher, which is built into their smart phone app. I call it Price Matching for the Lazy! It's the easiest thing.
Shop at WalMart as usual, then take your receipt and get the WalMart app opened on your phone, sign in with your account (or create one), and select Savings Catcher. Scan the QR code or UPC code at the bottom of your receipt. Close the app. Wait for money.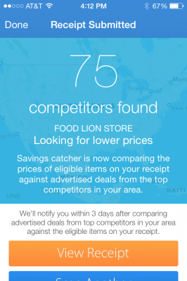 Really. Wait for money. After 2-3 days, you'll get an email letting you know if anyone in your area had a lower price on anything you bought. (There are exceptions to what they'll match in price, but they are few.) If there was a lower price, WalMart puts the difference in your account, which you can load onto an electronic gift certificate when you're ready.
This even applies if you used a coupon and the price wound up lower because of it. (The difference in the original prices is credited to you.) You can save it up until you have a lot, or you can cash it in right away. WalMart does tend to have pretty good pricing, so mine has been coming in gradually, usually less than a dollar at a time. But the week Target had Coke on sale for $1.25 less than WalMart, I had no clue until it showed up in my Savings Catcher account!
You can scan up to 7 receipts in a week (this is so you don't scan receipts from all of your friends and family who don't have smart phones), and the money doesn't go away if you let it sit there. Another benefit is that your receipts get saved electronically on your phone, so when you accidentally buy XL pajama pants for your 13 year-old who wears a small (hey, they were on the wrong hanger!), you just pull up your receipt on your phone and show the receipt code to the customer service lady. Easy peasy!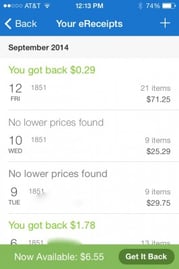 I also learned about something while I was returning those pajama pants. A woman in line behind me told me that WalMart and American Express have teamed up for something called BlueBird — a preloaded debit card with no fees to load or use it, which you can use like a charge card. From now until February 2015, if you load your Savings Catcher money to this free-to-get card, they'll double your money back! The only catch with this option is that the Savings Catcher money must be spent at WalMart, just like if it was put onto an electronic gift card.
The WalMart app is free, the Savings Catcher is contained in the app, and setting up an account with WalMart — as well as BlueBird — is also free. There's a BlueBird app, too, that's — wait for it — FREE!
People, this is free money. For buying the stuff you'd buy anyway. If you're a WalMart shopper, this whole thing is pretty much a no-brainer in my book. Both apps are available in the App Store and Google Play.
Go! Download! WIN!!!!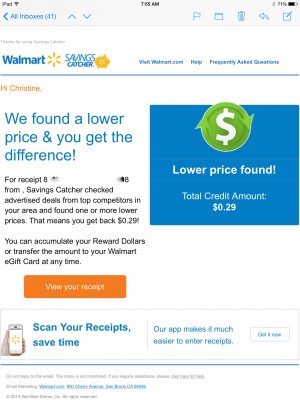 Read more of our Tech Talk columns.
Copyright 2014, Christine Johnson
About the Author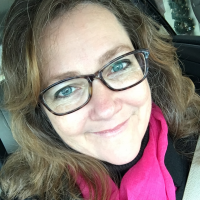 Christine Johnson has been married to Nathan since 1993 and is the mother of two homeschool graduates. She and Nathan live in the Blue Ridge Mountains of Southwest Virginia, where she tries to fit in as a transplanted Yank. She blogs at Domestic Vocation about her life as a wife, mother, and Lay Dominican.