"A great prayer for life is urgently needed, a prayer which will rise up throughout the world. Through special initiatives and in daily prayer, may an impassioned plea rise to God, the Creator and lover of life, from every Christian community, from every group and association, from every family and from the heart of every believer." – St. Pope John Paul II, The Gospel of Life (Evangelium Vitae), n. 100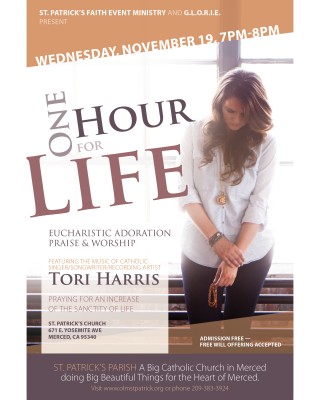 St. Patrick's Faith Event Ministry and G.L.O.R.I.E. present One Hour for Life – Eucharistic Adoration, Praise and Worship featuring the music of Tori Harris – uniting the Central Valley in prayer for an increase of the Sanctity of Life from conception to natural death.
Wednesday, November 19, 7-8PM
St. Patrick's Church
671 E. Yosemite Ave in Merced, CA 95340
Visit www.olmstpatrick.org or phone 209.383.3924 for event details.
Tori Harris is an emerging 26-year-old Catholic singer, songwriter, worship leader, speaker and concert artist whose star is rising brilliantly on the Christian music horizon. She recently performed for 15,000 fans on the main stage of Lifest Christian Music Festival and is currently on the road with the While We're Young tour opening for One Girl Nation and the Oswald Brothers Band (OBB) – two of the most popular groups in the Christian music industry. Clearly, Tori is bridging the gap as she is welcomed and warmly embraced by Catholics, Protestants and other Christian denominations alike.
It was through the Catholic Church that I came into relationship with Christ and I can't imagine trading this part of my identity for a leg up in the industry…Though there may be differences in doctrine between denominations, the common thread that unites us is Jesus Christ – and my prayer is that all my work will glorify Him and His Church." – Tori Harris with Ellen Marie Hawkins, Relatemag.com
Amazingly, Tori hit the ground running less than two years ago and already has two albums on iTunes' Top 100 Christian Music Chart. Adoremus holds the #73 spot and her newest release – Sweet Dolor – debuted at #2. She's been featured as a guest on Relevant Radio, Sirius XM Catholic Radio, Catholic TV and EWTN. Tori has been interviewed alongside Matt Maher, Audrey Assad, and Ike Ndolo and has led music for retreats by the New York Times Bestselling author and Rwandan genocide survivor, Immaculee Ilibagiza.
Source and Summit and Center
My entire mission is anchored and sustained by the Eucharist. You see, our God yearns to know us, yearns to give us freedom and life abundantly. But the soul can only receive this knowledge and grace through an encounter with the Living God. I pray that my work in the kingdom is as an invitation, a place of encounter, where the music and stories facilitate environments of receptivity to the Holy Spirit. If a heart is open, love will consume him, and he will go forth, setting the world on fire." - Tori Harris
Tori is also an artist representative for Save the Storks, a nationally recognized pro-life non-profit organization with a mission to equip pregnancy centers to more effectively connect with abortion-vulnerable women in their communities.
This is accomplished by providing Stork Buses - mobile medical units - so that pregnancy centers can offer free sonograms and pregnancy tests wherever women need them. The newest Mercedes Benz Stork Bus recently landed on the West Coast at the Alpha Pregnancy Help Center in Merced.
Everyone attending One Hour for Life will be able to tour the Stork Bus at St. Patrick's who, partnered with the Knights of Columbus, are hoping to attract generous benefactors and raise necessary funds to equip the Stork Bus with a mobile ultrasound machine. The fully equipped mobile unit will then be 100% mission-ready and capable of reaching out to women in crisis before it's simply too late.
One Hour for Life is admission free. A free-will offering will be graciously accepted. Visit www.toriharris.com
What can you, your family and Christian community do to pray for an increase in the Sanctity of Life?
St. Patrick's Parish – A Big Catholic Church in Merced Doing Beautiful Things for the Heart of the Central Valley!
Links 4 Life
Copyright 2014, Brian K. Kravec
About the Author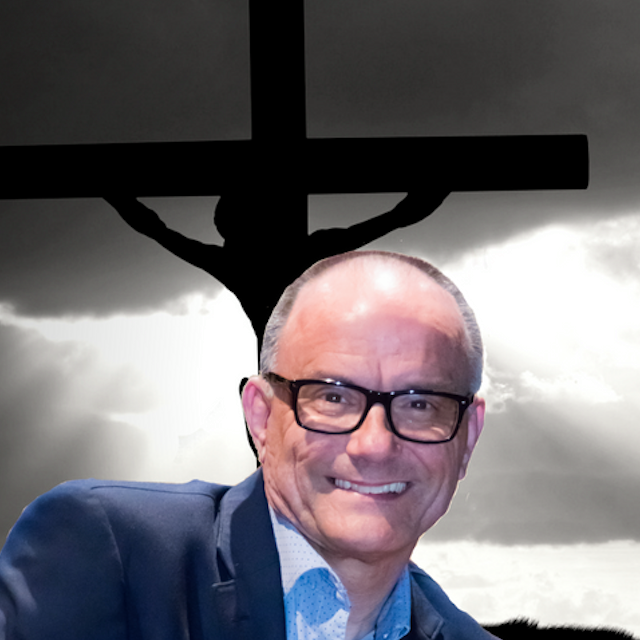 Brian is a cradle Catholic, husband and father. He's the Co-Founder and Executive Director of Possibility Productions, a 501(c)(3) faith event evangelization apostolate in service of the Body of Christ. Brian has proudly served the Roman Catholic Diocese of Fresno on the Board of Directors for KNXT Catholic Television, is the Steward of St. Patrick's Faith Event Ministry for his local parish and a 4th degree member of the Knights of Columbus. Brian and his wife are consecrated members of the Militia Immaculata. For information on the MI and Total Consecration visit Consecration.com.