If you judge people, you have no time to love them. - Blessed Mother Teresa
This is a post that took a while to put in print. My mind wanted to write it but it took a while for my heart to cooperate.
It's a story of strength, faith, and radical kindness. It's the story of a great blessing…no, not a great blessing…a phenomenal and life-changing blessing. It's a story that might be passed over as common, but make no mistake: the simplicity of the story is what makes it so profound!
I'm writing this story because there are just some stories in life that deserve…no, not deserve, NEED to be told because they really matter and because they have the potential to make us better people just because we heard the story and make an attempt each day to live a little piece of it. It's my Aunt Mary's story. I had to convince my heart to tell you her story because I didn't want you to know it yet…I wanted more years to plan this post. I wasn't ready, but God was and so here I sit tears plopping on the keyboard ready to give you a little something to think about today!
When Aunt Mary first got sick, she asked me to come home and help her plan her funeral. She didn't want to burden her family with those decisions. She, Shannon, and I spent two amazing days together planning. She had Shannon and I sing dozens of songs for her so she could pick exactly the ones she wanted. We read from Scripture for hours one afternoon until she found the perfect readings.
I was feeling very peaceful about it all until she asked me to give her eulogy. We had traded turns crying and being strong several times in those two days but that was my moment to lose it a little. When I told her I'd be honored she threw her arms around me and I was lost like a little girl in one of her world famous loving hugs.
When we got it all back together, she told me she wanted to see a rough draft before I returned to Michigan. I laughed out loud and asked why she didn't trust me. She said she just wanted to make sure I didn't stand up there talking about her! Above all, she was humble beyond imagination and she didn't want that to change. She wanted me to use that time to teach the important lessons everybody needed to know in order to live a good life, a life pleasing to God, and so I did. I reminded everyone about the great lessons she had shown us all.
She showed us how to love...everyone! She never knew a stranger and she never missed a chance to smile and say hello. She knew peoples favorite colors and flowers and desserts. She always remembered something about you and when you spoke, she listened. Her spare minutes were spent doing or making something for someone else. Always giving, always paying attention to the tiny details so she could remember you with a surprise "perfect something." She didn't think anything about it; "Anyone can do something nice for someone!" she would say. But she did it better than anyone I know.
Her signature expression of love was handwritten letters and notes. It was a simple thing but the impact of that simple act is huge. Many nights through her illness I would find Shannon asleep wrapped in a blanket Aunt Mary made her surrounded by a stack of cards and letters from her she had read over and over and over.
She showed us how to serve. That really is our mission as Christians; to serve and not be served. She was a master! It was second nature for her to put other people first because she knew people had a story she didn't know and everybody deserved to feel like they were important and treated with kindness. Her service was extra special because she did it with such tenderness and sincerity no matter who you were, where you lived or what your past involved.
She showed us kindness…to a degree I've never seen from anyone else on earth. I think if I could gather all the sugar on the planet I still couldn't make a heart as sweet as hers! She cried easily and laughed even easier. She loved hard and forgave easy. The last lesson she wanted me to teach for her was the importance of forgiveness. She made me promise I'd say, "Life is too short to carry the heavy burden of an unforgiving heart."
"Make peace and move on to better things," was another line I promised to share for her. She wanted me to remind everyone that judging and doubting God and selfishness were a waste of time and energy. She suggested more prayer, more faith, more generosity and lots and lots more kindness instead.
She battled cancer like a warrior, she prayed like a saint and she loved with the compassion of Christ himself but I wasn't allowed to say those things at her funeral so I wanted to make sure I said them now…because they matter! She was one of those people who made your life better just because you knew her. Her generosity and her faith and her courage were legendary and the best way I know to keep her legacy alive is to try every day to live like she did. It's a tall order but I'm up for the challenge so why don't you join me and just maybe we can make this world better!
A Seed To Plant: Pick one of Aunt Mary's lessons and live it this week!
Blessings on your day!
Copyright 2014, Sheri Wohlfert
About the Author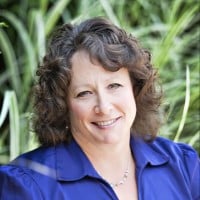 Sheri is a Catholic wife, mom, speaker and teacher. She uses her great sense of humor and her deep faith to help others discover the joy of being a child of God. Her roots are in Kansas but her home is in Michigan. The mission of her ministry is to encourage others to look at the simple ways we can all find God doing amazing things smack dab in the middle of the laundry, ball games, farm chores and the hundred other things we manage to cram into a day. Sheri also writes at JoyfulWords.org.