I don't remember exactly when I first met Chris and Elaine Weickert, but that meeting began a friendship that has seen all of us through some interesting times in both our personal lives and our apostolate work. Chris and Elaine recently joined our CatholicMom.com family of contributors as our very first married couple contributors. I wondered how that would work, and I find now that I greatly love their combined voices as they lead us in nurturing our own families. Chris and Elaine are just luck us: busy with two careers, parenting and grandparenting, and doing their best to live out their own faith journeys. Today, we get to know the Weickerts with a special interview. I encourage you to read their contributions and also to support their businesses--CatholicFamilyGifts.com, CatholicSaintMedals.com, and CatholicBibleStore.com-- as they provide sponsorship for our work here at CatholicMom.com.
Q: Chris and Elaine, welcome to the CatholicMom.com family. We are so happy to have you on board sharing your writing! Please briefly introduce your family to our readers.
Elaine - Thanks! We are happy to be here. We have 3 boys and 3 girls and couldn't have planned that if we had tried. Our children range in age from 13 to 25. Our oldest son is married and we have been happy to welcome another daughter. Now have our first grandchild!
Chris – The way I count there are 26 of us. Elaine didn't mention the two dogs, two cats, and a dozen goldfish. – Actually maybe we should say 29. We also are blessed that Elaine's parents and my mom are all in town. We often have four generations together and it's a happy circus when everyone is at a family dinner.
Q: I have to ask, because at the moment you are our only married writing couple: how did you meet and could you have imagined where you would be these many years later?
Elaine - My parents have worked in and for the Catholic Church all of my life. When they moved from California to Illinois to work in the Youth Ministry Office, I met Chris. (So cute! Plus, he made me laugh.)
Chris – Wait, that much is true, but it is such a boring picture. I was working at a youth retreat center in Illinois surrounded by cornfields. When her parents moved, Elaine drove the U-Haul truck with her friend. It was then that I met her: 1980's Southern California, punker, truck driving, awesomeness – before she flew back to her job and school in California. What was not to love? We were married about a year later.
Elaine - There was no way that I could have imagined that our life together would lead to this business. Remember what it was like before cell phones and the internet? Our courtship involved a lot of long distance phone bills at the time. Thankfully, I can say that I imagined that we would continue to grow together. That has been true. It is an unexpected joy to have discovered that we can also work well together.
Chris – I too imagined we would go and grow through our life together but I had no clue that we would be doing what we are now. Twenty-six years ago there was no internet as we know it. For the first half of our marriage we worked in different jobs. We launched our online store in 2001 and shortly thereafter purchased the local Catholic Store from the diocese. We have worked together ever since. As a couple, our life is a journey together: in family, in work, in play and in faith.
Many things in life are not what you expect. I never would have conceived of the family dinners we have, which are often filled with laughter, loudness, and spontaneous singing. At one time, after our kids discovered Veggie Tales videos, in order to try to control chaos, singing was banned at the dinner table (Not a well enforced rule.)
Q: Your sponsorship of CatholicMom.com has been a true blessing. Please share how you transitioned from owning and operating Catholic retail outlets to your current Internet based apostolate.
Elaine - We are looking forward to being part of the CatholicMom.com community. We loved being part of our community when we owned the bookstore Vineyard Books and Gifts.
Chris - At that time, we also ran the online stores as we do now. It was like riding two horses at the same time which put the hurt on our time, sanity and family. We decided to refocus on our original effort to make Catholic gifts, books and devotional items available online, especially for those with no local Catholic Store to serve their needs.
Elaine - With the birth of our granddaughter we took action to simplify and decided to sell the 'brick and mortar store'. I'm happy to say two great couples purchased it and it continues to operate and be a resource for our local community.
Chris - A part of our work is not just providing resources but also helping families bring faith to life in their homes, the domestic church. The writing we are doing at Bringing the Faith Home, CatholicMom.com and CatholicDadOnline.com, are all part of our efforts to support Catholic families.
Q: What are some of the key factors and challenges in nurturing your Domestic Church?
Chris - Time is always the biggest challenge. So much more could be done, if I was not so fond of sleeping for at least part of each day.
Elaine - I love the term Domestic Church. I sometimes forget that what we do in our home furthers God's plan. When I hear Domestic Church it reminds me that our lives are part of something bigger. When the kids were little and I stayed home with them full time, the challenge was more basic. To teach them the faith involved: nighttime prayer, prayer at the dinner table and bringing a children's bible as the book to look at in the pew during mass. A personal challenge I faced was feeling stagnated in my own spiritual growth. I found myself repeating the same prayer request: "Lord, give me patience." Alternating with "Lord, just a little more patience please" Chris was the DRE in our parish during many of our early years and being involved at that level, with the wonderful catechists and other families in community, was so enriching to our family. I am still close to the friends we made during that time.
Chris – From my perspective, the key tools we use are love and food. I think it is great how often Jesus is chowing down in the Gospels. Family meals are an anchor in our home. And, there is always room for more at the table. Love is the glue that gets us though misunderstandings, sleep deprivation, hurt feelings, and the times when there just aren't any words to express. It is cultivated by an atmosphere of mutual respect. As a couple, we are on the same team. We try to hold that the same for our children. We are on their side too (even when they don't want us to be).
Elaine - As our family grows older, the factors and challenges have changed. We expect them all to go to mass. We talk around the table and speak of faith as it applies to the topic at hand. We still say our prayers before meals, no matter how many are around the table. (We're all together about once a week.) We're still learning to never underestimate the prayers we say for our children, no matter what their age. Prayer is nurturing that no one can see, kind of like a parental super power!
The challenges of parenting older teens and being there, in a new way, for young adults are many. I never hesitate to use a saint quote in a note, text or email when appropriate. It is hard when your teen is experiencing loss, loneliness, grief, disappointment or is angry. It can be difficult when they aren't in a space to hear you share your faith and how it might help in their situation. I try to remember that God has a plan. (Sadly, I don't get to peek at it!) Then I apply the aforementioned prayer.
Q: As Catholic professionals, how does your faith play into and impact upon your work?
Elaine - We are so fortunate in our business. First, our customers are wonderful. We meet so many great people and love being a tiny part of their celebrations of faith and family. I like that we can pray before our weekly staff lunch and that our conversations in the office can be about something we've learned from a book about a saint or an idea that the Pope has expressed.
Chris - I consider myself more of a Catholic amateur than a professional (I have lots of room for improvement). Personally, segmenting faith from life, so faith seeps into everything. The heart of Jesus found in the Gospels and the teaching of the Church is hopefully present in the work we do, just as they would be in our home. Valuing honesty, thoughtfulness, respect for the dignity of others, good work, justice, beauty and prayer at staff lunches are a few specific examples. I think we try to be the same person at work, at home, at church. As a result, faith is always in the mix.
Q: How can Catholic families benefit from incorporating religious icons, medals, gifts and books into their homes and spiritual lives?
Chris - I remember the fuss about second hand smoke. Even if you did not smoke, it would permeate your clothes and your lungs, corrupting both. Religious art, icons, sacramentals, gifts and books have a similar but opposite effect. When present in our daily life, they focus and cleanse our hearts and minds. They refresh, renew, and strengthen the seed of faith within us and our children.
Elaine - Home is a sacred space. When we see it as an extension of ourselves and our values, just glimpsing the crucifix above the doorframe at bedtime can remind us that we are not alone in our journey.
Honestly, I love books. Sharing stories of the saints and the life of Christ with our children is so special. I remember once exclaiming about the state of our living room (imagine- all flat surfaces covered with books, including stacks of books on the windowsills, with maybe a little homework in the mix.) my daughter said "Mom, we don't have a book problem, we have a shelf problem." Truer statement has never been told. Two of my favorite books in my parenting journey are: Five Love Languages of Children & a new discovery: Six Sacred Rules for Families.
Chris - To believe that God's plan should always be our guide but to never place a reminder of God in our line of sight, seems off to me. I like when I glance at the icons by our fireplace, I am reminded that Jesus and his Blessed Mother are present in our home. I also appreciate the reminder of my role as a father each time I see or feel the St. Joseph medal I wear. In our home, we want everyone to be reminded of who we are truly meant to be, and it is certainly not a Disney princess, a robot or someone glued to a game system, iPad or computer.
Q: What are a few things that you wish people knew about the work that you do?
Chris - Even though it is the internet we do not work in our pajamas and slippers. It would be very embarrassing for both us and the rest of the staff.
Elaine – There are lots of pressures and expectations in online retail. The expectation can be that, since our sites are live 24/7/365, our staff will have the same hours. It may be 'old fashioned' in today's business world but we value family and faith and respect our staff's need for time with their families. We are always closed on Sunday, Thanksgiving, Christmas or other holidays. If you email over the weekend we will respond as soon as we can on Monday!
Chris - We get to work with the best customers in the world. Catholics who have a desire to make their home a sacred space, raise their children in the light of God's love, and individually draw closer to God each day are awesome people to work with. They live their values by supporting faith based stores and recognizing the empty promises of a mass marketed, consumer lifestyle. We respect that choice and see our customers as real people. The fact we have a phone number posted on each of our sites, and when you call a real person answers or calls you back as soon as possible, is one simple way we try to show that respect. It is good but hard work. In the online retail realm, small businesses like ours daily stand toe to toe with some of the biggest retail giants ever known (anyone have a sling and stones?).
Q: What will our readers discover when they visit your various websites?
Chris - On CatholicFamilyGifts.com, our primary site, they will find gifts for loved ones receiving Sacraments, Catholic books and Bibles, devotional items, and more.
Elaine - We offer gifts, rosaries, plaques, toys and devotionals that we ourselves want to give and receive. If you are looking for an obscure saint medal for a confirmation & it is in production in the US, we can find it for you!
Chris - As a guy, I am not much of a "shopper". When I know I need something, I am a "buyer." We set up our two other sites to serve that need. On CatholicSaintMedals.com all you will find are saint medals, saint rosaries and religious jewelry, more than 23,000 different items. Need a saint medal? Tada! There it is. We keep the site focused and economical, with free shipping to US addresses.
We also run CatholicBibleStore.com. It grew out of the question we would always get in our store 'is this Bible Catholic?' Again, we wanted to keep this site focused on only Catholic Bibles and items related to Catholic Bible study.
Q: With Advent fast approaching, what resources can you share for families who wish to truly embrace the season?
Elaine - Think about following the tradition of the Advent wreath, there are many lovely options. Even if you haven't gotten the traditional purple and pink candles, placing four white candles on your dinner table and putting some greenery around them is a wonderful way to center your prayer in anticipation of the coming of Jesus.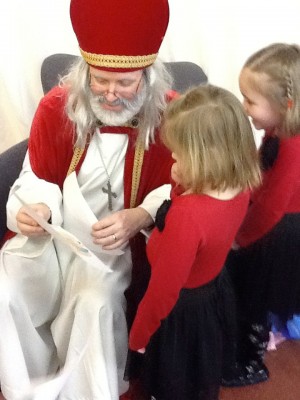 Chris - We also embrace and feature St. Nicholas (the Bishop, Dec 6th) over the shopping center Santa (his distant cousin). In our store I would play the part. Grow out my beard. Eat lots of ice cream to plump up (okay that was not really necessary, but ice cream is sooo good). With a staff in hand, wearing robes and a makeshift miter, St. Nicholas would visit with children in the store. Sharing his story reinforces the "original" story of Christmas. The Nativity Story where the story is about Jesus, not stuff.
Elaine - I am a huge fan of countdowns, so Advent Calendars and Advent mugs would be on my list. Of course, there are will be books! This year I am going to read and follow: Advent and Christmas Wisdom from G. K. Chesterton, from the wonderful series of Christmas and Advent Wisdom books by Liguori Publications. Other great ideas for those with children are Advent in the Home (Activities for families) and Making Christmas Count. In addition Fr Barron has a free resource online that looks wonderful!
Q: Are there any additional thoughts or comments you would like to share with our readers?
Chris – The family is such an important part of God's work in the world. We are honored to support Catholic families every day. It is amazing to me to know that we help parents, grandparents, friends and family support each other with faith based gifts. It is also astonishing and humbling to have shipped religious items to every continent, except Antarctica. We never would have believed that our family could do something that touches, even in a small way, so many lives.
God is good.
Elaine – All the time.
Please consider the Weickerts' great sites CatholicFamilyGifts.com, CatholicSaintMedals.com, and CatholicBibleStore.com when doing your Catholic and holiday shopping this year!
Copyright 2014 Lisa M. Hendey
About the Author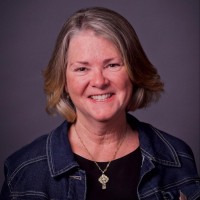 Lisa M. Hendey is the founder of CatholicMom.com, a bestselling author and an international speaker. A frequent radio and television guest, Hendey travels internationally giving workshops on faith, family, and communications. Visit Lisa at LisaHendey.com or on social media @LisaHendey for information on her speaking schedule or to invite her to visit your group, parish, school or organization. Visit Lisa's author page on Amazon.com.