Welcome to the Grace of Yes Book Club! We're reading Lisa Hendey's new book, The Grace of Yes: Eight Virtues for Generous Living.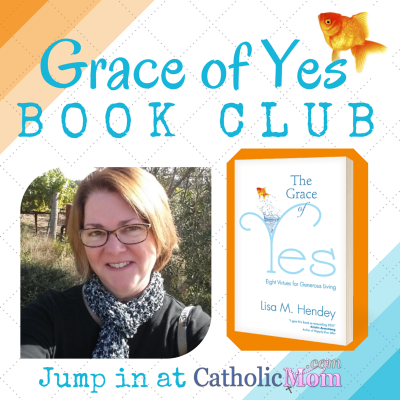 I was struck most by Lisa's prayer which ends the fourth chapter on integrity, particularly the words:
"I am learning, Lord, that this is a burden too great to carry on my own, and that it is a weight under which I cannot falter."
Reflecting upon the chapter, Integrity became a stand-in for what we might more traditionally call an examination of conscience. The post-millennial social media version of this is "Am I my Avatar?" This opens up a whole list of things and situations that calls us to express more clearly who we are openly and honestly.
Lisa points to hypocrisy as undermining integrity. Whether it is online images we project outward about ourselves or the societal norms that press inward upon us, ultimately integrity is an ACT: a daily decision to be honest, courage to be authentic, doing the right thing/not doing the wrong thing even when no one is watching, etc.
When I was in graduate theology school for ministry, we were required to participate in a Formation in Ministry process. We were taught to view ourselves as having Personal, Professional, Spiritual, and Ecclesial goals/aspects to our ministry. We were asked to integrate these 4 areas and thus integrity of identity meant integrating different aspects of discipleship to Christ. So for example, developing a deeper prayer life might be a boon for our Spiritual formation, but if it meant we weren't spending enough time with our family or loved ones, that would minimize the importance of our Personal life. And since there were 4 areas of formation, thing were not always as easy as deciding between just this or that.
Additionally, aspects of ministerial identity were not just categories inside our heads. Our examination of conscience amongst these areas was not just internal, but had external/outward signs as well. Our relationships in the world mattered as much as what was going on inside of us. So Lisa is quick to point out how her spouse is among the most important signs/sacraments in her life for discerning her integrity. I must concur. My wife is Jewish. And I know that I am what I am today because my wife is a much better person than I am. As I strive to be better, I am more aware of who she is as God's gift and sacrament to me in my marriage and who I am meant to be in response to that.
Integrating different areas of our lives requires discernment. It also requires having a moral compass rooted in Christ's example and verified by the quality of our surrounding relationships that may confirm our inward impressions, challenge our perceptions of ourselves and others, and cause us to act anew to be a person of integrity. In essence to act in faith as our YES to who God calls us to be.
To Ponder, Reflect, and Discuss:
Are there times that acting with integrity is a challenge or is met with resistance? What are the competing parties? Who can we appeal to for assistance?
Who do you struggle more with/with who do you need to integrate the most: yourself, others, social/spiritual relations?
Do you have people or relationships that you trust to help you discern the authenticity of what is going on inside you or the value of what is going on in the world around you?
A Prayer to Share
LORD, you want and will for us to be the best person we can be.
Through the act of integrity we are able to glimpse that
And strive to make that more real in ourselves, in our relationships, and in the world around us.
We cannot do everything, yet we know we are responsible for something.
LORD, thank you for giving us this smaller part.
May our YES to this bring forward the greater-ness of Your Glory.
Now and forever…
AMEN!
Feel free to comment on your own thoughts from this week's reading, your impressions and reflections, and/or your answers to these questions.
Next week, we'll cover Chapter 5: The Grace of Humility. For the complete reading schedule and information about our Book Club, visit the Grace of Yes Book Club page.
Copyright 2014 Jay Cuasay
About the Author

Jay Cuasay is a freelance writer on religion, interfaith relations, and culture. A post-Vatican II Catholic father with a Jewish spouse, he is deeply influenced by Christian mysticism and Zen Buddhism. He was a regular columnist on Catholicism for examiner.com and a moderator and contributor to several groups on LinkedIn. His LTEs on film and Jewish Catholic relations have been published in America and Commonweal. Jay ministered to English and Spanish families at a Franciscan parish for 13 years. He can be reached at TribePlatypus.com.