Though it's a staple for Advent, some people get tired of continuously chanting the haunting tune of "O Come, O Come, Emmanuel." I've heard it described as "boring" and "dreary."
If you are leaning this way, I invite you to really think about the level of longing for salvation from the fall of man through the faith of Abraham, the slavery in Egypt, and the battles in the desert. When you consider the tune's ancient origins, we are connected to our history, and to those who preceded us.
The repetition of the tune and the constant singing of the hymn throughout Advent reflects the longing for resolution, the longing for a conclusion, but the song goes on and on: a plea, waiting for an answer. Christ is the answer, and the plethora of Christmas music will answer our musical longing as well.
In our Making Music Praying Twice curriculum, we teach the first verse only of O Come, O Come Emmanuel, so our young students, many of whom are just learning to talk, do not struggle with the lyrics.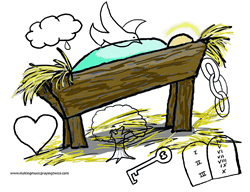 If you'd like to teach your children more lyrics, you may wish to focus on one each day and use this craft to reinforce the lyrics:
2. Hang the picture of Baby Jesus, Emmanuel, in the manger in a place the children can see. Emmanuel literally means, "God with us."
3. Each time your children learn a verse, they can color the symbol, cut it out and decorate the manger.
CHAIN – symbolizes the captives
O come, O come, Emmanuel,
And ransom captive Israel,
That mourns in lonely exile here
Until the Son of God appear.
Rejoice, rejoice! Emmanuel
Shall come to thee, O Israel.
TEN COMMANDMENTS – symbolizes the law
O come, O come, Thou Lord of Might,
Who to Thy tribes, on Sinai's height,
In ancient times didst give the law,
In cloud, and majesty, and awe. Refrain
TREE – symbolizes Rod of Jesse
O come, Thou Rod of Jesse, free
Thine own from Satan's tyranny;
From depths of hell Thy people save
And give them victory o'er the grave. Refrain
CLOUD – symbolizes the clouds that the light will disperse
O come, Thou Dayspring, come and cheer
Our spirits by Thine advent here;
Disperse the gloomy clouds of night,
And death's dark shadows put to flight. Refrain
KEY – symbolizes Key of David
O come, Thou Key of David, come,
And open wide our heavenly home;
Make safe the way that leads on high,
And close the path to misery. Refrain
DOVE – symbolizes Wisdom
O come, Thou Wisdom from on high,
And order all things, far and nigh;
To us the path of knowledge show,
And cause us in her ways to go. Refrain
HEART – symbolizes the hearts of mankind
O come, Desire of nations, bind
In one the hearts of all mankind
Bid Thou our sad divisions cease,
And be Thyself our King of peace. Refrain
You can find this craft and more free activities for Advent, Christmas, and Epiphany on our website, makingmusicprayingtwice.com.
Copyright 2014, Kate Daneluk
About the Author

Kate Daneluk is a wife, mother of six, and co-founder of Making Music Praying Twice. With a background in music, theology and education, she contributes articles and resources to various publications.