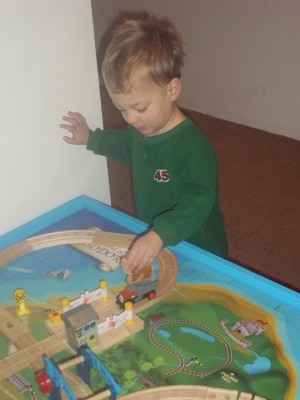 I am sure most of you have finished your shopping by now. A few may be looking still for that perfect gift for that special someone. For those, however, who procrastinate or for some unexpected reason, are behind this year or just do not know what to get a child on your list, the Guest household would like to offer you our list of top all-time toys.
The toys on our list were chosen mostly because of longevity - both in durability and in interest. If it could withstand the onslaught on many hands manipulating it and if my children played with it for, not just weeks or even months, but years, then it made the list. We chose the top 5 boys toys, top 5 girl toys and top 5 gender neutral toys. Without further ado, here are our top toys:
Boy Toys
1. Legos/ Mega Blocks - whether following directions or using their imagination, Legos and Mega blocks provide hours of entertainment. While this toy could have been on the gender neutral list, especially with the company now promoting a girls line of Legos, this toy mostly captured the attention of the boys in my family.
2. Basketball - from the little hoops made for toddlers to the full grown hoop outside in the driveway, basketball has been a part of our family for 18 years. Even the boys who are not as interested in sports as some of my others will go out and shoot some hoops. Playing solo, one-on-one, or in teams, basketball at home is our most played sport, though none of them played rec or high school b-ball.
3. Nerf guns - I learned early on that I was not going to win the "no guns in our house" rule. Boys can make guns out of anything! Giving in to the nature of boys, I now have a whole shelf of Nerf products. The boys love to run around the house in epic Nerf battles. The teenage boys still love and ask for this gift, too. The bigger they get, the bigger the guns get.
4. Little green army men - Easily available at the local dollar store, these guys have been a staple in my house. With their imagination, the boys use them in all kinds of scenarios.
5. Hot Wheels - With or without the tracks, the boys love playing with these little cars. The more tracks they accumulate, the crazier the races become. I have found that the more simple tracks work best, though. The bigger boys, however, will sit for a long time, testing and retesting, to get the cars to travel long stretches of track. Good for applying problem solving skills!
Girl Toys
1. Kitchen - Our play kitchen has been used to play house, restaurant and TV cooking shows. It can provide entertainment for one child or many. Some of the bigger kitchens cost more, but longevity makes it worth the investment. Adding more play food and accessories throughout the years have made it so that playing in the kitchen never gets old.
2. Tea set - Tea parties have always been a favorite activity among the girls in my house.
3. Dress-ups - Just as boys like to pretend to be soldiers, girls love to be princesses. Not only do we have princess dress-ups, but the girls like to wear the Indian, pirate, pop star and doctor costumes. Sometimes they even video their role-playing in order to "make a movie."
4. Baby dolls (Barbie dolls) - Role playing for girls often include babies. The baby dolls in our house have been fed, burped and changed ; older dolls (for example, My Generation Dolls) have been students in a class; and our Barbie dolls have been through many real life situations and challenges.
5. Doll houses - This is another toy that can be played solo or with a couple of girls. Mine have enjoyed setting up the houses as much as playing with them. Fisher-Price has, I believe, the nicest doll houses with the Loving Family series. Like the kitchen, adding pieces and people throughout the years increases its longevity.
Gender Neutral Toys
While my girls, on any given day, will play with the above boy toys, and the boys may even be caught playing with one of the traditional girl toys, the following toys are always enjoyed by both.
1. Wooden Train Sets - Half the fun is in building the tracks. The older children love to set them up for the little ones to play.
2. Building Blocks - The boys tend to build skyscrapers and the girls, houses and zoos for all those Webkinz, which result in a mini NYC, Central Park included!
3. Little People - The castle, the barn and the garage, in that order, get the most play time.
4. Hullabaloo - This Cranium game is one that we all play. Everyone wants to be the winner and do the monkey dance!
5. Bikes - Because they are so quickly out-grown, and because our 15 passenger van seem to consistently run over bikes left out in the driveway, bikes are not as durable as one may think. But the sense of accomplishment and independence riding a bike brings to a child and the exercise it provides makes it worth the purchase. Plus, it provided an opportunity to teach a child responsibility in taking care of their toys - one my children are still working on!
"But earnestly desire the higher gifts" (1Cor. 12:31)
Now that I have just shared some of the most successful toys in our family, I must say one more, important thing. We must guard ourselves from getting too wrapped up (pun intended?) in the gift giving. We can never lose sight of the true Present of Christmas - Jesus. I beg God to let this be the one gift that my children receive that will never get lost or broken. May this be the gift that always grows with them and never becomes outdated or boring to them. Jesus is the one educational tool we can give them with so many "stages" that they could spend the rest of their lives learning about Him and themselves. There is absolutely nothing better we can give our children than faith in the One who so completely gives Himself to us. I pray we treasure this Gift always.
So what toy would you add to my list?
As for the higher gifts, what would you ask St. Nicolas to get, through God's good grace, for you this Christmas? As for me, I earnestly desire a greater zeal and joy that is contagious. Here's hoping that by Christmas, this prayer in some measure will be answered.
That, indeed, would be a Merry Christmas!
Copyright 2014 Kelly Guest
About the Author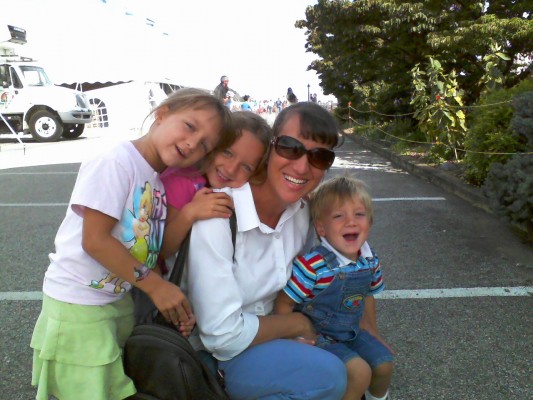 God has given Kelly lots of wonderful opportunities to follow Him. She was a Dominican Sister of St. Cecilia in Nashville, an education coordinator for a Catholic Charities' program for pregnant teens, a middle school teacher, a director of religious education and is now a youth minister. Her most challenging and rewarding calling, though, is wife and mother of ten children. What she has learned, she blogs at CatholicMom.com.