Many thanks to Liguori Publications for offering these two sets of six books for our readers!
This week's giveaway:
This week, we have 2 complete sets of these six books from Liguori Publications: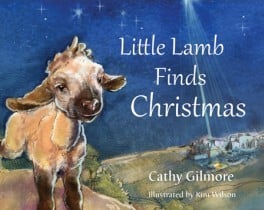 Written by Cathy Gilmore; Illustrated by Kim Wilson (Liguori, 2014)
About the book:
One winter night, a little lamb gets lost just outside Bethlehem, when following his shepherd, who has received heavenly messengers and amazing news. Experience the miracle of Christmas through the eyes of Lemi, a courageous little lamb, who finds that belonging to Jesus is the true joy of Christmas. His story helps us appreciate how the child born in Bethlehem brings the gift of peace to each of our hearts and among us all. This beautifully illustrated storybook is sure to be enjoyed by generations.

By Barbara Yoffie | Illustrated by Katherine A. Borgatti (Liguori, 2013)
About the book:
The story of Saint Nicholas comes to life in colorful, full-page illustrations and lively text for children ages 4 through 9. St. Nicholas was well-known for his joyful spirit of giving. He had a kind heart just like Jesus. Many Christmas traditions were inspired by this holy and loving saint. Author and long-time elementary educator Barbara Yoffie helps readers develop an understanding of saints as real-life heroes and heroines who live all around and inspire us to become more like Christ. Saint Nicholas is one of 6 saints in the Saints of Christmas set, part of the Saints and Me! series.

By John Cleary (Liguori, 2014)
About the book:
Even though she is a Doctor of the Church, St. Thérèse of Lisieux is more well-known for being the "little flower" of Jesus. Through her "little way," she has inspired many Catholics to love God simply, devoutly, and with great love. St. Thérèse believed that no act of faith is too small for God. Loving God in this way wasn't always easy for St. Thérèse, but even through her suffering and death at age twenty-four she tried to love God with all her heart.

In her autobiography, Story of a Soul (L'Histoire d'une Âme), St. Thérèse shares the story of her "little way" and helps us see God in his smallest creations. John Cleary uses passages from Story of a Soul to inspire us to embrace our own smallness this Advent and Christmas and see past the glamour and hype of a material Christmas to the small miracle that comes on December 25.

By Mark Haydu, LC, STL (Liguori, 2014)
About the book:
Open your heart to the presence of angels, God's holy messengers and protectors. In Meditations on Vatican Art: Angels, you can reflect on stunning depictions from the Vatican Museums and contemplate angelic encounters in Scripture.

Following his acclaimed first book, Fr. Mark Haydu, international coordinator of the Patrons of the Arts of the Vatican Museums, serves once again as your spiritual guide for a breathtaking journey through time, meditation, and the Vatican art collections.

Meditations on Vatican Art: Angels offers you a deeper understanding of your own spiritual journey as you follow Fr. Haydu's explanation of the battle between the fallen angels and the faithful angels and God sending His angels to watch over you. The book's splendid reproductions of major works represent ancient through contemporary periods in art.

Each day's meditation includes a:

• Unique image with descriptive and contextual background about the artist and the work

• Relevant and insightful passage from Scripture

• Reflection on the meaning of the work with questions to ponder

Contemplate the 34 meditations in this hardbound book as the Holy Spirit inspires or use them to create a retreat for yourself or a group. Let Meditations on Vatican Art: Angels open your heart and help you become aware of angels' existence and their desire to keep you from harm and guide you to God.

By Mark G. Boyer (Liguori, 2014)
About the book:
Sometime in November, or commonly as early as October, Christmas songs are heard in shopping malls, in discount stores, on the radio, on TV, and through all manner of electronic devices. The secular form of Christmas is characterized by its own music, just like the religious seasons of Advent and Christmas have their own hymns and carols.

Revisit these tunes and focus your faith this year with reflections that connect the daily Advent and Christmas readings from the Lectionary to religious hymns and carols sung throughout the season. Unlike any other Advent devotional you've ever read, this book unites our preparations and celebrations with a faith as old as song.

By Sarah Reinhard (Liguori, 2011)
About the book:
Advent is a season almost forgotten by the secular world. With new toys and electronics available, why should we focus on this time of anticipation? Most everyone cannot wait for Christmas morning to arrive, but is it for the right reason? Sarah A. Reinhard designed Welcome Baby Jesus for you and your family to capture some of what's intended by the liturgical season of Advent. Each day has a Scripture quote from the Sunday gospel readings, a brief reflection, and an action to complete. With each passing Sunday, your Advent Wreath will grow brighter, your family's faith will grow stronger, and the true meaning of this season will be discovered.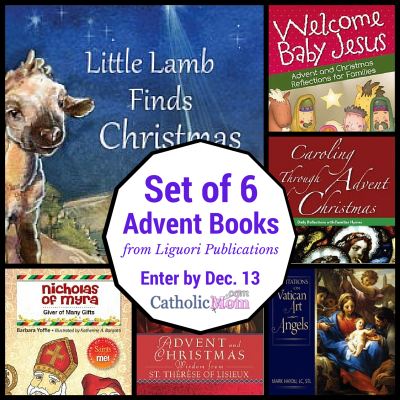 About the Author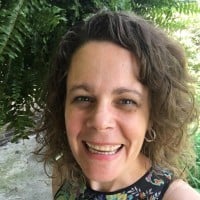 When she's not chasing kids, chugging coffee, or juggling work, Sarah Reinhard's usually trying to stay up read just one…more…chapter. She writes and works in the midst of rural farm life with little ones underfoot. She is part of the team for the award-winning Catholic Mom's Prayer Companion, as well as the author of a number of books. You can join her for a weekday take on Catholic life by subscribing to Three Shots and follow her writing at Snoring Scholar.