It's the last week of Advent!
Sometimes, we launch into the first week of Advent armed with our Advent wreaths and calendars, Jesse Tree ornaments and daily readings, but slowly our resolve gets a little whittled away by the 3rd week...with the Christmas hoopla all around us.
There is still time to wait...and create!
Just like the last minute preparation we can tuck in before a baby is born, we can still fit in some Advent program...particularly surrounding the Baby Jesus who has not yet arrived!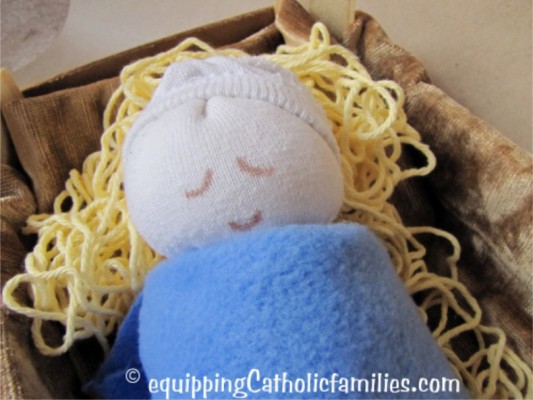 I actually wrote about Sock Baby Jesus in the Clementine Crate Crib on CatholicMom...a little late last year, but I was delighted to add the No Mess String Straw this year.
If you don't already have an easy-to-make (with materials-you-have-on-hand), huggable Baby Jesus...this is an awesome craft you can tackle quickly in this last week of Advent! You can make Sock Baby Jesus in about 10 minutes with a single white sock, two elastics, a sharpie marker, pillow stuffing (optional) and some fabric scraps.
The crib is made from a wooden Clementine crate and some fabric scraps...and that's it!
Here's the easy-peasy tutorial: Sock Baby Jesus in a Clementine Box Crib
Even if you've missed a couple opportunities to enter into Advent as thoughtfully as you would have liked, you can do some last minute nesting before the Baby comes!
With a spool of yellow yarn tucked under some fabric scraps in the Clementine Crate Crib, a couple inches of yarn can be pulled out with every good deed, sacrifice or extra prayer...to add extra comfort to the crib!
The yarn stays in one piece (creating no mess!) but can be arranged haphazardly in the empty crib. The kids will be excited to ramp up their good behavior as they watch the comfort level of the crib go up and up!
I've figured out a way to clean it all up and prepare it for next year ...and you can read about it here: No Mess String Straw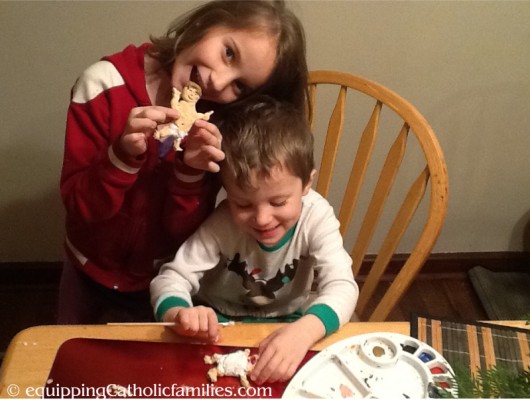 Again, taking full advantage of the fact that the Baby Jesus has not yet arrived, we can take a cue from the tradition of Bambinelli Sunday! We spent part of our Snow Day last week making our own Bambinelli out of easy salt+flour dough. You can read about it here: Feast Day Fun: Bambinelli Sunday.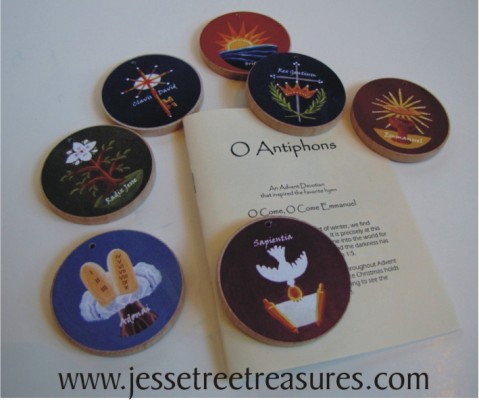 Today is also the 3rd day of the O Antiphons! Last year, we were so blessed to receive the O Antiphons Ornaments from Jesse Tree Treasures. These short little readings can easily be added to the Advent Wreath or mealtime prayers.
You can read more about the O Antiphons at Catholic Culture or at Catholic Online.
Enjoy these last days of Advent! It's not too late to prepare for Baby Jesus!
Copyright Monica McConkey, 2014
About the Author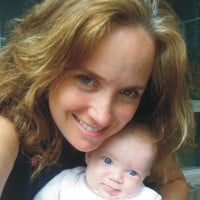 Monica, mom of 5, blogs about Catholic crafts and family traditions at EquippingCatholicfamilies.com. She is an author and creator of Super Saints quizzing cards and over 45 Saint, Sacrament, Catechism and Prayer-packed Craft Kits to help teach the Catholic Faith. The Catholic teaching tools and gifts are available through Arma Dei, the Catholic family publishing company founded with her husband Bill.