It is time to change homes once again, and I know from experience it will not be easy.
Trust me - having moved from Connecticut, to Ohio, to Minnesota, and back to Ohio in under thirteen years I have a faint idea of what I am up against! Each and every time I have been faced with the same questions and fears:
What will my home look like? Larger or smaller than the one I have now?
Who will I interact with on a weekly basis? Will they accept me for who I am, shortcomings and all?
When will this move take place? During a holiday season when every home looks great and the people are welcoming to strangers? Or will I move in during the regular grind of day-to-day living when many are too busy for more than a 'nice to meet you' before they hurry away to their own lives ?
Where exactly am I moving to? There are so many choices of homes where we are going.
How long will it take for me to feel at home?
It is hard because I always seem to measure every home against just one other home. This home nurtured and surrounded me with many wonderful people. These people - my parents and siblings, my parent's friends and their children, my friends and classmates, my neighbors, my teachers...they shaped who I am today through exacting standards, challenges, high expectations, love, lots of laughter, and forgiveness.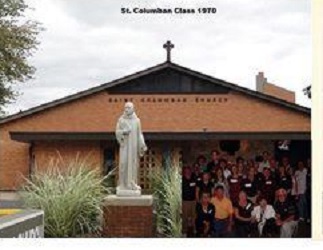 I truly loved my first home...St. Columban Catholic Church in Birmingham, Michigan.
There is an old saying that you cannot go home again but that does not mean we ever stop looking. I joke about being a 'Roamin' Roman Catholic' because when I move it takes so long to find the right Church...the right home...for my family. I measure every new parish by my memories of growing up Catholic within the St. Columban community and neighborhood.
Although it took a few years, I did find a wonderful family at St. Gabriel in Concord, Ohio and it will be hard say goodbye and start looking once again...but I will. I may end up at St. Rita's in Marion, MA, or a St. Anthony's in Mattapoisett, MA. Then again, St. Patrick's in Wareham, MA might offer a phenomenal community for the Irish O'Bannon Family. If not, we can always take a drive to Fairhaven, MA and attend St. Mary's.
Finding the right home is not an easy task! So I'll take a deep breath, wave goodbye to St. Gabriel's, say a prayer for guidance, and start roamin'.
Wish me luck.
Copyright Carol Sbordon Bannon
About the Author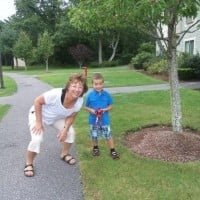 Carol Bannon currently lives in Massachusetts with her husband. She is a wife, mother, grandmother to seven, substitute teacher, and an active supporter of the Down Syndrome Society of Rhode Island (DSSRI). Carol is the author of Handshake from Heaven and Our Family's Christmas Elf. She and her husband love to spend time boating on Cape Cod and traveling to new harbors.