"Show me your ways, O Lord, teach me your paths; guide me in your truth and teach me, for you are God my Savior, and my hope is in you all day long." Psalm 25: 4-5 (NIV)
You've probably seen the growing trend of choosing a word as a focus for the year, rather than setting traditional New Year's resolutions. I've been practicing the Word of the Year since 2010 and have witnessed the power and clarity that comes from meditating on a single word throughout the year. In fact, I'm such a word nerd that I make a huge deal out of selecting my word, journaling about what it means to me, creating a vision board and even buying jewelry to keep the word visible all year.
But a couple years ago, as I was searching for my word, I realized I had left out an important part of the process. I was choosing the word based on my dreams and goals. But I wasn't asking for divine guidance. I wasn't waiting for God's whisper so that I could set my compass in his direction. So I decided that if I'm going to pick A Word then I should start in THE Word. Hence, the scripture Verse of the Year was born.
I invite you to join me, and hundreds of Christian moms around the globe, in choosing a scripture verse to guide you through the coming year. May 2015 be filled with God's promises for you and your family!
My Verse of the Year: Psalm 25: 4-5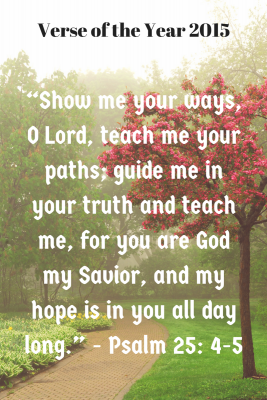 David's plea for guidance in Psalm 25 is a cry for protection from enemies. While I do not feel persecuted, I realize that I too am surrounded by THE enemy. My enemy wants to distract me from loving my family. He wants me to invest my time and money and attention on material things. He tries to keep me so busy that I forget what matters most. My enemy tempts me with empty promises of happiness and wealth. He confuses me and derails me. So, I too, require God's direction.
With Psalm 25: 4-5 in my heart, I will approach the coming year eagerly seeking God's guidance. I will begin each day listening for his promptings and I will go to sleep at night listening for his voice. I will turn to him all day long. Just as David did not rely on his own ability to solve problems, I will trust in the Lord to tell me where he needs me next and what he asks of me. I will wait attentively for God's instruction and obey his command.
My Word of the Year for 2015: Listen
Through Psalm 25, God revealed his word for me: Listen. This is the first time that I don't feel excited and eager to embrace my Word of the Year. In fact, I'm a little bit uncomfortable with the word. In past years, my Word filled me with enthusiasm and hope. Words like Nourish, Unity, Light, Support and Balance. I think the difference this year is that Listen is a particularly challenging word for me. I've always felt that I'm a "good listener" when it comes to being a friend, wife or mother. But I find it nearly impossible to listen – to truly listen – for God's instruction. I think it's because I'm not very patient. I'd much rather be doing SOMETHING – even if it's the wrong thing – than quietly waiting to act. But I believe God is calling me to slow down. To sit still. And to simply listen.
So Listen is a humbling word for me. It's a reminder to listen before I speak or act. To listen for God's truth daily. To listen to my husband and spend time really focused on him and on our marriage. To listen to my children – not just do things for them and tell them what to do, but to listen to what is on their hearts. To listen to my clients so I can better serve them. To listen to my body. To know when to push and when to be gentle on myself. When to work and when to rest.
The word Listen is also a warning for me. It's a command to listen to the right people and not to give my attention to the enemy.
The thing I find most challenging is that the word Listen is both active and passive at the same time. It requires actively seeking direction and passively awaiting a response. It demands discipline, perseverance and tranquility. But the results will be worth it—the wisdom and understanding that comes from hearing and heeding God's word will give me confidence, courage and peace.
As I embark on this journey – my year of listening – I pray that God will speak to you as well. That he may show you his ways and teach you his path.
What about you? Do you have a Verse of the Year or Word of the Year to guide you through 2015? Please share it with me!
Copyright Theresa Ceniccola, 2015.
Graphic/image Theresa Ceniccola. All rights reserved.
About the Author