Lake effect snow and what we lovingly refer to as the "permacloud" make winters here in South Bend, Indiana, long and strong. We get lots of snow, but we also get blistering wind and frigid temperatures that limit our ability to play outside. So we spend most of our days indoors from mid-November to late March.
It's only January and already I'm beginning to feel the cabin fever set in! My 15-month-old daughter, Lucy, loves playing outside and she really loves the snow, so the reality of harsh winter is hard for her. She gets her coat and hat and stands banging on the front window begging to go out. And when I explain that it's below zero, she doesn't understand or care. "OUT!!!"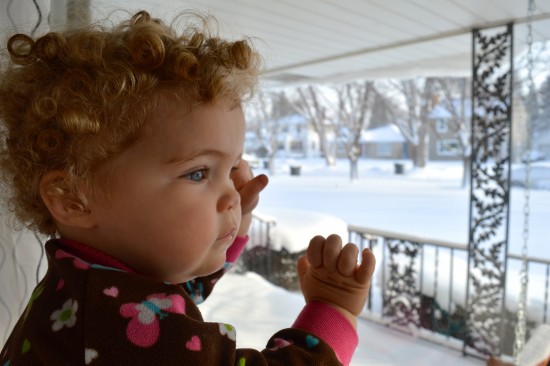 A few quick Google searches for snow day activities left me disappointed; most of the activities are for older kids who don't try to put everything in their mouths, involve baking delicious treats that won't help my New Years resolutions at all, or try to send us outside for snow fun, which just hasn't been possible lately.
So what do you do with a stir-crazy one-year-old all winter long?!
Here are a few things that have been keeping us sane:
Blanket Forts
Using sheets, blankets, pillows, and chairs, we make a little cozy nook to read books, eat snacks, color, and cuddle. Thanks to natural toddler curiosity, our forts get destroyed pretty quickly and easily, but it is a fun treat and makes the time pass more quickly.
Painting
This is a great snow day activity because, with nowhere to be, who cares if your kid gets a little messy? We paint right in the high chair (thank you washable paints) and she prefers finger painting right on the tray rather than using a brush and paper. Add shaving cream or glitter for extra fun!
Dance Parties
It's hard to stay motivated to exercise when you are stuck inside all winter, so we like to get moving with dance parties. We clear a big space in the living room, put on our favorite tunes and make up crazy dance moves. My toddler thinks that my dancing is hilarious (and if anyone else could see us I'd be very embarrassed!) but it is a super fun way to get moving, work different muscle groups and be silly together.
Skype or FaceTime
As an extrovert, spending the whole day inside with someone whose vocabulary totals less than 20 words is very taxing. When we can't leave the house, I feel starved for human interaction and conversation. Being able to Skype or FaceTime friends and family, even for just a few minutes, helps make me feel less isolated and is a special treat for Lucy.
Cooking
This might be my new favorite winter activity! Summer days are full of fun and sun but usually end with quick and simple meals thrown together on the grill. But long winter days mean ample time for prepping and roasting and baking, and we've been delighting in at least one new recipe each week. I give Lucy a pot, a wooden spoon, some dishes and a pile of play food and she busies herself with me in the kitchen, stirring and tasting and creating a culinary masterpiece.
Here is our favorite winter recipe:
Tortellini Soup
Ingredients:
1 lb. Ground Italian Sausage (or regular pork sausage with Italian seasonings)
6-8 cups Chicken Stock (low sodium)
1 bunch of kale, washed, stemmed and shredded
2 cans stewed tomoatoes
1 large package tortellini of your choice (found in refrigerated section)
½ cup heavy whipping cream or half-and-half (optional)
Directions:
In a large pot, bring chicken stock to boil.
In a large skillet, brown the ground Italian sausage until cooked through (no longer pink) and drain excess grease.
Cut the stewed tomato slices into quarters, saving the juices.
When the stock is boiling, add the sausage, tomatoes and juice, and shredded kale and cook until the kale is wilted, stirring occasionally.
Then add the tortellini and cook according to the directions on the package.
When the tortellini is cooked, add the cream or half-and-half, if desired, and stir until incorporated.
Add salt and pepper to taste.
(You can add other veggies to the soup, or substitute chunks of red or sweet potato for the tortellini. It's a great base that you can take and make your own. Enjoy!)
Copyright 2015 Megan Swaim
Art/photography: Megan Swaim, all rights reserved.
About the Author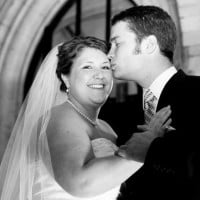 Megan Swaim is an Indiana girl on an east coast adventure. A former high school youth minister, she now gets to minister full-time to her three young daughters and her husband Josh. Megan spends her days homeschooling at the kitchen table, drinking iced coffee, and exploring coastal Virginia.