Thanks to our sponsors this week: Aquinas and More, Franciscan Media, Our Sunday Visitor, Sophia Institute Press, TAN Books, and Word Among Us Press.
This week's giveaway: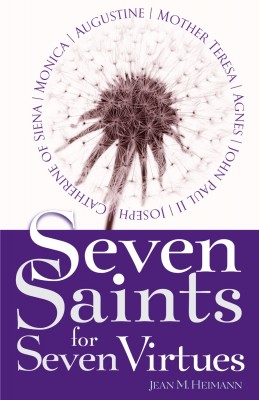 By Jean Heimann (Servant Books, 2014)
About the book:
To live a virtuous life might seem like a daunting task, but we are fortunate to have examples to follow—the saints who have faced sin through the embodiment and exemplification of virtue. Readers will meet seven saints who lived seven virtues, and will discover concrete ways that they can live those virtues in their own lives. Each chapter includes:

A quote from the saint
A personal reflection on each saint
A brief biography
A discussion on the spirituality of each saint, and concrete examples how to emulate this saint and grow in the virtue that saint models
A prayer to conclude each chapter, asking for the intercession of that saint

Seven Saints for Seven Virtues covers a wide range of spirituality and life circumstances, demonstrating that everyone, in every role of life, has the opportunity to live a virtuous life.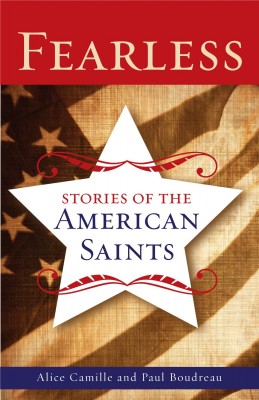 By Alice Camille and Paul Boudreau (Franciscan Media, 2014)
About the book:
The lives of the saints who helped build the Catholic Church in the United States—Frances Cabrini, Isaac Jogues, John Neumann, Elizabeth Ann Seton, and Damien de Veuster, among others—are marked by strength, courage, determination, and sanctity. But as this thoughtful and engaging book points out, these saints also could be foolhardy, obstinate, stubborn, and dismissive. In other words, they were a lot like everyone, with a mixture of different qualities and characteristics.

What makes the stories of the thirteen men and women in Fearless so compelling is that a distinctly American way of holiness begins to emerge from their lives and their work. These were people who walked the streets of New York, Philadelphia, Baltimore, New Orleans, and Denver. They traveled along California's coast and into the Southwest, penetrated the heartland of Indiana and Missouri, and reached out into the territorial islands of the United States.

Captivating illustrations for each saint highlight the depth of their souls, and give readers an idea of the strong characteristics exemplified by these men and women.

Fearless will bring the reader through the history of the Catholic Church in America in an intimate and personal way, with the stories of the saints and blessed who helped Christianity become part of this country's fabric. These men and women did not set out to be saints, only to live out the Gospel as they best knew how. They followed their hearts and God's will to build a better place for the people of the New World.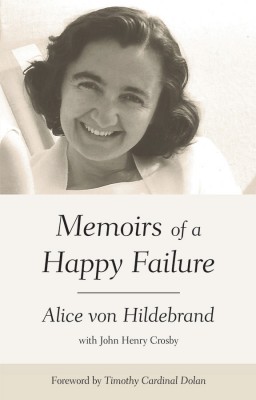 By Alice von Hildebrand (St. Benedict Press, 2014)
About the book:
Alice von Hildebrand is a household name to millions. But little is known of the story of her life, notably the thirty-seven years she spent at Hunter College in New York City. There, despite systematic opposition that might have defeated even the strongest of souls, she endured with grace and devotion, leaving a mark on a generation of students through her defense of truth through persuasion, wit, and love. By showing her students how truth fulfills the deepest longings of the human heart, she helped to liberate countless students from the oppressive relativism of the day, enabling many of them to find their way to God. Now, for the first time, discover the details of Alice von Hildebrand's compelling and influential life, including:

- her thrilling escape from Europe that was nearly halted by a Nazi ship
- her early days in America and her dedication to education and cultivating wisdom
- her marriage to the great philosopher Dietrich von Hildebrand,
- her victories and defeats at Hunter where she combated a culture dedicated to relativism
and much more

The Memoirs of a Happy Failure is a fascinating and essential glimpse into the life of one of contemporary Catholicism's most compelling minds. It is the story of courage, faith, and the grace of God acting in the world.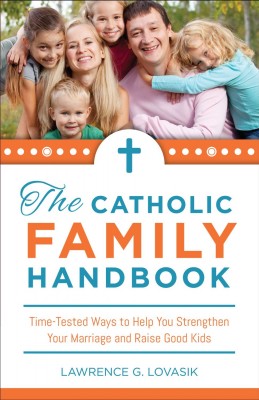 The Catholic Family Handbook
By Lawrence G. Lovasik (Sophia Institute Press, 2012)
About the book:
Time-tested strategies to help you strengthen your marriage and raise good kids

Here is a crucial book for you if you want to shield your family from the effects of our selfish secular culture, which destroys families and poisons relationships.

Fr. Lawrence Lovasik, the renowned author of The Hidden Power of Kindness, gives faithful Catholics all the essential ingredients of a stable and loving Catholic marriage and family — ingredients that are in danger of being lost in our turbulent age.

Using Scripture and Church teachings in an easy-to-follow, step-by-step format, Fr. Lovasik helps you understand the proper role of the Catholic father and mother and the blessings of family. He shows you how you can secure happiness in marriage, develop the virtues necessary for a successful marriage, raise children in a truly Catholic way, and much more.

Let Fr. Lovasik strengthen your marriage and family as you discover:

Three things you can learn from the Holy Family about living as a family today
The secret of gaining God's blessing and peace upon your family: do you know it?
Four crucial lessons no school can teach to your children (only you can!)
Why marital happiness is not automatic, but must be earned (and how to earn it)
Common mistakes fathers make that can damage their families irrevocably
The primary requirement for family happiness: does your family measure up?
The secret of overcoming the anger that can disrupt any relationship
Eleven simple steps you can take to bring harmony to your marriage right now
Are you selfish? Sixteen searching questions to ask yourself in order to find out
Four qualities that every good parent has: can you name them? Do you have them?
Sex education: how to navigate this minefield in a way that is good for your kids
Plus much more that will help you imbue your family with Catholic values!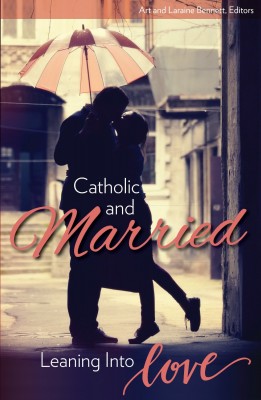 By Art and Laraine Bennett (Our Sunday Visitor, 2014)
About the book:
"And they lived happily ever after." Only in fairy tales, you say. But there is life after the honeymoon-messy, challenging, happily-married life. That's the great promise of Catholic marriage, and if you're married or considering marriage the joy is there for you, too.

Many Catholics today share the culture's unease-fear of divorce, the prevalence of cohabitation, the wounds of past relationships all conspire to make til-death-do-us-part seem like a risky proposition. But the authors of Catholic and Married all agree, marriage is the adventure of a lifetime.

In these sometimes funny, tell-it-like-it-is chapters, this diverse group of men and women offer you their insights and advice on:

Children - the gift that keeps on giving
Marrying young - objections and object lessons
Contraception - an honest discussion on a touchy subject
Parenting skills - it's not rocket science (it just feels like it sometimes)
And much more!

These stories will encourage you to lean into love. Hold nothing back. And experience the Catholic marriage God intended for you.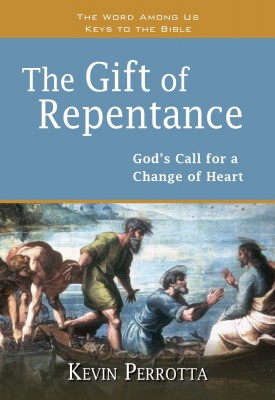 By Kevin Perrotta (Word Among Us Press, 2015)
About the book:
Repentance is a gift—because coming to the realization of ourselves as sinners opens our hearts to the gospel. And while consciousness of our sins is uncomfortable, it is also a cause for hope. In those feelings of guilt, says popular Scripture commentator Kevin Perrotta, God is calling us to return to him.

The first three sessions of this Bible study are designed to spur readers to reflect on their own experience of recognizing their sins and taking action against them. The second three sessions focus on Jesus, who calls us to grow in love beyond anything that is easy or comfortable for us—and enables us to do it by nourishing us with himself.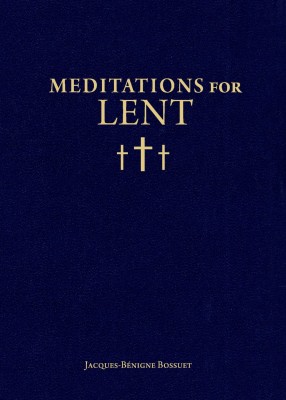 By Bishop Jacques-Bénigne Bossuet (Sophia Institute Press, 2014)
About the book:
Lent is hard, and it's so frustrating when we lose focus and surrender to our weaknesses time and time again. That's why all the great saints encouraged meditation as a sure-fire way to place yourself in God's presence and grow closer to Him. Through meditation, we take our eyes off ourselves, and we walk faithfully in the hands of God.

There is no better time to begin—or to renew—the habit of meditation than during the Season of Lent. If you want to combine the spiritual benefits of a holy Lent with the bountiful harvest that regular meditation brings, then your soul is crying for Meditations for Lent. These brief but powerful meditations are collected from the voluminous writings of 17th Century Bishop Jacques-Benigne Bossuet.

Bishop Bossuet is considered to be among the best homilists in the history of the Church, and his great piety and eloquent writings have been cherished by Catholics for hundreds of years.Now they're available to you in English, for the very first time! In these pages, Bishop Bossuet will take you on a stunning inner pilgrimage to an unforgettable encounter with Jesus' tender love for you as he freely gave His life for you on the Cross.

Each meditation is short, and it is a robust complement to the daily readings at Mass during the Lenten season. Read Meditations for Lent and you won't arrive at Easter Mass distracted, exhausted, and frazzled, having neglected your sacrifices and your ordinary prayers, too. Instead, you'll find yourself walking joyfully into church, ready and eager to adore the resurrected King.

And your soul will be what it should be: a fit dwelling place for the Redeemer.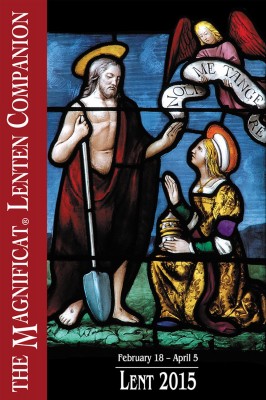 About the book:
Are you looking for a way this Lent to return to the Church or to develop a more fervent practice of your faith?

The holy season of Lent speaks to our daily struggles and sorrows, showing how the answer to all life's troubles is found in the Mystery of Jesus Christ. This handy little booklet provides a series of original reflections to guide you through every day of Lent into the heart of that Mystery.

By spending a few moments meditating on the inspiring daily reflections and the short prayers that follow them, you will discover all that is true, good, and beautiful about the Catholic faith. Let the profound yet practical insights you will find in this little spiritual treasury form and focus your spiritual life, filling it with a new conviction and purpose.

This inspiring daily meditation guide for Lent is a customer favorite, year after year.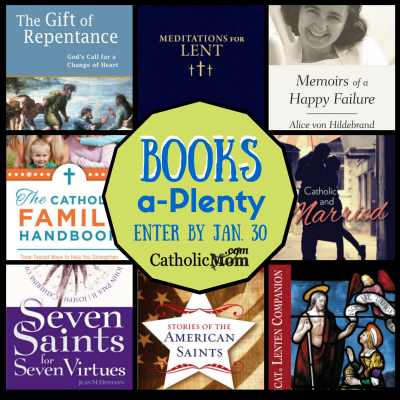 About the Author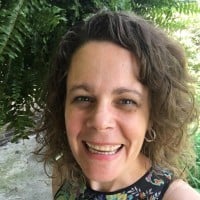 When she's not chasing kids, chugging coffee, or juggling work, Sarah Reinhard's usually trying to stay up read just one…more…chapter. She writes and works in the midst of rural farm life with little ones underfoot. She is part of the team for the award-winning Catholic Mom's Prayer Companion, as well as the author of a number of books. You can join her for a weekday take on Catholic life by subscribing to Three Shots and follow her writing at Snoring Scholar.