May brings us flowers, Mother's Day, and First Holy Communion days. My twins, Barbara and Leah, will be among those who will be blessed to receive for the first time Jesus in the Most Holy Sacrament of the Altar.
Like the season of Easter which we are now enjoying, the celebration of this joyous day is made all the more special by our preparation for it. I am not talking about the choosing of a beautiful, white dress that represents the desire to be one with Christ, the Bridegroom; though for the girls, that's fun and exciting. They also enjoy dressing up their dolls and acting out First Communion Day, and playing Mass so to practice receiving Communion from their brother, "Fr. Ben," who devoutly distributes Necco Wafers. All of this preparation is well and good, but I am talking more long-term and lasting.
Our preparations began last year, when we signed up for Religious Education classes at our parish. Because I home-school, my church does not mandate that my children have to attend Sunday school as long as they are properly prepared at home. I, however, choose to have them participate in the parish program because they are becoming more fully initiated into the Church and our parish community. Our domestic church reaches out to our parish church, to our community and even into our world-wide family. Preparation begins by helping them realize that what we receive, we share. And there is nothing greater that we can share than Jesus.
Older brothers and sisters share with them memories of their First Communion Days. I, likewise, enlist the help of their brothers and sisters in the Lord, the saints. Throughout the year, I have been sharing their stories about the Eucharist.
The twins' favorite story is St. Anthony of Padua's. When St. Anthony met a man who did not believe in the True Presence of Jesus in the Eucharist, the saint challenged the unbeliever. They made a bet. In three days' time the man would bring his donkey to St. Anthony. They would place before the animal both a pile of hay and the Blessed Sacrament. The man declared that if the donkey adored Jesus in the Host, he would believe. To make sure he won the bet, the dishonest man did not feed his donkey for two days. Still, on the day of the test, the humble donkey walked past the hay to St. Anthony who was holding the Blessed Sacrament, bent his front legs, and bowed down in adoration!
They also love the story of St. Clare who "scared off the bad guys," the Saracens, by holding high a beautiful gold monstrance containing Jesus in the Blessed Sacrament. Similarly, they anxiously awaited to hear if St. Francisco Marto was able to receive his First Holy Communion before Our Lady of the Rosary came back to take the sick child to heaven. They giggled at St. Dominic Savio who, after Communion, became so lost in prayer that he didn't realize Mass was over. He missed breakfast, his morning classes and almost missed lunch if St. John Bosco did not come find him still in the chapel. They were grateful to hear how St. Pius X made it possible for children their age to receive Jesus in the Eucharist. There are others - St. Peter Julian, St. Gemma, Blessed Imelda, St. Thomas Aquinas, St. Catherine of Siena, Blessed Mother Teresa - whose stories I hope increase my girls' love and devotion to Jesus in the Most Blessed Sacrament.
If you would like to share these stories and others with your children, grandchildren, the children of your parish or simply read them yourself, you can find many in Stories of the Eucharist by the Missionaries of the Blessed Sacrament or Saints of the Eucharist by Father Francis.
My hope is that my girls fall so totally in love with Him whom they will receive. I pray that this love burns brightly in all of us who are blessed to received the very source of Love. Then will our communion with Jesus lead to an increase in the communion of saints.
Copyright 2015 Kelly Guest.
Photo copyright 2015 Veronica Guest. Used by permission. All rights reserved.
About the Author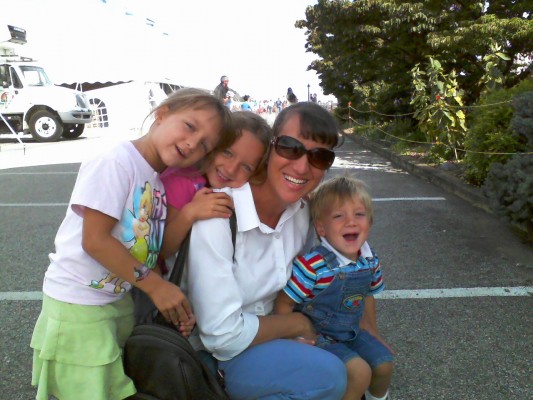 God has given Kelly lots of wonderful opportunities to follow Him. She was a Dominican Sister of St. Cecilia in Nashville, an education coordinator for a Catholic Charities' program for pregnant teens, a middle school teacher, a director of religious education and is now a youth minister. Her most challenging and rewarding calling, though, is wife and mother of ten children. What she has learned, she blogs at CatholicMom.com.