Our culture is very troubled these days. But there is hope. The antidote to our culture of death is the pursuit of wholesome life. There are so many things going wrong: the slaughter of the innocent in untold abortion mills around the world, families falling apart, communities in destructive upheavals, terrorists murdering and destroying at will, natural disasters – it is enough to make a person want to crawl into a hole and pull the earth overhead. Yet that cannot be our response, or the world really will slip into despair. Despair is not the antidote to tribulation. God's creative life in us is.
In my little world, we have a lot to accomplish in just getting through an ordinary day – yet that does not stop us from going the extra mile in attempting to make our home a beautiful, healthy, inviting place. While serving in the south side of Chicago as a volunteer some years ago, I remember walking down broken, ugly streets where the community had obviously given in to anger and despair. Yet just a few blocks away, I would find another neighborhood, no more rich, yet certainly not so poor. There were flower pots on porches and grass growing in tiny lawns. There were curtains in windows and bright colors painted on walls. In those non-despairing communities were the myriad reflections of a love for life which resulted in beauty and that beauty attracted the joys of life: peace, serenity and well-being.
This year, we are planting a garden with herbs and vegetables, taking care of various dogs and cats (strays who have managed to find their way here); we raise and care for chickens which lay wonderfully healthy eggs, and we try, in our humble manner, to do what we can to make our place beautiful. We cleared out the clutter, we planted blooming bushes, built homemade bird feeders and bird houses, created a little fire pit for outside hot-dog roasts, and planted apple and cherry trees which bloom beautifully in the spring and feed us throughout the winter. It takes effort to do all this work – less blogging time, more backaches – but our little home invites the world in and it has been a soul-refreshing experience. I know some will say I need to do more for others. We do; we serve in various capacities in our church and family; we support children/families in need; we are not so isolated that we cease to care for the rest of the world. Rather, it is through our pursuit of life that we most invite others to share with us, keeping our souls alive and happy in the process. Seems to me that the pursuit of life (following the example of our Creator) might be one of the most effective antidotes to the miseries of our troubled world.
Copyright 2015 Ann Frailey
Photo copyright 2015 Ann Frailey. All rights reserved.
About the Author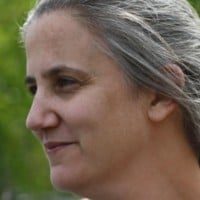 Ann Frailey home schools and maintains a rural homestead with her children and their numerous critters. She is definitely outnumbered. She is currently writing short stories, a HeartBeats series, a new science fiction novel, and a historical fiction & science fiction blend. To check out her novels and stories or find information about her other work, please visit AKFrailey.com.