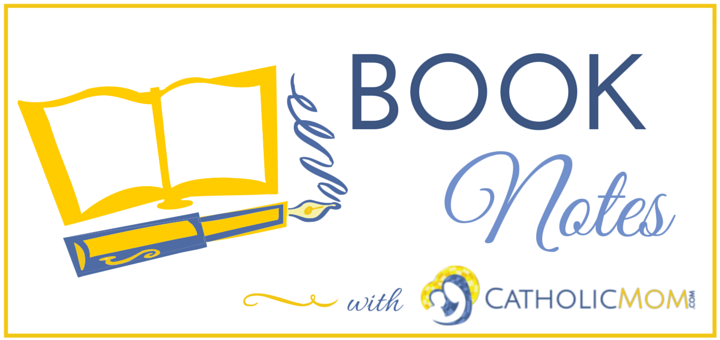 There are times in my life when I find myself humbled by the company I keep. Pretty much anytime I'm in the presence of CatholicMom.com peeps, yes, but also in the presence of the men who are part of this community.
One such man is Randy Hain. You may recognize his name because he writes books at a pace that most of us try to read them. (I'm convinced he doesn't sleep. He assures me he does. So I'm now also convinced that I need HIS coffee...)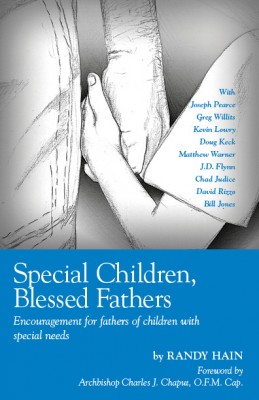 Randy recently sent me an advance copy of his newly released book, Special Children, Blessed Fathers: Encouragement for Fathers of Children with Special Needs. I wasn't sure what to expect, but I'll tell you this: what I got was a great read.
The book's made up of chapters written by fathers of children with special needs, ranging from autism spectrum to Downs Syndrome to other special needs.
And it. is. amazing.
It made me consider how often we women talk about these things. As a writer, I have an ongoing commentary in my head. But how often do we give voice to the men we love? How often do we listen to their perspective...for that matter, how often do we ask?
Randy has not only asked, he has put it together in a format that's engaging and might even inspire some tears. This is the kind of man-to-man book that men need. And, honestly, so do we women.
We need to hear what you have to say, men, and we need you to say it. It is a beautiful witness to the vocation of fatherhood and the "special" in special needs.
Randy was kind enough to spend a few minutes with me talking about the book.
Randy, your new book is targeted for Catholic dads. Having read it, though, I think Catholic moms could also benefit from reading it. Tell us a bit about it.
I agree with you. I think dads, moms, grandparents and anyone looking to better understand families with special needs children will find the book interesting and helpful. The book was both a labor of love and a testimony to the fruit that comes from obeying God's will. This book has been blessed from the beginning with an enthusiastic publisher, contributed chapters from Catholic author friends of mine who have children with special needs and the miracle of time to pull it all together with my busy schedule. My hope is that the men and women who read the book will be strengthened in their vocation as parents and see these special children as true blessings in their lives.
Why did you feel like you should compile a book like this?
Well, I knew from my travels around the country in support of my 2014 book Journey to Heaven: A Road Map for Catholic Men that fathers everywhere are struggling, particularly in families with children who have special needs. As the father of a teenage son with autism, I know first hand the challenges dads (and their families) are facing. The emotional, financial, physical and spiritual pressures can be overwhelming and I wanted to write a book to help these fathers live up to their responsibilities and more fully engage with their families.
How do you think people will benefit from reading this book?
I am hopeful they will better understand the pressures inside families with special needs children and keep them in prayer. I think dads will greatly benefit from reading about other men, just like them, who have learned to lovingly embrace their special children and become the great fathers they are called to be. I think wives will see that their husbands are struggling with pride, guilt, misplaced priorities and are sometimes feeling lost. I pray anyone who reads the book will see that children, no matter what their challenges, are God's gift to us. Taking excellent care of His creation is our gift back to Him.
Since you have the "inside" on this, Randy, tell us what we as Catholic moms can do to better support and encourage the Catholic dads in our lives.
We need prayers, love and encouragement. We sometimes need to be reminded that our identities cannot be wrapped up in only being the family provider and that you and the other children need us to be present. We need you to encourage us to be the spiritual leader in our homes and live up to our vocation as men and fathers. We need you to remind us that it has been too long since our last date night and that you need our love and attention, too. We need you to set the right example for us in the practice of our Catholic faith and reflect the light of Christ to us when we can only see darkness. We need you to tell us, until we finally understand, that we must be truly blessed for God to give us the gift of a child with special needs and that we have been especially chosen for this important task.
Any ending thoughts about the book?
One of the important things I prayed about when launching the book project was my desire to donate the book royalties to a worthy cause. That cause is the National Catholic Partnership on Disability (www.NCPD.org). I hope people will buy the book for themselves, for friends, other family members or even consider buying a handful of the books and donate them to your parish to be given to families who could benefit. The book is available through Amazon.com, EmmausRoad.org and local Catholic bookstores. You are providing much-needed encouragement for families and supporting a great cause!
Order your copy of Special Children, Blessed Fathers and support CatholicMom.com with your purchase!
Be sure to check out our Book Notes archive.
Copyright 2015 Sarah Reinhard
About the Author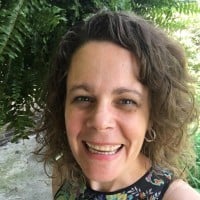 When she's not chasing kids, chugging coffee, or juggling work, Sarah Reinhard's usually trying to stay up read just one…more…chapter. She writes and works in the midst of rural farm life with little ones underfoot. She is part of the team for the award-winning Catholic Mom's Prayer Companion, as well as the author of a number of books. You can join her for a weekday take on Catholic life by subscribing to Three Shots and follow her writing at Snoring Scholar.