Welcome to the Unleashed Book Club! We're reading Unleashed, by Sonja Corbitt.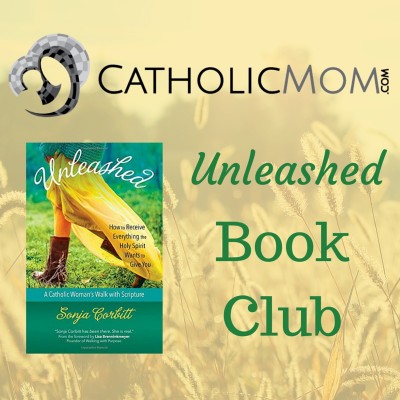 How many times do I cry out to God, just like Sonja Corbitt describes in Chapter 3 of Unleashed?
What in the world is wrong with me? (p. 45)
Too many times to count.
I love the Lord. I love being Catholic. I desire holiness. But I fall flat on my face over and over again.
Here's the other question I often cry out to God: "Are you sure you have the right woman for this job?" But of course, God doesn't make mistakes! He chooses to use us as His instruments, in spite of our imperfections and weaknesses.
My grace is sufficient for you, for power is made perfect in weakness. (2 Corinthians 12:9)
Approaching the topic of predominant fault, like Sonja does in Chapter 3, is incredibly bold. Sonja shares vulnerably about her own predominant fault, how her patterns were affecting her life and her relationships, and what she has done to root her primary sin out of her life. By being real and honest with herself, staring her sin straight in the face, she makes her predominant fault less powerful in her life. And by sharing her experience with us, she gives us the formula for finding our way out of our own mess, too.
It's not easy to look in the mirror and see past the makeup, mascara and lip gloss that covers up more than a little bit of uneven skin tone. No, to look beyond what we cover up, deep down into the past, into the cobwebby corners of our heart, that's hard. What's even harder is to see how past pain, which can lead to our predominant fault, hasn't been dealt with but rather pent up, until it suddenly comes out roaring like a lion. This sin just clings to us (Hebrews 12:1), and it can feel like it will never go away.
But it's in this place that God wants to work.
God is profoundly concerned with our predominant fault, because in it lie the clues to what prevents our oneness with him, the supreme desire of his heart and the key to an unleashed life. (p. 57)
God knows my predominant fault, my patterns of sin, and how it is affecting my relationship with Him and with my loved ones. He knows yours, too. And He wants to meet us and love us in our woundedness.
The scary reality is that Satan also knows our predominant fault as the weakest part of our soul, and that is where he will exploit us the most.
So, if God wants to meet and love us in our predominant fault, and Satan wants to exploit us in it, we have a choice to make. The key to this chapter is that we begin to know and understand our predominant fault.
Refusal to attempt self-knowledge, as the saints call this introspection, is unhealthy. Without self-knowledge we lack self-discipline and self-control; we destroy ourselves and others. (p. 53)
I used to try to ignore my predominant fault; I just didn't want to go there, and I certainly didn't want anyone to know my struggle. I would blame the particular stressful season of life, thinking it would be easier and I would stop messing up when such and such was over. But it never worked out that way. Who was I kidding? Only myself.
God allows our predominant fault to remain as a way back to Him. He provides us with trials as opportunities for healing and growth. When we are in self-denial of our predominant fault, we hurt our relationship with God and our loved ones.
However, when we begin to have self-knowledge and recognize our patterns, the truth that we discover will ultimately set us free (John 8:32). The place where Satan tries to exploit us grows stronger, and he has less power over us.
As we work on our patterns of sin, God knows we are not always going to survive the trials. Stumbling along the way is normal on the path to holiness. But when we feel weary of our failings, Sonja encourages us to find comfort in Christ, rather than comfort in a latte.
He knows we need comfort … He longs to be our comfort … But He cannot provide comfort for us when we are busy seeking and grasping it for ourselves. Ultimately, comfort seeking is a denial of the need to change. (p. 59)
Replacing our lattes, ice cream or whatever else comforts for a moment with prayer, Scripture reading and the sacraments will allow God greater access to our souls in order to transform them. Doing these things, especially frequent reception of the sacraments, boosts the supernatural grace that we can lean into, as we bravely face our fears of dealing with our patterns of sin. But we have to be an active participant, cooperating with that grace, for change to take place.
Come to me, all who labor and are heavy laden, and I will give you rest. Take my yoke upon you, and learn from me; for I am gentle and lowly in heart, and you will find rest for your souls. For my yoke is easy, and my burden is light. (Matthew 11:28-30)
This passage indicates Jesus' invitation for us to come to Him. But we must actively take a step of our own free will toward Him, so that He can actually begin to comfort us.
As we journey in our upward spiral away from sin and toward the Lord, we must take comfort in God's word. Like the woman caught in adultery, we are not condemned. Jesus doesn't get fed up with our stumbling toward holiness. He loves us in our predominant fault, but He loves us too much to want us to stay stuck.
Therefore lift your drooping hands and strengthen your weak knees, and make straight paths for your feet, so that what is lame may not be put out of joint but rather healed. (Hebrews 12:12-13)
To Ponder, Reflect, and Discuss:
How did reading Sonja's own witness about her predominant fault encourage you to begin facing your own?
Did you find comfort in one of the many Scripture passages that are quoted in this chapter?
God doesn't condemn us, but He loves us too much to want us to remain in our predominant fault. How does this truth give you hope to fight this internal battle against sin?
Feel free to comment on your own thoughts from this week's reading, your impressions and reflections, and/or your answers to these questions.
Next week, we'll cover Chapter 4. For the complete reading schedule and information about our Book Club, visit the Unleashed Book Club page.
Copyright 2015 Sarah Damm
About the Author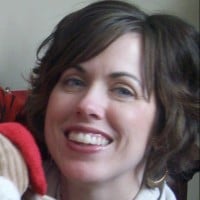 Sarah Damm is a Catholic wife and mother of six children, living in Minnesota. She spends her days running errands, helping with homework, and keeping up with laundry and the family schedule. Sarah loves her faith, coffee, and good books. You can find out more about her at SarahDamm.com.