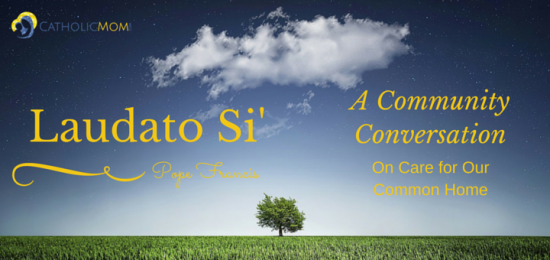 Today, we begin a community conversation on Pope Francis's newly released encyclical On Care for Our Common Home (Laudato Si'). Since so much of this important document pertains not only to our faith lives, but also to our communities and our homes, we've decided to "break open" the encyclical with an eight week series of reflections by our CatholicMom.com family of writers. Each week, we will feature a reflection on one of the chapters and will invite your participation in a dialogue on that chapter. To download the document in free PDF format, visit the Vatican website. If you would prefer to read the encyclical in book format, it is available for purchase from the USCCB. We pray that this community conversation will be both a blessing for your family and a way for our CatholicMom.com to grow together as a community as we contemplate our role in caring for our common home. Thank you for embarking on this dialogue with us! Lisa Hendey
To participate:
Read along. We will post a new chapter each week - for an overview of the chapters, visit the Laudato Si' landing page here at CatholicMom.com.
Leave comments on each post with your thoughts and impressions or even take a stab at the discussion questions. Interact with other commenters.
Share the posts and the discussion in your real-life networks and/or your social networks using hashtag #LaudatoSi
For our introduction to this series, today we welcome Dr. John Bratton (husband of our contributor Heidi Bratton). John and Heidi and their family reside in Michigan, where currently works as an environmental consultant.
Laudato Si' - An Introduction
With Laudato Si' Pope Francis reminds us in the language of St. Francis of Assisi, that we should bless God for the "family" of earth, wind, fire, and water he has given us. St. Francis returned to childlike faith and natural wonder, after years apart from God. In this letter to the bishops and to us, Pope Francis is suggesting that we would experience more of the joy of this saint if we were to follow his example more closely. The challenging content of his message is true, but also inconvenient, perhaps?
There are many who don't really want to hear what Pope Francis has to say in his new encyclical. Why? Because it is always hard to listen to a prophet when his call to repentance and transformation hits too close to home. As happened with the prophets of old, and even John the Baptist, the temptation to shoot the messenger can be hard to resist. But what exactly is Pope Francis calling us to? His hope is that we will turn away from worldly, material attachments, and turn toward a caretaking relationship to the planet and its most vulnerable inhabitants—the creatures of the forests, streams, and oceans, and most especially the poor. Only this will save us from the love of things that threatens to drag us away from God, and ultimately from heaven.
I am trained as a geologist, a student of the planet and its processes, and I have sought throughout my career to integrate my Catholic faith with my science. I know our home planet better than most, and I was eagerly waiting to hear what the pope wanted to say about it. I have worked for many years as a researcher, as a professor of environmental science and stewardship at the college level (and at the homeschool level!), and also as an environmental consultant to cities, agencies, industries, and attorneys. I have seen things that most people never see. When Pope Francis talks about the earth being covered with an "immense pile of filth", it brings to mind images of landfills where I have worked, with trash (or sewage sludge) piled into great mountains and leaching into creeks. I have also seen the poorest of the poor living in dumps in Mexico with refuse reaching in all directions. The castoffs extract a meager subsistence from the trash of others. When the pope talks about contaminated water, I remember pulling groundwater samples out of test wells that were dripping with oil or seeing jet fuel bubble out of the ground and stain the snow green during a spring thaw.
When a prophet holds a mirror up to us we tend to resort to either the fight or flight response. The fight puts us on the offensive; the flight takes the form of denial. The mirror holding of Pope Francis is unusually comprehensive in this encyclical. The letter covers everything from the depths of ocean ecology to the heights of atmospheric chemistry, along with economic injustice and a restoration of respect for human dignity in all areas of life. Despite news reports or sound bites that may give another impression, Pope Francis is not making a political statement in this letter on behalf of any particular special interest group.
In its early chapters, the encyclical provides the results of a planetary "home inspection" and pinpoints the source of the damage (hint: it's not termites). The document also explores the theology of creation and God's plan for us within it. The later chapters apply the interconnectedness of ecology to the linked human and natural systems, which have become fragmented. The last chapters cover the ways we should now live to bring about greater understanding and "ecological conversion", including recognition of the role of Mary as Queen of Creation.
Early in the letter, the Holy Father optimistically states, "The urgent challenge to protect our common home includes a concern to bring the whole human family together…, for we know that things can change [13]". Near the end, he refers to the letter as "this lengthy reflection which has been both joyful and troubling [246]". He concludes with two prayers: one for the earth itself, and one in union with creation. The prayers ask God to empower us to bring about his Kingdom, where all life is protected, and where justice and peace flourish. May that prayer be answered in our lives as we reflect on the pope's message here over the next several weeks with the help of others who have been touched both by God and by his creation.
Dr. John F. Bratton currently works as an environmental consultant in Ann Arbor, Michigan, where he lives with his wife and CatholicMom author, Heidi, along with a shrinking remnant of his six children and their pets. He has taught courses in geology, oceanography, and environmental science at Stonehill College, Wayne State University, Boston University, and Au Sable Institute of Environmental Studies. He spent 17 years as a research scientist and manager in federal laboratories, and earned his Ph.D. from the University of California at Berkeley.
Dr. Bratton Recommends the following links:
To Ponder, Reflect, and Discuss:
What do you hope to learn by participating in this community conversation on Laudato Si'?
What has been your exposure to the encyclical up to this point? What are your early perceptions of the document?
What takeaways did you discover by reading the introductory paragraphs (1-16)?
Next week, we will read and reflect upon Chapter One of Laudato Si'. For more information on this conversation, visit our Laudato Si' landing page.
Copyright 2015 Lisa M. Hendey and Dr. John Bratton
Image credit: Bessi, Pixabay, Public domain
About the Author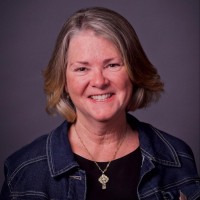 Lisa M. Hendey is the founder of CatholicMom.com, a bestselling author and an international speaker. A frequent radio and television guest, Hendey travels internationally giving workshops on faith, family, and communications. Visit Lisa at LisaHendey.com or on social media @LisaHendey for information on her speaking schedule or to invite her to visit your group, parish, school or organization. Visit Lisa's author page on Amazon.com.