So do not fear, for I am with you; do not be dismayed, for I am your God. I will strengthen you and help you; I will uphold you with my righteous right hand. Isaiah 41:10
Fair week is always nuts! There are so many details like feed, show clothes, equipment, event times and chores--just to name a few. It seems like it's one big whirlwind from Sunday afternoon until Friday morning. This year as if all that craziness wasn't enough, Shannon lost her phone somewhere between the hog barn and home. She plopped into bed exhausted Monday night thinking it was in her back seat with forty pounds of other "stuff." She was too tired to go out and get it and decided she could live without it until morning. Tuesday morning she was in a frenzy of last-minute details before the pig show. The frenzy escalated to a panic when she realized her phone was NOT in her car as she thought. She retraced her steps from car to barn and back, checked the fair office and searched everywhere it could possibly be and came up empty.
The problem with a teenager and a lost phone isn't just the loss of a phone…it's a disconnect from everything. Their phones are their calendars, photo albums, navigators, memo pads and address books. Everything that is important is stored in those little mini computers they call smartphones, so when one comes up missing it leaves a hole!
I love the 4-H family because so many of them jumped right in to try to help. A good friend came to the rescue! She worked her google locater magic and hopped in the car with Dave to locate the phone according to the very precise directions google indicated. It led them right to the spot along a busy Michigan highway where the speed limit shifted from 35 to 55 mph and right there, along the gravel shoulder of the road, was Shannon's phone. It seems she laid the phone on the trunk of the car as she packed the back seat and it rested there nicely for the first few miles of her trip home but as soon as she sped up to 55 off flew the phone. It rested there along M21 peacefully and unharmed for nearly 12 hours. When Dave and his cell-phone-finding buddy returned to the barn with the phone, there was relief and happiness, to say the least!
As Shannon went about the business of showing pigs all day I marveled at what had happened. As we discussed it with others, one gentleman brought up an interesting point. He said, "Isn't it a little freaky … if a phone can be tracked so easily, don't you worry that the government can keep track of us; knowing where we are, what we're doing and who we're with at all times? It's like they know our every move." Without any thought at all, my mouth opened and said, "Well, the government may know where I am and who I'm with and what I'm doing but so does God and that takes away the fear and replaces it with peace!" I told him it reminded me of a bumper sticker I had seen recently that said; It doesn't matter who the president is, Jesus is the King.
As mainstream and social media blow up over babies and lions and marriages it's so easy to want to crawl under the bed and hide. Hearts are sad, people are broken and compassion and honesty are becoming such slim commodities among the people who profess to be in charge of the rules of the land. It's easy to let fear creep into our lives and become our ruler. Fear paints everything ugly and hopeless!
God did not make us to be a people of fear; he made us to be a people of faith. The problem is that we oftentimes put our faith in the wrong things and when that happens it always winds up creating fearful and fretful thoughts and actions. He made us for so much more!
Technology, like most everything, has an up side and a down side. We were able to enjoy it for good last week and I wish things could always be used for their intended, positive purposes but I know in my heart satan is pushing for exactly the opposite. That is a reality I have to pray my way through each and every day. What I need to remind myself when my faith starts to feel like fear is that I was created by a God who loves me, protects me and is standing by waiting to sooth my fear every time I call out to him in faith.
A Seed To Plant: Make a list of things that make you fearful; take that list with you into prayer this week and ask God to take those fears and give you the grace of faith to move past them. Remember God is bigger than everything we might fear!
Blessings on your day!
Copyright 2015, Sheri Wohlfert
Image copyright 2015, Sheri Wohlfert
About the Author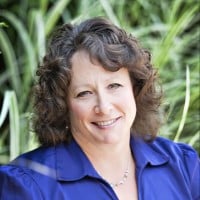 Sheri is a Catholic wife, mom, speaker and teacher. She uses her great sense of humor and her deep faith to help others discover the joy of being a child of God. Her roots are in Kansas but her home is in Michigan. The mission of her ministry is to encourage others to look at the simple ways we can all find God doing amazing things smack dab in the middle of the laundry, ball games, farm chores and the hundred other things we manage to cram into a day. Sheri also writes at JoyfulWords.org.