"What name do you give your child?"
Standing there at the baptismal font, holding my sweet baby, ready for her to receive new life in Christ, the priest looked at my husband and me, waiting for our answer. Next to the questions I was asked at my wedding, the questions asked at Baptism would probably be the most important ones of my life. And I was ready with my answers.
"Lucy Benedicta."
Giving someone a name is a big deal. I think we know this innately as mothers, spending so many of those sleepless nights of pregnancy thinking about the child growing within, wondering what he or she will look like, sound like, be like, and what we'll call them. Who are you, we wonder?
As Catholics, our relationship with scripture and the sacraments only serves to more firmly root us in the awareness that names are important….
"Behold, you will conceive in your womb and bear a son, and you shall name him Jesus." – Luke 1:31

"He asked for a tablet and wrote, 'John is his name,' and all were amazed. Immediately his mouth was opened, his tongue freed, and he spoke blessing God." - Luke 1: 63-64

"Do not fear, for I have redeemed you; I have called you by name: you are mine." – Isaiah 43:1

"…the sheep hear his voice, as he calls his own sheep by name and leads them out." – John 10:3

"The victor will thus be dressed in white, and I will never erase his name from the book of life but will acknowledge his name in the presence of my Father and his angels." –Revelation 3:5
Want more proof? We are baptized by name, that name written into the Book of Life. In the sacrament of Confirmation we are sealed by name (our given baptismal name or that of a patron whose name we take as our own) and in the sacraments of vocation – Holy Orders and Matrimony – we are called and give ourselves in love by name. In the Rite of Christian Burial and in the Mass we pray for the faithful departed by name.
And as parents, we pray for our children by name, offering them back to God who entrusted them to us. It's no wonder we spend so much time thinking about baby names!
Perhaps in part because I desired more meaning behind my own name than just "it was pretty," it takes my husband and me a long time to settle on baby names. It's really important to us that their names have strong meaning and good patrons, and help lead them to a deeper life of faith.
We have a couple of questions that we use to guide our baby-name pillow-talk: What are the feasts around the baby's due-date/birthday? Who are saints or holy men and women who lived in a specific way (as mothers, as fathers, as martyrs, in service to the poor, as writers, etc.) who we hope our children can look to as a model? What are names we love? And what are the roots and meanings of those names (and do they have connections in scripture or the Christian life)?
For our first, we chose the name Lucy with the sweet little heroine of Narnia in mind. C. S. Lewis' Lucy Pevensie is full of wonder, courage, generosity and an unwavering love and devotion to Aslan. She models for us the Church's (and each Christian's) faithful love for Christ. We wanted our own daughter to someday read the Chronicles of Narnia and feel a special connection to this girl and hopefully, imitate her many virtues. We chose "Benedicta" for her middle name in honor of Pope Benedict and also because Teresa Benedicta of the Cross (Edith Stein) -- a great writer and philosopher who gifted the church with a deeper understanding of the feminine genius -- is a perfect model for our intelligent, strong-willed girl.
As we anticipate the birth of our second child, we discovered that all of our favorite names for this baby are somehow connected to "mercy." As we approach the Year of Mercy, we know this is no coincidence, but instead an invitation to reflect on God's love for this child and this family in a particular way.
In the end, the responsibility of giving a child a name has been a delight and helped us to pray for our children and family. As we think of individual names and their meanings, it's led us to think more deeply about what we want for our children, and our own vocation as parents to lead our children to heaven. It's helped us to think of their names not just as the thing we'll call them, but as one of the first gifts that we give them.
How do you choose a name for your children?
Copyright 2015 Megan Swaim.
Photo copyright 2013 Megan Swaim. All rights reserved.
About the Author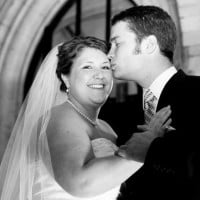 Megan Swaim is an Indiana girl on an east coast adventure. A former high school youth minister, she now gets to minister full-time to her three young daughters and her husband Josh. Megan spends her days homeschooling at the kitchen table, drinking iced coffee, and exploring coastal Virginia.