Blessed are the meek for they shall inherit the earth. Matthew 5:5
Every now and again I run across something that just doesn't seem to belong or have relevance anymore. I was cleaning closets recently and found an old rotary dial phone with a long spiral cord. I also have a potato slicer and French fry cutter that belonged to my Grandma Thelma. She used it in her kitchen when I was little girl. Both of those items have been replaced with more modern, convenient, efficient, updated models so the old ones are cast aside as if they are no longer useful. There is a key word in this scripture passage from St. Matthew's gospel that might seem as irrelevant as those old treasures hiding in my closet. That word is meek.
We strive to be strong and successful. We pray for the grace of patience, perseverance and wisdom. We admire people who are confident, powerful leaders with vision. To tell others our goal is to grow in meekness would be a little like seeing a rotary dial phone in a Verizon store! To be honest, when I came across the word "meek" the other day I decided to give it a look and some prayer. I think I need to change my opinion about that word. I think it's a word we might all be able to relate to better than we thought and I'm certain it's something we could use more of.
Long ago in biblical times the quality of meekness was highly respected and aspired to. We tend to view it as weak, timid or passive but that was not the message Jesus was teaching when he shared the Sermon on the Mount. Meekness in its true meaning is the opposite of those things. Being meek doesn't mean you are weak and have to take everything like a doormat; it means an active and deliberate acceptance of undesirable circumstances that are part of a bigger picture we can't see. Being meek doesn't mean throwing in the towel, it means giving God authority to do what he wills with our life. True meekness can be measured by how closely related we are to the will of the Father. When we make that relationship first, we are content in his love and his control of our life. If we let him be in charge we realize everything happens for a purpose and we trust in his plan. If we are more centered on ourselves and our comforts and our pride, we tend to fuss and complain and point out all the things that don't go our way. If we are low on meekness we tend to see the world through the lens of poor me instead of God's got it all figured out!
If someone rich in meekness is treated unfairly or wrongly it doesn't mean that doesn't sting, but vengeance or revenge isn't part of their reaction. Their first reaction is to pray for the person who has wronged them and give the rest to God. A meek soul realizes that God is the source of justice and that all situations contain lessons. Sometimes the lesson is for us and sometimes the lesson is for somebody else and taught through us. In order to grow in meekness, we have to admit regularly that we are not equal with God. Through our great dependence on Him we grow and we trust and we think WAY more about him than about ourselves. I suppose meekness is a bit like realizing we truly need to settle into second place and stop trying so hard to be in charge, on top and number one. I don't know about you but I have a lot of meekness building to do!
A Seed To Plant: What are some of the areas in your life that could use a little more meekness? Spend some prayer time this week with this old word with a great and misunderstood meaning.
Blessings on your day!
Copyright 2015, Sheri Wohlfert
Image credit: Tranquil Spot, Freeimages.com. All rights reserved.
About the Author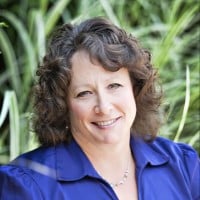 Sheri is a Catholic wife, mom, speaker and teacher. She uses her great sense of humor and her deep faith to help others discover the joy of being a child of God. Her roots are in Kansas but her home is in Michigan. The mission of her ministry is to encourage others to look at the simple ways we can all find God doing amazing things smack dab in the middle of the laundry, ball games, farm chores and the hundred other things we manage to cram into a day. Sheri also writes at JoyfulWords.org.