"Pray, hope, and don't worry. Worry is useless. God is merciful and will hear your prayer." - St. Padre Pio
Our landlord decided to sell the condo we were renting and we had to move. We were sad about leaving it and very stressed about moving. It all seemed so overwhelming. And impossible to accomplish in the time period we had - four weeks.
We had four weeks to find a new place. Four weeks to find furniture (we were living in a furnished condo). Four weeks to pack and move.
Four short weeks.
"It is all going to work out, " I repeated told my husband until he was tired of hearing it. And I was tired of saying it. Did I really believe it myself?
Needless to say, my prayer life changed drastically. All I could do was pray "Help" several times a day. And I kept hanging on to the Lord. We went to Sunday Mass and I even attended a couple of weekday Masses that were said for the intention of my sister who passed away last year.
Those Masses were my lifeline. They kept me going. Hearing the Word. Receiving the Eucharist. Being together with my church community. Praying for my sister, who spent the last few years of her life in a nursing home.
So what did I have to complain about?
So I prayed as St. Padre Pio suggested. I prayed and I hoped and I tried not to worry, because really, he was right - worry is useless.
We found a new condo to rent and moved in, just barely beating the deadline. We are almost unpacked. It hasn't felt like home to me yet but I am pretty sure it will. Looking out our patio window one night, I saw a beautiful sunset that made me smile.
As St. Padre Pio said, God is merciful and hears our prayers.
Copyright 2015 Colleen Spiro
Photo by grietgriet 2010 via Morguefile. All rights reserved.
About the Author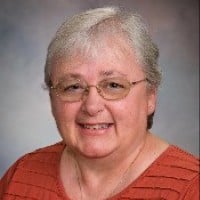 Colleen Spiro is a Catholic mother, grandmother and a deacon's wife. A certified spiritual director, Colleen loves to share her faith and encourage others through her retreats and writings. You can read her reflections at her website, Catholic Prayer Life.