I remember the first email exchange I had, back in the days of Blogger blogs and sidebar listings of links, with Donna-Marie Cooper O'Boyle. Somehow, I must have caught her attention, because she emailed me out of the blue (or so it seemed to me).
In the years since, Donna-Marie has become "Mom Donna" to me. She encouraged me, many years ago, to pray a very special novena and even offered to pray it with me.
When I began the project of looking closer at the Hail Mary on my blog many years ago, I never dreamed it would be a book. There was never a doubt, though, that "Mom Donna" would be part of it.
The book inspired by the blog series, Word by Word: Slowing Down with the Hail Mary, is now available and today, Donna-Marie graciously agreed to join me to talk about the Hail Mary, her word in the book, and her tips for us as we try to slooooooooow down in our prayer.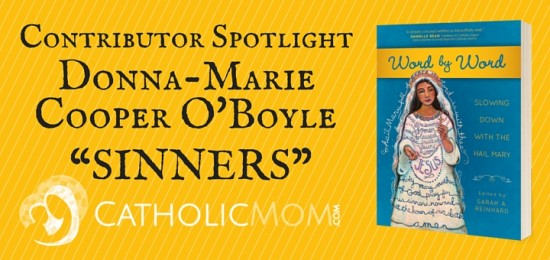 Donna-Marie, what's your relationship with the Hail Mary as a prayer? How does it help you grow closer to Mary and, through her, Jesus?
I have always loved the Hail Mary prayer since I was a little girl. It was taught to me by my mother and often prayed in my presence by my mother and grandmother when they prayed the Rosary.
I believe that the Hail Mary prayer helps me to grow closer to Mary and, through her, to Jesus. It is a wonderful meditative prayer which reminds us of Mary's role in our salvation and which asks Her to pray for us which will ultimately bring us closer to her Son Jesus.
Your reflection was on the word SINNERS. Tell us a bit about what this word means to you in the context of the Hail Mary.
We are all sinners. We are all in need of prayer to be able to reach Heaven one day. We must pray for our own souls and in the Hail Mary prayer, we also pray to Mother Mary asking Her to pray for us too. It really is an awesome privilege to receive and benefit from prayers from the Mother of God! It would be beneficial to pause and ponder that fact alone.
In the Hail Mary prayer, we ask the Blessed Mother to pray for us now for our daily needs within the nitty gritty details of our lives. As well, and equally as important, we pray to Mother Mary requesting that she pray for us at the hour of our death. We need Her to lead us to Heaven.
What's your top tip for slowing down as you pray the Hail Mary...or any prayer, for that matter?
My top tip for slowing down to pray is to strive to put myself in the presence of God and offer Him my full heart in love and respect. I could easily race through my prayers, but where will that get me? Would I be truly praying? Is that being respectful to God?
I believe that we need to pause often to pray and also to carve out time for heartfelt prayers, no matter how busy we think we are so that we can be in continual conversation with our Creator. Some of our prayers might be very brief as we tend to the needs of those to whom we are responsible. But, we can certainly offer our hearts in those busy moments and strive to schedule other times to meet Our Lord in prayer.
*
Donna-Marie has a new book out herself, The Kiss of Jesus: How Mother Teresa and the Saints Helped Me to Discover the Beauty of the Cross, which is touring the blogosphere right now.
If you're interested in purchasing Word by Word, consider stopping in at your local Catholic bookstore first. It's also available online, and if you use our Amazon link, CatholicMom.com gets a small percentage of the sales.
Copyright 2015 Sarah Reinhard
About the Author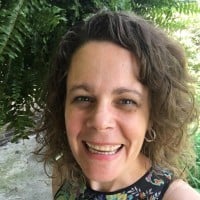 When she's not chasing kids, chugging coffee, or juggling work, Sarah Reinhard's usually trying to stay up read just one … more … chapter. She writes and works in the midst of rural farm life with little ones underfoot. She is part of the team for the award-winning Catholic Mom's Prayer Companion, as well as the author of a number of books. Follow her writing at Snoring Scholar.