Years ago, my mom started the family on St. Louis de Montfort's Preparation for the Total Consecration to Jesus through Mary. Every spring, we would read aloud the passages and prayers, and recite the Consecration together after Mass.
Yet when I approached the devotion as an adult, in the middle of academic life and the challenges of growing up, I was forced to analyze why I chose to renew my Consecration, what it meant, and how I would let it affect me.
After a few years of trying to plunge ever deeper into my commitment to Our Lady, I've come to understand five important reasons to pursue the Consecration. If you're new to the idea or worried about the long preparation and radical commitment, perhaps my thoughts will encourage you.
#1: Mary
Her titles are endless: Queen of the Universe, Our Lady of America, Mother of Good Counsel, Mediatrix of All Graces, to name a few. She is the perfect daughter, mother, spouse, and woman.
In the language of my generation, Mary is epic. She's the woman I want to be, so it makes sense to try and model myself on her in the most direct and concrete way, which is by totally giving myself to her.
#2: Mom
My mother is still the one I turn to with random questions about cooking, housekeeping, and life in general. When I was a child, I depended entirely on her, and she taught me how to live and how to grow up. In the spiritual life, I need a mother too, who will pick up my tag-ends of good works and weave them into something beautiful for her Son. Our Lady will teach me how to take my first steps and grow in my spiritual life, if I let her.
By giving myself to the Blessed Mother in the Consecration, I'm making an act of complete trust and surrender. Like a child again, I'm placing myself in my eternal Mother's arms, and asking for her help, because I'm too weak without her.
"Only after the Last Judgement will Mary get any rest; from now until then, she is much too busy with her children." ~St. John Vianney
#3: Life is easier when someone else is in control
As a Type A/choleric-sanguine/ESFJ, I love being in control of everything. I'm at my best when life is crazy, the plates spinning in the air are about to come crashing down, and I'm able to pull on all my talents to succeed. And then God decided to show me that I wasn't really in control of anything, least of all my life.
I was forced to realize that I needed someone I could trust to pick up the pieces when I failed. But letting go takes a radical life change, something along the lines of a Total Consecration. I wear a silver chain bracelet as a daily reminder when stress or worry comes: I have given all I am and have into my Mother's hands.
#4: Jesus
Intellectually, I know that eternal union with God is my end and purpose. Emotionally, amid the noise of the world, it can be hard to focus on Him. I want to love Christ, my King, and give myself to Him. Yet I'm supremely incapable of loving him as I must, and that's where I need Mary.
To become a saint, I must allow the Mother of God to fill in where I lack, and lead me to her Son. The Consecration is ultimately to Jesus, through Mary – in giving myself to her, she in turn gives me to Him.
#5: Why not?
I'm desperate enough to make it to heaven that I'll take a lifeline wherever it's offered. If by giving myself entirely to Our Lady, I can come closer to holiness, then I'm going to give myself entirely to Our Lady! Yes, it takes humility and a constant re-affirming of trust and surrender, at which I frequently fail, but it's well worth the effort.
The time commitment for the preparation or the radical gift of self which is central to the Consecration might be intimidating. Yet there is a joyful peace and consolation which comes not only from making the Consecration, but with boldness turning to the Blessed Mother in every moment, trusting that she will care for us as her dearest children.
To consider:
If you've made the Consecration before, take some time to read and meditate upon the commitment you've made to Our Lady. Try to remember every day the fact that she repays your gift of self with the most tender love.
If you've never approached this devotion, read Fr. Michael Gaitley's 33 Days to Morning Glory or any of the other great books on the Consecration, and pray about entrusting yourself to your Mother!
Copyright 2015 Rebecca Willen
About the Author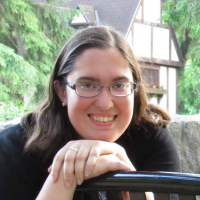 Rebecca's love of the written word led to her current roles as associate editor of trade books at Our Sunday Visitor, and Daily Gospel Reflections editor at CatholicMom.com. She is a nerdy Catholic, book addict, Shakespeare fangirl, amateur baker, and musician. Follow @NerdCornerBooks on Instagram for book recommendations.