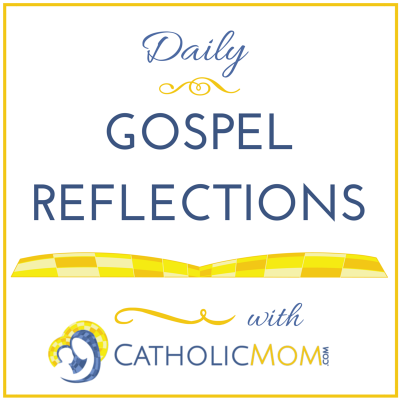 Today's Gospel: Luke 21:25-28, 34-36
First Sunday of Advent
It is natural to respond with terror at Jesus' prophecy in today's Gospel. While it is true that no one except God the Father knows the day or the hour of the specific end of the world, we are all given a stark and timeless warning that applies not only to the end times, but also to our lives today.
Each new liturgical year, I ponder the words, "Do not become drowsy with the anxieties of daily life…be vigilant at all times, and pray that you have the strength to escape the tribulations that are imminent." The message grounds me, draws me back somehow to a place of waiting and repentance. They remind me of my fallibility, my finiteness, my humanity. I am instantly moved to the condition of my interior life and the knowledge that I need God desperately.
What fitting words for the First Sunday of Advent! We often become comfortable and regimented in our daily routines throughout the year, but Jesus jolts us with the stark confrontation of our mortality and that we are not exempt from tribulation and death. If we truly consider the power of this message, we are necessarily pulled away from ourselves, from our ordinary comforts and into the realm of spiritual growth. This begins with repentance.
If we begin Advent with a repentant heart, we will grow in humility. Let us begin with Confession, the most under-utilized Sacrament at our disposal. Our hearts will be washed clean, and thus we will be able to see ourselves more honestly and with a greater openness to truth. Then the message in today's Gospel will permeate us on a deeper level, a level that will incite personal change.
When we change with the Lord's goodness and grace, we inspire others to grow, as well. So the beauty of this season is a newness of spirit, a vitality of the soul so that we might renew the world with a spark of our gifts offered to others, so that we may participate in the culture of life and thus help to eradicate the culture of death.
Ponder:
Am I vigilant in prayer, or do I grow lax in fervor throughout the year? How can I enter this Advent with a fresh start, a new attitude? Have I considered the benefits of beginning this liturgical year with Confession? In what ways can I participate in promoting the culture of life?
Pray:
Jesus, you warn us of the grave times to come when the earth's end will occur. You also warn us to be vigilant, to watch and wait, for our souls are not exempt from challenge and change. A lukewarm heart grows cold over time, and so we pray that the light of Advent in this season of darkness – your light, the Light of the World – will ignite a new warmth and glow that will soften the edges of spiritual sterility that have grown around our hearts. Amen.
We thank our friends at The Word Among Us for providing our gospel reflection team with copies of Abide In My Word 2015: Mass Readings at Your Fingertips. To pray the daily gospels with this wonderful resource, visit The Word Among Us.
Copyright 2015 Jeannie Ewing
About the Author

Jeannie Ewing believes the world ignores and rejects the value of the Cross. She writes about the hidden value of suffering and even discovering joy in the midst of grief. As a disability advocate, Jeannie shares her heart as a mom of two girls with special needs in Navigating Deep Waters and is the author of From Grief to Grace , A Sea Without A Shore , and Waiting with Purpose. Jeannie is a frequent guest on Catholic radio and contributes to several online and print Catholic magazines. She, her husband, and three daughters live in northern Indiana. For more information, please visit her website lovealonecreates.com.