St. Patrick's Faith Event Ministry invites you to Pray for Peace in a Holy Hour Concert of Eucharistic Adoration featuring renowned Catholic music artist, Audrey Assad.
Audrey is a worship leader, musician and recording artist who writes, in her own words, "soundtracks for prayer." She has penned her contemplative songs of worship with (and for) Matt Maher, Christy Nockels, Brett Younker, Sarah Hart, Meredith Andrews, and others. Audrey's passion is to write fragrant, prayerful music that truly leads to encountering Jesus Christ, even in the silence of the heart.
Audrey's debut album, The House You're Building, was released through Sparrow Records in July 2010 and was named Christian Album of 2010 on Amazon.com as well as the Christian Breakthrough Album of the Year on iTunes. She has worked and toured with other artists such as Chris Tomlin, Tenth Avenue North, Matt Maher and Jars of Clay. Audrey's independent work includes the records Fortunate Fall, O Happy Fault (Live), and Death, Be Not Proud. Her newest album, Inheritance, is scheduled for release in early 2016.
Visit www.olmstpatrick.org or phone 209-383-3924 for details and join us December 12, 2015, 7:00pm at St. Patrick's Church in Merced, California to pray for peace in an adoration concert with Audrey Assad. This is an admission-free event. Your offering will be graciously accepted. St. Patrick's Faith Event Ministry - Doing Beautiful Things for the Diocese of Fresno and the Heart of the Central Valley.
https://www.youtube.com/watch?v=xFUwFJ7nstA&feature=youtu.be
About the Author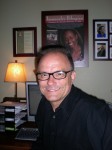 Brian is a cradle Catholic, husband and father. He's the Co-Founder and Executive Director of Possibility Productions, a 501(c)(3) faith event evangelization apostolate in service of the Body of Christ. Brian has proudly served the Roman Catholic Diocese of Fresno on the Board of Directors for KNXT Catholic Television, is the Steward of St. Patrick's Faith Event Ministry for his local parish and a 4th degree member of the Knights of Columbus. Brian and his wife are consecrated members of the Militia Immaculata. For information on the MI and Total Consecration visit Consecration.com.