Life is always interesting even when living where I do, way back in the woods of rural Connecticut. Even when I am stuck in the house without a car and recovering from a fever, chills, and pain I had the other day–life is always fascinating.
I often tell my audiences when I am out speaking that they shouldn't worry if they can't get out of the house to do their ministry work or evangelizing for any reason because God will certainly bring the people to them!
This morning my elderly neighbor's cleaning lady knocked on my door to tell me that my neighbor's phone was not working and asked if I could kindly make a couple of calls for her. I then realized that my landline was not working either. But I could use my cell phone to make the calls. One call was to alert the phone company about the outages. That took some time as the technician checked everything out over the phone on my neighbor's line and mine. I was happy to help my neighbor Bev since she is in her eighties and has had a couple of strokes. She definitely needs her phone to be working.
After some checking, the phone company woman on the other end of the call was able to send a signal to the phone lines and surprisingly fixed them. Though the phones seemed to be working fine, she said she'd leave the order in for a repairman to come to the houses today just in case they went out again. I thought it was a good idea even though I didn't have time to be dealing with this today. The phones did go out again, but they came back on shortly after.
Soon after, my phone rang and it was my neighbor Bev. We hadn't talked in a couple of weeks or more because her schedule had changed due to some health issues with both her and her husband and I had not wanted to disturb with a phone call in case they might be resting. So it was very nice to speak with Bev. We caught up on the phone for a few minutes and decided to get together for tea after Thanksgiving. I told Bev that I was happy that we had a problem with our phones today so that I could have the opportunity to speak with her.
After that, I got back to my work and then another phone call came in. This time it was the phone company repairman. He asked if the phones were working. I told him that they were fixed by the phone company woman during the phone call. He told me that he would check it out by going to the telephone pole and box down the road and then he'd stop by the house. He warned me that the phones might go out again but I shouldn't be alarmed because it might just be him tinkering with the connections and wires.
"It's a good thing I don't have a radio show today," I said. "I do regular radio shows from my telephone," I explained.
The man asked, "Do you mind if I ask you a personal question?"
"Not at all," I reassured.
"Did you write a book?" he inquired.
"Is your name Dave?" I fired right back.
I instantly recalled an entire scenario that had transpired years prior in which a phone man showed up at my house when my phone was completely fine. He told me all about his life-changing experience, and after a while, left with a copy of one of my books and a couple of blessed Miraculous Medals.
"Yes!" he said. He added that he'd see me within the hour. We said "good bye" and hung up. I could tell that he was so surprised that we mysteriously reconnected after an interesting encounter years ago. Truth be told, I was very surprised too!
Wait a minute. Pausing. I thought, Isn't he in my Miraculous Medal book? He is, I know he is.
I ran up to my office to get a copy of the book to check. Yes, indeed, he was there right under the subtitle, "The Phone Man." I took the book downstairs because I planned to give it to Dave when I would see him.
Wow. God never ceases to amaze me!
Dave arrived at my front door and we heartily shook hands to greet one another, smiling, happy to see one another again.
"Wow, you know those Mir–a–cle Medals you gave me?" Dave asked.
"The Miraculous Medals?" I asked him. I couldn't help smiling at his slight change of the word. "Yes, I remember. I gave you two – one for you and one for your son."
"Well, those medals sure are powerful! My son keeps his in his wallet. I keep circulating the one you gave me to each person in the family who needs it. It really works!" he explained.
"I'll need to give you more blessed medals so you won't have to keep passing the one around."
I also explained that it is best to wear the medal around the neck if possible. The Blessed Mother actually said that great graces will be received when it is worn around the neck. I gave Dave a little more history while we both stood on the sidewalk outside my front door. I kept moving a bit to get into the sunshine since the temperature seemed to be dropping and I was still feeling a bit sick.
Then I told Dave that he was in my Miraculous Medal book. He was so surprised, he couldn't believe it.
"Wow, I am really blown away to know that I am in your book."
"Yes, your story is inspiring people all over the world," I told him.
"I can't believe it–wow!" he said.
"Maybe I shouldn't tell you where you are in the book," I teased, "so that you will read the whole thing and learn the history of the Miraculous Medal and about St. Catherine Laboure."
I handed the book to Dave and he expressed his gratitude. I did point out the location of his story. He read it and smiled. I ran to grab a copy of my memoir too, The Kiss of Jesus, as well as five blessed Miraculous Medals and a bunch of blessed St. Benedict medals. I told him about the power in a St. Benedict Medal, also explaining that there is nothing superstitious about it. I gave him a few leaflets that explained the origin.
We chatted a bit. We talked about Miraculous Medals, families, life, and Dave told me that every night he thanks God for his life. When we first met he had shared about a harrowing experience. He is thankful to be alive.
I asked if I could take his picture. I also asked his permission to blog about it later. He happily obliged and gave his permission to post his photo. I reminded him that God is always in control and that it was very interesting that both times that he came to my house there was really no problem with the phone. But, I believe that God wanted Dave to receive the blessed medals and books so God brought him here to my house.
Dave made a point to mention that it had been 4 or 5 years ago when he came to my house the first time and he said today was the only other time that he worked in this area.
Just then, Dave gazed down at both books he held in his hands and said, "I didn't come here to help you with the phones. It is very clear to me now that I came here for you to help me. God is in charge!"
Life is a holy adventure! God is always in control!
Let's remember to begin each day in a Morning Offering--giving everything to the Lord--our prayers, works, joys, and sufferings of the day ahead, asking God to use it all for His glory. He will indeed set up the encounters and provide the graces. We just need to ask for the opportunities to serve Him.
How is the Lord keeping your life interesting?
Copyright 2015 Donna-Marie Cooper O'Boyle
About the Author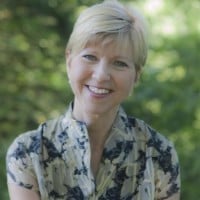 Donna-Marie Cooper O'Boyle is a Catholic wife, mother, grandmother, international speaker, pilgrimage leader, award-winning journalist, and author of over 30 books. She knew Mother Teresa, participated in a Vatican congress, and St. John Paul II blessed her work on Mother Teresa. She writes for L'Osservatore Romano, National Catholic Register, Magnificat magazine, Our Sunday Visitor Newsweekly, Catholic World Report, and more. Visit DonnaCooperOBoyle.com.