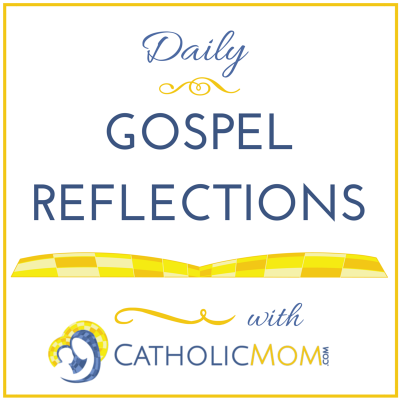 Today's Gospel: Mark 4:26-34
As mothers, we strive to raise our children in the faith. We may do all we can, but we still worry whether we've done enough. Sometimes, evidence supports our fears. Our child leaves the church and embraces sin, and we cry, "I'm sorry, God. I don't know what I did wrong."
In today's Gospel, Jesus speaks of a farmer who goes out and scatters the seeds. He said, "…the seed would sprout and grow, he knows not how. Of its own accord, the land yields fruit…" The parable itself is sandwiched between that of the lamp, which he says you should not hide; and the mustard seed, the smallest seed which, once sown can grow to the largest of trees. Taken together, this gives us a guideline as mothers for sharing – sowing – the faith in our children.
We are called to share the light. We are tasked to sow the seeds of faith. Those seeds have great potential. But no seed is guaranteed to sprout, and just like the farmer, we may wake up one morning to find the strong shoots, or we not. Anyone who has a priest and a lapsed Catholic in the family knows this. Of its own accord, the land yields fruit.
Sometimes, too, the seed spouts late. How many adults return to the Church? How many saints started as terrible sinners? Never give in to despair. We sow the seeds, but God does miracles.
As mothers, we are tasked not to harvest great Catholics, but to raise our children in the faith by modeling a faithful life, sharing God's love, and even more, remembering we are worthy of His love and forgiveness. It's heartbreaking to see a child's faith shrivel, but it isn't our fault. They are the land. The seed grows itself.
Ponder:
It's not easy to let our children make their own decisions and their own mistakes, especially when it comes to matters of Faith. What can you do to prepare your own faith should your children turn from the Faith we love?
Pray:
Dear Lord, you know my worst nightmare is my children rejecting You. Save me from this pain, but if it be Your will, give me strength to persevere, knowing nothing is impossible with You.
Copyright 2016 Karina Fabian
Karina Fabian is a mother of four and a writer of Catholic science fiction and fantasy, plus saint stories and devotionals, one of which she wrote with her dad, who converted to Catholicism in his 40s. Much of her fiction stars Catholic heroes and situations. She's an active member of the Catholic Writer's Guild. Learn more at fabianspace.com.
About the Author