My initial reaction to writing something about the rosary was what I'd imagine an ADHD boy's response would be to writing about the importance of color-coding his history notes. That is to say, it's not exactly my thing. I usually find it boring and when we sit down to say it, I tend to spend the majority of the time staring around the family room, making mental notes of the décor modifications I've been meaning to make. I'm hailing Mary with my lips but my mind is in a galaxy far, far away…
Then I started thinking back to when I first began saying the rosary and realized it was long before I was practicing my faith. Somehow I was routinely reciting the rosary of my own accord but neglecting to attend Mass on Sundays. I still can't pinpoint exactly why I started saying it during such an anti-Catholic time in my life but my guess is that I somehow managed to ask myself, why not? I had a long commute, I claimed to love Pope John Paul II whom I knew to be a major rosary advocate, and it gave me something to focus on other than myself and my own conflicted life.
I found myself more at peace during and after praying it, which is to be expected since, as Archbishop Fulton Sheen once explained, "The rosary is the best therapy for these distraught, unhappy, fearful and frustrated souls precisely because it involves the simultaneous use of three powers: the physical, the vocal and the spiritual."
Once I realized that it is ultimately the rosary that has been my unfailing weapon and tool from the very start of my conversion, there was no denying that this prayer really is my thing, even though I'm so dreadfully unskilled at it. Luckily, it is the mere desire to pray that is in itself a prayer and source of grace. Therefore, even when our drunken-monkey minds unintentionally wander, reciting the rosary provides unfathomable nourishment for our souls.
When I realized that the struggle to pay attention during the rosary is an extremely common one, I decided to share a few methods that work for me and enhance my focus during this often monotonous prayer.
Pictures

How anyone can successfully meditate on the mysteries of the rosary without visual assistance is beyond me. What's more, I'm extremely finicky about what types of images work effectively for me. Show me a picture of a semi-tired looking Jesus with one or two drops of blood on him while holding the cross as if it weighs no more than a curtain rod and in no time I'll have peaced out of the fourth sorrowful mystery and begun picking at hangnails, making a mental note to look up manicure offers on Groupon.
On the other hand, when I stare at an accurately-portrayed image of Jesus covered head to toe in freshly bleeding lash wounds while he struggles to take another excruciating step without collapsing beneath the weight of the crushing cross, a look of unfathomably loving determination on his face, that's a different story.
Over the years, I've saved many images that powerfully resonate with me and enable me to enter more deeply into the mysteries, including many images from the Passion of the Christ.
Music

Music has a way of reaching into our hearts and touching us where typical language can't which is why praying the rosary with Christian music playing is one of my favorite means of meditation. Matt Maher's "Lord, I Need You" and "Oceans (Where Feet May Fail)" by Hillsong United are some of my favorites. Uttering the words to the rosary while the melodies intensify one's immersion in the mysteries can be far more powerful than just reciting the prayers' words repeatedly.
Read
I've tried a boatload of different rosary booklets to aid my concentration and they've all made a difference in staying focused on the mysteries. However, none have hit home as effectively as Rosary Meditations from Mother Teresa of Calcutta. It really brings the mysteries to life in the Blessed Sacrament, making it clear that "[t]he Eucharist is the same attractive Jesus of the Gospel" as the book notes. It can be used while praying the rosary both in the presence of the Eucharist as well as anywhere else because in the latter, we can "just unite [ourselves] to Jesus in the nearest tabernacle" and receive the same graces we would as if we were in his physical presence.
The only downside to this particular book is that it was compiled prior to the inclusion of the Luminous mysteries so it does not contain meditations on those.
Whatever it is that we end up doing while we recite the rosary, it's important to remember that it is a spiritual exercise so the point is not for it to be easy but to stretch us past our comfort zones in order to strengthen our souls. It's tempting to despair when seamless focus seems so unattainable but we have to forgive and be gentle with ourselves. Perseverance, Mama, perseverance.
Do you do something specific to help you stay focused while praying the rosary, or any prayer, for that matter? Share it with us so we can give it a try!
Copyright 2016 Elizabeth Pardi
About the Author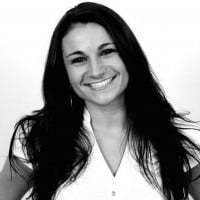 Elizabeth Pardi spends her days running, writing, and praying her way through this journey with her superstar spouse and their charming little ones, while occasionally sneaking espresso shots on the side. She shares the lessons she's learning that make life's loads a little lighter at LoveAlwaysLiz.com.