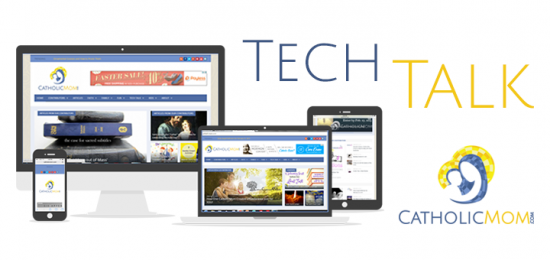 Have you decided how you will spend the next 40+ days living out the tenets of Lent – Prayer, Fasting and Almsgiving? Sure, it began a few days ago, but honestly, it is never too late to devise and implement your Lenten plan. Most years I revise it as I move through the 40+ days. Every effort (no matter how small) we make, I am quite certain, the Lord (abundantly) blesses.
As your typical overachiever, I always have way more plans (or at least options) than I could ever balance or sustain. I suppose I just shoot high and contentedly settle for mid- to low results. It is my excitement with the outflowing of grace during this season that gets the planning juices flowing.
Since I have so many ideas running through my head, I thought I would share a few of the tech related suggestions here to aid your Lenten plan:
Prayer
My husband Kevin and I have been married for over 26 years, yet we have never found a good prayer rhythm as a couple. Over the years we have tried the Rosary, Lectio Divina, even working through a few bible study books together. Recently, Kevin entered Diaconate formation in our diocese and we were introduced to the Liturgy of the Hours. Probably best to say, 'reintroduced,' although life-long Catholics, these magnificent prayers of the Church and for the Church, were never part of our prayer arsenal. We use the iBrievary app and website to pray the Evening Prayer together; while we try to recite it daily, we are going to make a special commitment during Lent to assure we do.
Not sure who or what to pray about? The answer can be just a few clicks away. I have been accused of using this idea of praying what I discover in my Facebook or Twitter newsfeed as a justification from perusing them longer than probably prudent; however it truly is how I react to the stories scrolling along my screens. When I see people in need, I pray. When I read of people suffering, I pray. It also happens to be a great Spiritual Work of Mercy – Praying for the Living and the Dead – making this not only suitable for Lent but also appropriate for this Jubilee Year of Mercy.
Fasting
Not only does this site offer great resources for a fruitful fast, but they also offer specially formulated breads to assist physically in the art of fasting. The lost art of fasting – but Andy LaVallee and his team are sure doing good stuff to help bring it back in a powerful way!
I found three wonderful articles that explain the CRS mission and their wonderful Lenten App:
**This option can also be used under 'almsgiving' as well!
Almsgiving
Deciding how to share your gifts of time, treasure and talent – doesn't come from a website or Android App – it comes from your heart. Through prayer and discernment, I have no doubt the Holy Spirit will guide you on how best to offer your gifts this Lent.
The quote,"Love isn't love, until you give it away" attributed to Oscar Hammerstein II, came to mind as I contemplated how I would address almsgiving in this Lenten column. As I googled the quote's origins, I came across this beautiful Reba McIntyre song. I decided it would make the perfect accompaniment to our pondering where God is calling us to show charity this Lent.
[embed]https://www.youtube.com/watch?v=xwZjz_WEpaM[/embed]
Read more of our Tech Talk columns.
Copyright 2016 Allison Gingras
About the Author