I recently happened upon a reflection on the season of Lent as an invitation offered by Jesus to accompany him into the desert: a good place for purification, for turning our hearts back to God, for renewal. It got me thinking about various times in my life where I was in a "desert" and how those were times of some of the most intense, but also fruitful, growth that gave way to some of my life's greatest blessings.
Later, it struck me that this happens in marriage as well. Just as in the Christian life, in marriage, it's not always Easter. Every marriage goes through periods where it feels more desert than garden.
My husband and I will freely admit that, for us, the postpartum season is prime desert time. Adjusting to a new life is difficult and figuring out how to juggle children and careers and meet all the needs is just plain hard; it's hard to put your marriage first when it doesn't have a deadline and isn't screaming to be changed or fed or swaddled.
Maybe it's a different set of circumstances driving you there, but you've been to the desert too, right?
I'm finding so much comfort this year simply in the fact that Lent exists. I'm reassured because the Church knows that we need to be invited to the desert year after year after year. It means that God meets us in our brokenness, in our humanity, and invites us to return our hearts to Him, over and over again. We aren't expected to do the work of holiness in a day; it takes time, and some times will be harder than others. That's why, even though we're Easter people, we're also desert people.
The fact that Lent exists, and is good, has beautiful implications for marriage. We can take heart in the fact that every marriage has periods of dryness, moments of strain, seasons when love is a choice and not necessarily a feeling. God can do a lot of good work in the desert! The desert is an opportunity to turn our hearts back to each other (and through our spouse, to God), to be renewed in love.
In the desert of Lent we take up prayer, fasting and almsgiving, and I think these spiritual practices can help our marriages, too, in periods of desert. What better way to turn our heart towards our spouse than to pray for them, sacrifice for them, and offer ourselves in acts of love and charity. And just as with Lent, these small promises, fulfilled day after day, re-orient us, help us to build good habits, strengthen our marriage, and ready our hearts for the feast.
Has your marriage been in the desert? What helps you turn your heart to your spouse?
Copyright 2016 Megan Swaim
About the Author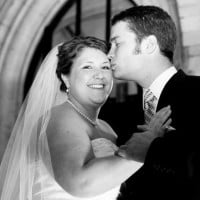 Megan Swaim is an Indiana girl on an east coast adventure. A former high school youth minister, she now gets to minister full-time to her three young daughters and her husband Josh. Megan spends her days homeschooling at the kitchen table, drinking iced coffee, and exploring coastal Virginia.