"Merci de le traduire," is still Archbishop Samir Nassar's e-mail greeting to me. We began our conversations two years ago when I translated his letter from Damascus. It was then that I began to comprehend the suffering of people in that ancient city where St. Paul was baptized. Translating his letters from French has given me a way to make a small contribution to the Church in Syria. This Lent the Archbishop has written two letters. One Lenten letter has already made the rounds on the Internet since his words are usually shared by Fides News Agency, Sr. Theresa Alethia (Pursued by Truth) Sr. Anne Joan (Nunblogger) and Antonia Moffat in the UK. Now, for the first time, I am publishing his just-released letter via CatholicMom.com. In this letter the Archbishop highlights the family as splendor of mercy in a merciless war.
Mercy that Gives Life
"The violence that has torn Syria and spilled blood for five years is also a source of Mercy." Mgr. Samir from Damascus, February 14, 2016
1) The Family: There are already twelve million Syrian refugees and still more arrive for refuge. Charitable organizations have stretched their resources and are overwhelmed. The family, bulwark Middle Eastern society, absorbs the trauma as it assumes the role of giving consolation and comfort. In a generous show of solidarity, twenty people share a single room dividing their daily bread, the life of each day and even the cemetery. These families are silent embodiments of Mercy. They do not seek repayment.
2) The Priests: The sacramental mission of priests in all of the Eastern Churches has been reduced by war. These priests have become social workers at the service of poor stricken families. They show the compassionate face of the Lord. Instead of running away, these audacious priests accept their mission as faithful servants of Mercy until the last. Five priests have offered their life in a mission of mediation and assistance. Two bishops and four priests have been reported missing as they brought supplies to those most in need.
3) The Consecrated: Nuns, monks, and dedicated laity have launched a humanitarian and pedagogic focus in Syria.
The humanitarian focus: Aleppo was without water and electricity for a long time. Candles replaced electricity. But how can you live without water? Dedicated teams supply water at home for all old and ill persons. They search for water in available wells, in cisterns, in empty bomb shells, and in buildings to assure 20 liters of water per home. Restaurants of the Heart deliver meals to those in need.
The pedagogic focus: Teams in Damascus assure psychological support for children traumatized by war and violence. Children of all religions gather for re-education in peace learning what it means to live together and accept differences. This vanguard project reveals a hidden face of the Church and the way of future. Another movement, led by the Jesuits, is directed at the youth and those who are desperate to leave the country.
4) The Movement of Fraternity: The Movement of Fraternity was created following the Israeli-Arab war of 1967. It was founded by Fr. Paul, a Lazarite priest who manufactures prostheses for the disabled. They were the first to respond in this war which mercilessly wounds and mutilates people every day. Assisted by charities connected to the Church the Movement of Fraternity provides rehabilitation for the wounded and time at a seaside resort tailored to offer them a rest and recreation. The face of the Good Samaritan is exalted in Syria by the venerable Father Paul, a genius of health care.
5) Many initiatives are hidden in everyday actions carried out by the Society of St. Vincent of Paul, Marian brotherhoods, orphanages and crowded places of refuge. Among the variety of movements manifesting solidarity and mercy, the family remains the resilient and lasting sign of the splendor of mercy that permits the survival of church and country.
In witness whereof I sign,
+Samir NASSAR Archevêque Maronite de Damas
Translation copyright 2016 Sr. Margaret Kerry, fsp
Photo Credits:
House of Ananias in Damascus, Anonymous, Wikimedia Commons.
Iraqi refugee children, Damascus, Syria James Gordon from Los Angeles, California, USA, Wikimedia Commons.
A Cross of Candle Light, Featured image, Wing-Chi Poon, Wikimedia Commons.
About the Author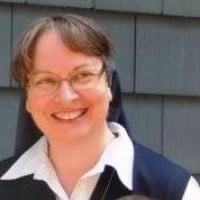 A Daughter of St. Paul for 40 years Sr. Margaret continues to pursue new ways to proclaim the Gospel: sharing the Pauline Charism with the laity, writing books (St. Anthony of Padua: Fire & Light; Strength in Darkness: John of the Cross; Prayers for the New Evangelization), & through direct evangelization. She is available for workshops on the Vocation & Mission of the Laity, Media Literacy, and The New Evangelization. mkerry@paulinemedia.com