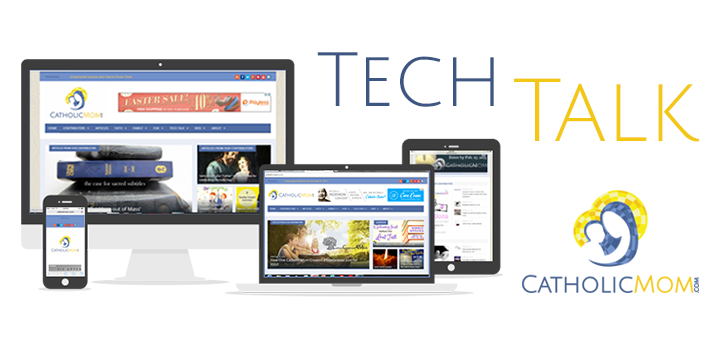 I am not a linear thinker, especially when I am planning. Most especially when I am planning something creative. Like many writers, I have certain pens for certain tasks, and when I plan in the creative realm, I need markers with squishy tips and plenty of unlined white space.
And I make mistakes. And change my mind. And insert things and delete them. Often.
So when I sat down the other day with a stack of Post-it® Notes, the better part of a pack of Mr. Sketch scented markers (you can take the girl out of elementary school...) and a manila folder to plan a presentation and check out the Post-it® Plus app I'd downloaded, I was both nervous and excited. The presentation had been a last-minute commitment and I didn't have time to waste.
Imagine my delight when I got from a manila folder with Post-it® Notes stuck on it in a half-random/half-organized fashion to the photo below in the space of about an hour. Granted, I'd done some thinking ahead of time, so I had a rough outline in my head. But I also had fun. Moving notes around on my screen inspired categories, and the presentation began to take shape.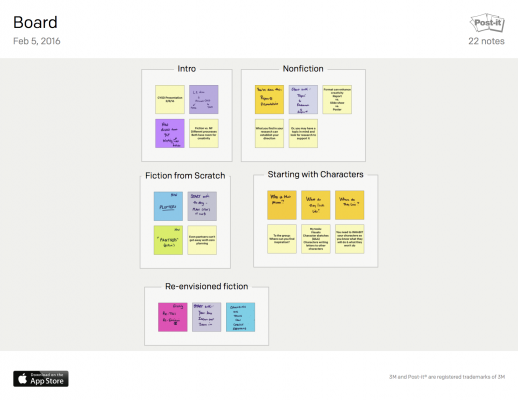 Once I had things laid out to my liking, I sent myself both a PDF of the layout and a PowerPoint, both of which are generated by the app. For my purposes, the PowerPoint was more useful; I could print each board as a separate page, making it nice and big so I didn't have to squint to see it when I presented.
I used a variety of colors and sizes of sticky notes as I planned, but when you photograph your array, the app automatically makes everything uniform, defaulting to the standard 3 x 3 square Post-it® Note. If you like to color-code, you'll want to pay $1.99 to upgrade to the Post-it® Plus Editor's Pack. But, as you can see, you can easily begin with your own handwritten notes and, once you start planning, add in typewritten notes you create on the app.
The app is meant to be used for collaborative purposes, where each member of a team is generating his or her own Post-it® Notes that can then be shared with a group, manipulated and reorganized. Though the app isn't as intuitive as I would have liked it to be upon initial use, I found it fun and useful, and see lots of potential here. I'm looking forward to seeing what the updates bring.
This app is for iOS only and is free, but offers in-app purchases such as the Editor's Pack mentioned above.
[embed]https://www.youtube.com/watch?v=jtQljSfghiA[/embed]
Meanwhile, 3M's
post-it.com
site is pretty cool, with organization ideas and even coupons. I might just have to write about that next month.
Read more of our Tech Talk columns.
Copyright 2016 Lisa Hess
About the Author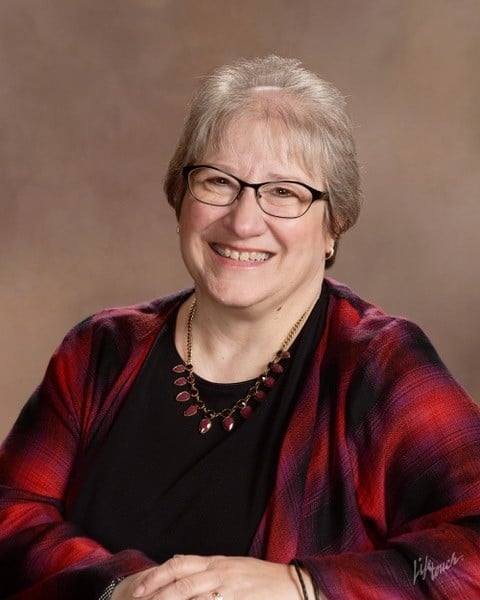 Lisa Lawmaster Hess is a transplanted Jersey girl who writes both fiction and non-fiction. Lisa's latest book is the award-winning Know Thyself: The Imperfectionist's Guide to Sorting Your Stuff. A retired elementary school counselor, Lisa is an adjunct professor of psychology at York College. She blogs at The Porch Swing Chronicles, Organizing by STYLE, and here at Catholicmom.com. Read all articles by Lisa Hess.