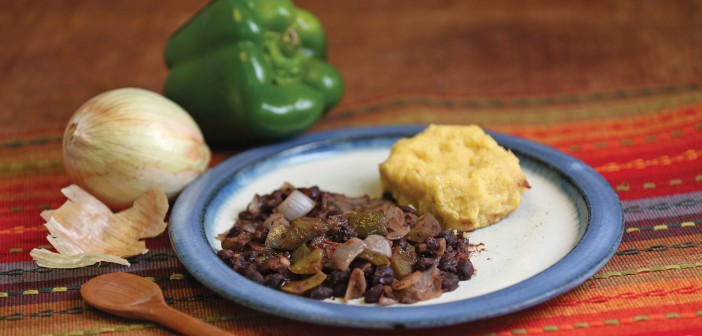 This Lent, CatholicMom.com is partnering with CRS Rice Bowl in a special way, sharing the CRS Rice Bowl featured recipes on each Lenten Friday--and 5 CatholicMom.com writers have prepared these recipes and shared their experiences with you! These posts will also be included on the CRS Rice Bowl website. Why not try these simple recipes in solidarity with our brothers and sisters around the world? They're inexpensive and easy to prepare, and the money you've saved by making a simple meal can be placed in your family's Rice Bowl to help feed our brothers and sisters in need.
3 ⅓ c cornmeal
4 c water
½ t salt
1 16-oz can of beans
1 onion, diced
1 tomato, chopped
Boil water in a saucepan, and then stir in cornmeal and salt. Mix for 5‒7 minutes or until the water is absorbed. Add more water as necessary to reach desired consistency. Stir often to prevent burning.
Beans: Sauté the onion and tomato, and add the beans to the vegetables, including some of the bean broth.
Serves 4‒6
Chef's Reflection:
When I first read this recipe, my brain immediately went, "Oh, it's like polenta." I'm an Italian girl at heart and I had to check myself before starting in on this dish. I did some research and discovered a few videos which demonstrated the Rwandan method of making the cornmeal component (also called ugali). It's a slightly different process than making polenta and much quicker. You boil the water and then pour in all of the cornmeal, stirring as you go but not being concerned about trying not to whisking your wrist off to avoid clumpy polenta. Ugali is thick – very thick. I ended up adding approximately an additional cup of water to keep it somewhat moist while cooking; I didn't want it to burn.
My kids (ages 4, 3 and 1) all enjoyed the ugali, especially because I told them they could eat it with their hands. Based on what I learned prior to making ugali (and throughout the course of our meal), it is a very malleable dish, able to be formed by hand to dip in the main dish like a chip or be used similar to a tortilla. We encouraged the kids cup the ugali in their hands to make "boats" which carried the beans dish for them. They thought it was great!
The beans, onion and tomato can't get much simpler. I sautéed the onions and tomatoes in just a little olive oil until the onions were translucent, then added the beans until they were warm. Done and delicious!
This was a quick, easy meal that fed our whole family, plus leftovers are waiting in the refrigerator. This meal was also great for us because my youngest has a dairy intolerance. It is so wonderful when I can make a meal that we all can enjoy without needing to create separate plates or meals. Interestingly enough, after she had her fill of the ugali, her favorite part was the onions.
---
Copyright 2016 Kate Taliaferro.
Recipe and photo copyright 2016 Catholic Relief Services. All rights reserved. Used by permission.
About the Author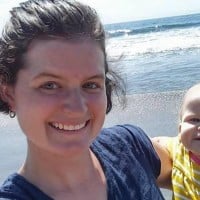 Kate Taliaferro is an Air Force wife and mom of 6. She has a Masters in Religious Education and tries to find God's presence in all parts of her day, be it cooking, cleaning or just the everyday ordinary. She enjoys homeschooling, stitching crafts and finding cheerios between the couch cushions. She blogs at Daily Graces.