I had to stop and ask myself why jealousy was one of the first emotions to strike when I found out that Nicole's sister-in-law, Molly, had delivered her baby before the midwife could get to the house. I have no interest in delivering other people's babies and I've only briefly known both Nicole and Molly so I was puzzled by the fact that my excitement for them was tainted by a hint of jealousy. It was the same peculiar, perplexing envy I'd felt after watching Brokedown Palace, the story of two best friends who are wrongly accused of and imprisoned for a crime in a foreign country. Spoiler alert: One friend ultimately volunteers to remain in the Thailand prison for life so the other will be free to return home.
How is it that a movie with such a heart-wrenching ending evokes the same emotion in me as the remarkably beautiful occasion of a brand new baby's homebirth? And of all emotions, jealousy?
It was the timeless name that Nicole gave to her little bundle that pointed me to an answer. In Ruth 1:16, a woman pledges her steadfast allegiance to the mother of her deceased husband by saying, "I will go where you go; I will live where you live. Your people will be my people, and your God will be my God." I suddenly recognized the theme common to both baby Ruth's birth and Brokedown Palace's plotline: friendship. And not just any friendship, but relentlessly self-sacrificial, wholly vulnerable camaraderie shared by individuals who go to great lengths with and for one another. It was these women's relationships being intensified by once in a lifetime experiences, whether good or bad, that had me thinking, I want that. I wanted to encounter the boundless love and commitment that had one woman saying, "If you want to go home, I'll stay," and another, "If you're ready to push, I'll catch."
I wanted it because, quite simply, I was created for it and so were you. A brilliant pastor in North Carolina, J.D. Greear, gets to the heart of it:
From all eternity, the Father and Son have existed in relationship, bound together in friendship love (John 15:9–17). And because we are made in God's image, we also are made for friendship.
There's more, though. Friendship in the sense of companionship is one thing. Friendship that has one person surrendering her own comfort and well-being for the sake of the other is a whole new ballgame. The latter is so devotedly boundless that it creates an entity entirely separate from those who share it. In the case of the Trinity, the love between the Father and Son generates the Holy Spirit. In marriage, the uninhibited giving of spouses to one another in the sexual embrace creates children. So what entity does friendship produce?
As someone who earned a C in sociability in sixth grade because my best friend and I had a cruel tendency to exclude others, I'm embarrassed to say that it's taken me until now to recognize the most essential component of any true friendship: extension to others. We've all been the awkward third wheel before and experienced that stinging, unspoken rejection in the presence of two people who just can't seem to crack open the bond between them and allow anyone else's light to shine in. It would certainly be understandable if Molly and Nicole – friends, neighbors, sisters-in-law – found it difficult to extend beyond themselves any warmth of the relationship they've built with one another. Every minute I've spent with them, however, has proven otherwise, as I have always been eagerly welcomed by them into friendship. Theirs is a relationship that neither excludes nor rejects but instead receives and embraces, allowing the joyful flame of companionship that God has ignited between them to spread and warm additional hearts.
Because of that, the excitement over little Ruth's incredible birth is not hoarded by those who were present for it. It has, instead, been generously extended to family, friends and beyond as Molly and Nicole eagerly share the love with which they are lavished with those they encounter.
Food for thought: Are there certain friendships in my life that I choose to blockade and not extend to others out of my own selfishness or dislike for certain people? How can I be more generous with the relationships I've been blessed with and thereby further nurture them?
Copyright 2016 Elizabeth Pardi
About the Author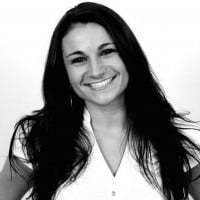 Elizabeth Pardi spends her days running, writing, and praying her way through this journey with her superstar spouse and their charming little ones, while occasionally sneaking espresso shots on the side. She shares the lessons she's learning that make life's loads a little lighter at LoveAlwaysLiz.com.